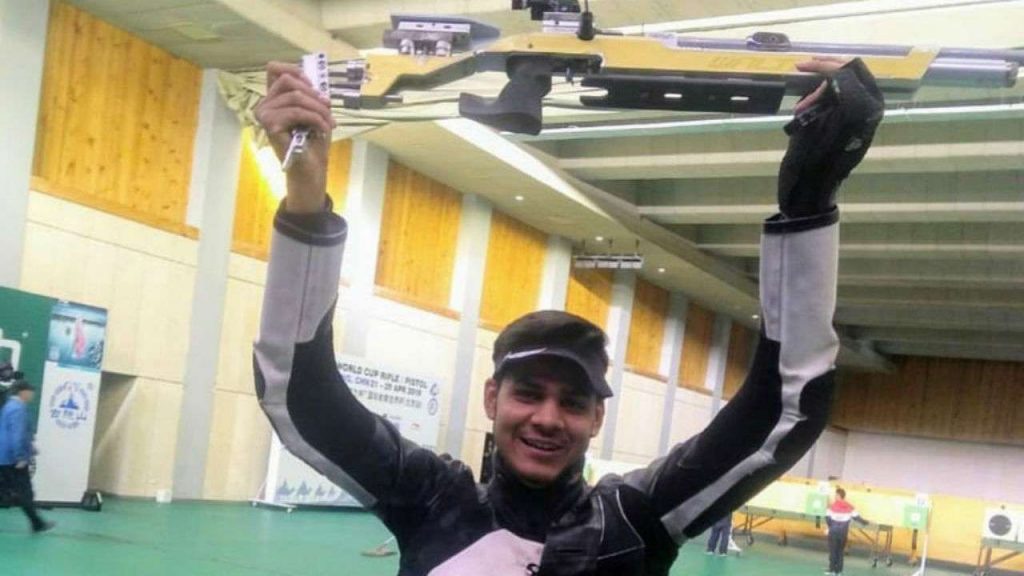 The 10m Air Rifle competition of the ongoing NRAI trials saw surprising results for the 2nd day in a row. If Trial 1 saw Elavenil Valarivan emerge as the lone finalist and winner among Olympic quota winners, for Trial 2 it was the turn of fellow World No.1 Divyansh Singh Panwar.
Men's 10m Air Rifle T2
Two shots of 10.7 and 10.4 in the final series were enough to help Divyansh edge ahead of Rudranksh Balasaheb Patil who could only manage 9.7 and 10 in comparison. Divyansh finished with 250.9 comfortably in front of Rudranksh's 249.7 in the end. The latter was leading by 0.2 points before the final series. 3rd place went to T1 winner Hriday Hazarika.
The qualification round saw some high quality shooting. The top 6 all scored 630+, while 8th-placed Divyansh could muster 'only' 628.7. Arjun Babuta topped qualifications with a whopping 632.1 but was eliminated in the 7th place in the finals.
This was a strong comeback by Divyansh who was a disappointing 17th yesterday. He has recently recovered from the COVID19 infection and appears to be getting back into the grove.
The same cannot be said for fellow quota-winner Deepak Kumar. Deepak was 15th with 625.8, hardly an improvement from T1.
Divyansh is in pole position for an Olympic slot while Deepak might have slightly opened the door for another shooter.
Women's 10m Air Rifle T2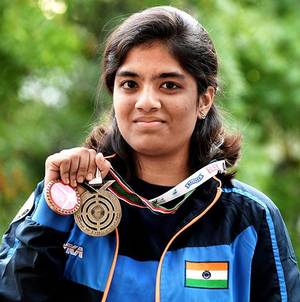 Trial 2 in Women's 10m AR also followed a similar pattern as yesterday. Quota winners Apurvi Chandela and Anjum Moudgil could not qualify for the finals even as youngsters came to the fore front.
Tamil Nadu's C. Kavi Rakshna was the winner with a score of 251.4. A number of high-scoring shots in the last few series propelled her ahead of Nisha Kanwar who shot 250.7. Elavenil Valarivan, yesterday's winner and World No.1 put together another solid performance for a 3rd-place finish.
Nisha posted a 630 + score for the 2nd-day in a row. Her score of 630.7 helped her top the qualifications. Elavenil was 3rd with 629 while Rakshna was 7th with 627.7. Rakshna showed a noticeable improvement from T1 where she had ended up 22nd. The finals cut-off was 626.8.
On the other hand it was a day to forget for Apurvi and Anjum. They shot 624.5 and 624.2 to finish 15th and 16th respectively. They will have to improve their form in an important Olympic year. Elavenil is looking more and more likely to get an Olympic berth at the expense of one of them. Mehuli Ghosh seems out of the reckoning after a 24th place finish.
How Anjum performs in Women's 50m 3P will also play a key role in choosing the squad. The next 2 days will see T1 and T2 for this event.
Skeet T2 results
Men
Amrinder Singh Cheema was the winner in the Men's skeet event. He finished ahead of Fatehbir Singh Shergill after their scores were tied at 54. Gurjoat Singh was 3rd.
Anantjeet Singh Naruka had topped qualifications with 121 but finished 4th in the finals.
In Men's junior skeet, T1 winner Abhay Singh Sekhon placed first with 54, 2 shots ahead of 2nd placed Rajveer Singh Gill. Ayush Rudraraju was 3rd.
Olympic quota winners Angad Bajwa and Mairaj Khan did not participate.
Women
Raiza Dhillon was the winner with a score of 50. Darshana Rathore was 2nd with 47 and Areeba Khan 3rd with 39.
The qualification topper was Parinaaz Dhaliwal with 117 who finished 4th in the finals.
The results of Women's junior skeet saw a different combination of the senior podium winners. Darshana with a score of 53 was the winner this time ahead of 2nd-placed Areeba and 3rd-placed Raiza.
Trial 1 Skeet results can be seen here.