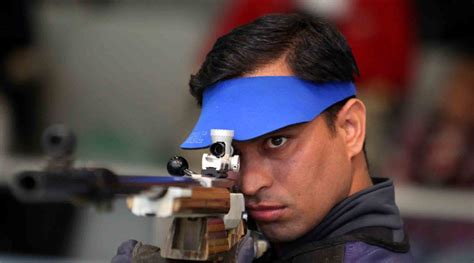 On the concluding day of the NRAI trials, Sanjeev Rajput and Elavenil Valarivan yet again outshone their competitors on the way to winning their respective T4 events. Each of them has now won three out of the four trials.
In Women's 10m Air Pistol, Yashaswini Singh Deswal shrugged off her recent woes and beat favourite Manu Bhaker in T4. In Men's 25m RFP, Arpit Goel came up trumps in an event which has produced different winners in each of the four trials.
Men
50m Rifle 3 Positions
Haryana's Sanjeev Rajput continued the same dominating form which won him T1 and T3. His finals and qualification scores- 463.1 and 1182– were in fact his best from the four trials and better than anyone else in the field.
Only fellow quota-winner Aishwary Pratap Singh Tomar could compete with Sanjeev in qualifications with a equally impressive 1181. He however was eliminated 6th in the finals.
2nd place went to Niraj Kumar who scored 459.6 and 3rd to Rio Olympian Chain Singh. T2 winner Swapnil Kusale finished 4th.
With this, Sanjeev is all but guaranteed of a place in the Indian Olympic squad. Aishwary, with a good showing in both 10m AR and 50m 3P also has a good chance.
25m Rapid Fire Pistol
Arpit Goel of Delhi fought off the challenge posed by Adarsh Singh to emerge the winner in T4. Adarsh was a point ahead going into the final series but a perfect 5 from Arpit and a 3 by Adarsh got the former into 1st place. Arpit finished with 30 points compared to 29 by Adarsh.
T3 winner Vijayveer Sidhu, who had an excellent qualification score of 590 in T4, finished 3rd. Arpit had qualified in 6th place with 577.
With Arpit's win, four different shooters have won each of the four trials. Gurpreet Singh had won T1, while Bhavesh Shekhawat had won T2.
India has still not qualified any shooter from this event for the Tokyo Olympics. Anish Bhanwala, who was the favourite in this event till last year, had a disappointing run in the trials.
Women
10m Air Rifle
Gujarat-based Elavenil Valarivan, who had broken the finals WR yesterday, also had a terrific showing today, finishing 1st with a good finals score of 251.6 and stunning qualification score of 632.1.
After winning 3 out of 4 trials, World No.1 Elavenil has strengthened her case for selection ahead of either Apurvi Chandela or Anjum Moudgil both quota-winners who have had a disappointing run in the trials. Neither qualified for any of the four finals and today finished 21st and 17th respectively. T2 was won by C Kavi Rakshna.
2nd today was Khushi Saini, who was also 2nd in qualifications with 630.2 and 3rd was Meghana Sajjanar. The 8th-place score was 627.2.
10m Air Pistol
Tokyo quota winner Yashaswini Singh Deswal of Haryana with a score of 242.9 won T4 comfortably ahead of 2nd-placed Shweta Singh (240.6). 3rd place went to yesterday's runner up Padma D.
Manu Bhaker, who has already won 2 trials, wasn't at her best today and was eliminated in 7th place. Shri Nivetha P. topped qualifications with 584 but finished 5th in the finals. Shweta was 2nd in qualifying with 580, Manu was 3rd with 577-23x and Yashaswini was 6th with 574. The finals cut off was 571.
With today's win Yashaswini has brought herself back into the reckoning in an event that has been dominated by Manu. This, despite off-the-range issues where she faces the prospect of a ban from national championships.
Manu though with 2 trial wins and a 3rd-place finish, is still the one to beat in this event in India.