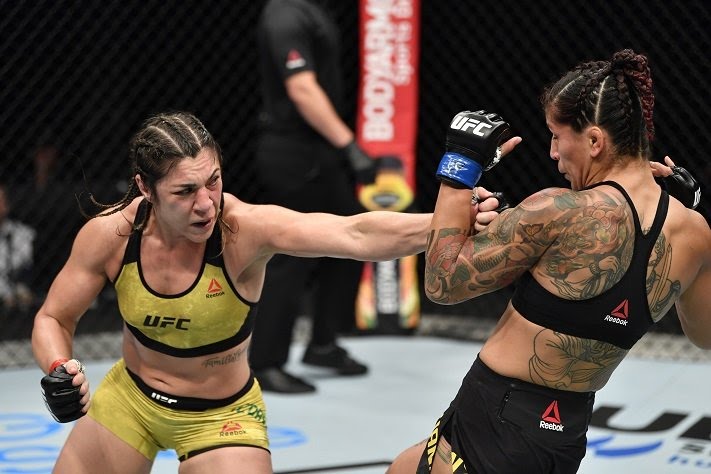 Bethe Correia, the Brazillian Bantamweight is a UFC veteran. But he did a bit wrong by turning her back on Pannie Kianzad and mistakenly thought that the round was over in their fight on Fight Island.
The first stanza of their showdown in Abu Dhabi came to an end as the 37-year-old Correia appeared to mistake the 10-second warning for the actual end of the round.
He then reached out a glove before turning her back on Kianzad and made her way back to her corner. Seeing the opportunity, the Swedish fighter capitalized it immediately by blowing up several blows to back Correia against the cage.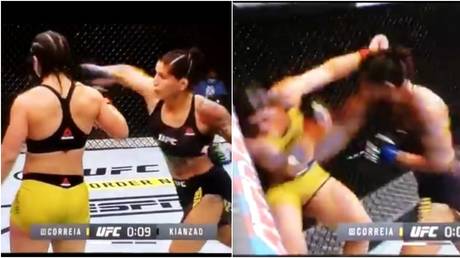 The Brazillian fighter appeared to be in danger for some moments, but she immediately regained her control and backed Kianzad up before the actual end of the round was called. The moment was surprising and none could understand it initially. The commentators also said in awe, "What happened there? Oh, my word".
The night turned frustrating for the former Bantamweight title challenger as she went down to face another unanimous decision defeat. Thus, she faced her third loss in her four past matches.
The moment was cheerful for Iranian born Kianzad as she won her second fight after her last win over Jessica-Rise at UFC Fight Night in Moscow in November last year. With this win, Kianzad is now 13-5 overall and 2-1 in the UFC. She is now aiming to shift up the 135lbs rankings.
On the same night, the Australian fighter Robert Whittaker edged out Englishman Darren Till in a close fight. Besides that, Russian fighter Khamzat Chimaev also made history by winning his second fight in just 10 days.
Also Read: Israel Adesanya takes to Twitter after the Whittaker victory over Darren Till; Says 'I still wanna fight Till'