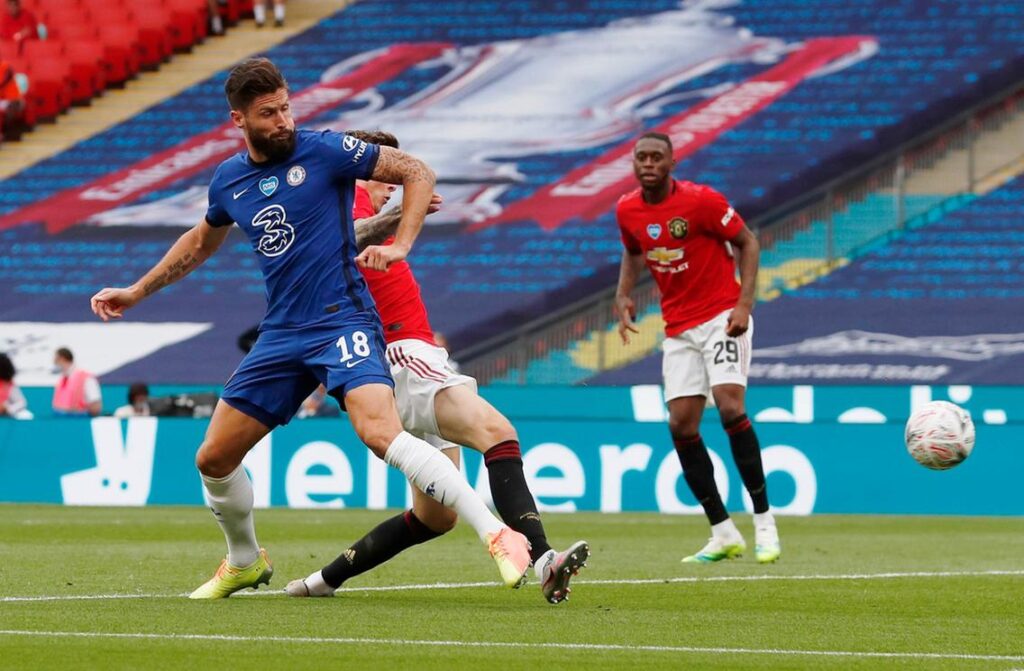 Olivier Giroud, the Chelsea's goal-poacher is aiming for his 5th FA Cup win, overturning his former club Arsenal in the finals.
Giroud's goal helped the Blues to take the lead in a 3-1 victory over Manchester United in the semi-finals. Mason Mount gave the cushion to make it 2-0.
Later, Harry Maguire gifted the blues with an own goal. With a penalty in the closing minutes, Bruno Fernandes scored a consolation goal for the Reds. The result meant that Frank Lampard's side secured their place in the finals.
Throughout his time in England, Giroud has now won four FA Cups. The Frenchman won three with Arsenal before leading Chelsea to lift the cup at Stamford Bridge in his very first season.
The French International is keen to add another FA Cup title under his name:
"I said to the boys I would love to win another one, it would be my fifth FA Cup and we are in another final.
"A big game against Arsenal which will be so special for me personally. We played very well and we want to finish in the top three in the Premier League now.
"It is going to be special like last year in the Europa League final but it is true I have a nice record here at Wembley playing in the FA Cup, kind of unbeaten, and I try one more time to be the lucky charm."
United have defeated Chelsea this season in all three of their prior encounters:
"It is true we lost three games against them, even if we played sometimes very well," said Giroud as he reflected on the victory.
"We played three at the back, it's been a while since we did but we started very well. We had them under pressure and they didn't create much." – Giroud said.
Olivier Giroud revealed that David De Gea would have saved his goal and that he was a 'little fortunate'.
"I try to stay in front of my defender and Azpi had time to cross the ball well, and I like to take it with the outside of the left.
"I was a bit lucky in the end because it was a bit on David De Gea, it was so close, but it went quick and I think that is why he didn't save it."
Also read: Time to focus on the Premier League: Bruno Fernandes