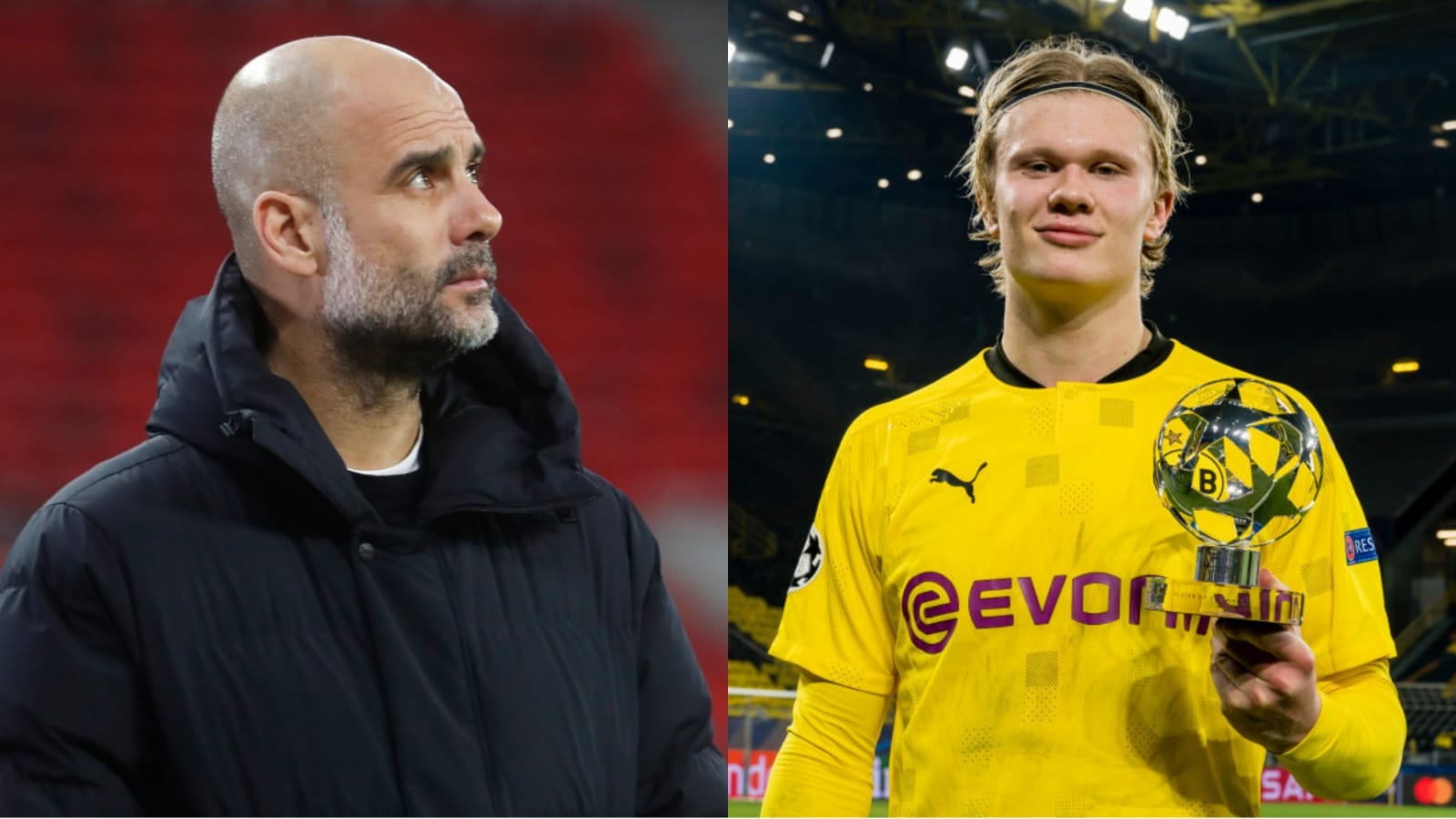 Pep Guardiola's Manchester City welcome German opponents Borussia Dortmund for their Champions league match on Tuesday. Although Dortmund have won 1 of their last 5 matches, no side will take them likely given that they have one of Europe's most prolific young strikers in Erling Haaland.
While Haaland is on City's radar as a potential replacement for Sergio Agüero in the summer, the manager stated last week that his expected price of more than £100m is not possible for the club.
Haaland is the youngest player to score 20 goals in the Champions League- a record which will cause worry to the City manager
However, that did not stop Pep Guardiola from recognizing his capabilities ahead of their Champions league encounter. Guardiola said it's hard to score as many goals as Halaand has as a 20-year-old and that the Norwegian star is setting unprecedented standards.
Haaland has 21 Bundesliga goals for Dortmund this season in an overall total of 34 strikes in 37 appearances, plus 10 in the Champions League. He is also the youngest player to reach 20 goals in the Champions League – at 20 years, 231 days – and he got to that milestone in just 14 games, also a record.
"To score that number of goals at his age is not easy. He's 20 years old and the numbers speak for themselves," said Guardiola. "When that happens it's because he can score with the right, the left, via counterattacks, in the box. He's a fantastic striker, everyone knows it."
"I understand completely people ask about Haaland because of course he's an exceptional striker but you understand it's not appropriate for me to talk about a player from another club."
"The only thing I can say is that he is an exceptional striker. With his age, he is an exceptional striker. He's a fantastic player – that's all." Guardiola dismissed the notion that City being unable to pay £100m or more for a player places the club at a disadvantage. "No, not at all," he said.
Guardiola recently ruled out a move for the striker as he said that Manchester City did not have the necessary funds to pull off a transfer of that magnitude. However, a move to England cannot be ruled out this summer as City look to fill the void of Sergio Aguero.
Also Read : Real Madrid are "underestimated", says Zidane ahead of Champions league clash against Liverpool