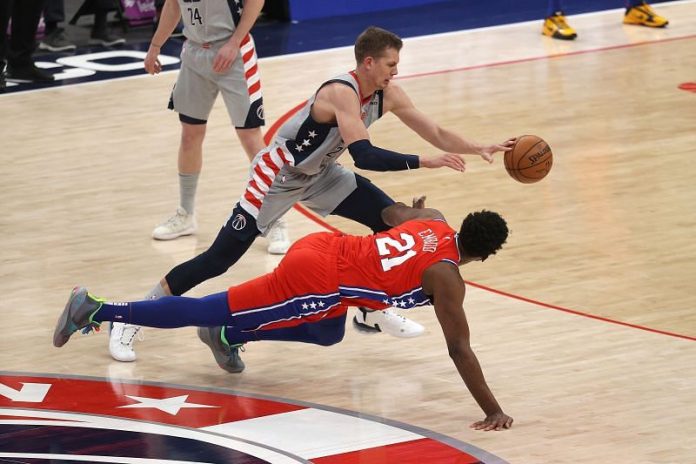 Having led the Philadelphia 76ers past the Washington Wizards with 23 points, Joel Embiid scored 23 points before leaving the game midway in the third quarter after suffering from a potential leg injury. 76ers are having their best season in franchise history and it could be their first championship in almost 2 decades and are suddenly left vulnerable without their best player, Joel Embiid. 
Following a dunk for his last points, Joel Embiid landed awkwardly on his left leg, his knee joint appearing to bend slightly forward. He writhed in pain on the floor for several minutes and a stretcher was briefly brought onto the court. But the center eventually limped off under his own power. 
Joel Embiid injures his leg as the Philadelphia 76ers beat Washington Wizards 
Talking about the Washington Wizards, Russell Westbrook scored 25 points and Bradley Beal added 19 for the Wizards, who lost their second straight after the break and had their home win streak against the Sixers snapped at 10 games. 
Shake Milton scored 18 points off the bench for Philadelphia, which led by 17 after the first quarter, 10 at halftime and 18 after the third. Furkan Korkmaz added 12 of his 18 points in the fourth quarter as the Philadelphia 76ers completed a three-game season sweep of the Washington Wizards. Philadelphia outrebounded Washington 49-32, and had a 56-38 advantage in bench points.
Philadelphia 76ers' Head Coach Doc Rivers said Embiid would be examined Saturday in Philadelphia.
"We don't do anything right now, because we don't have any information," Doc Rivers said as per ESPN. "Listen, it's a long season. At the end of the day, hopefully it's not something where we lose him, obviously. But our guys will be good. We'll be ready."
Even with Embiid's exit and with Ben Simmons also out for contact tracing after both players were exposed to the same barber who tested positive for COVID-19, the 76ers cruised to a second straight comfortable win following the All-Star break.
Also Read: LA Clippers snap 3-game skid to restart the season with a…