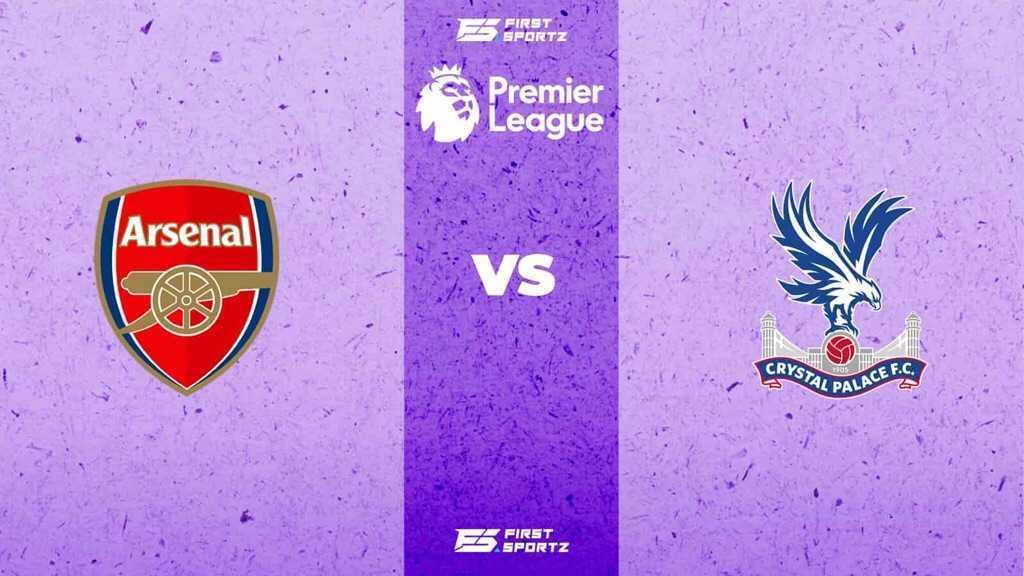 Arsenal played an all important game in their Premier League title contention against Crystal Palace at their home turf. It didn't turn out the way they expected it to be as Crystal Palace sneaked in two goals to have the last laugh at the Emirates Stadium.
In the eighth minute of the game, Guaita makes a great save off a curling in ball at the top left corner by Pepe. However, the ball goes straight into the path of Aubameyang who shows great skill work and reaction to put it in the back of the net from a very tight angle. It was 1-0 for Arsenal.
However, fate had different plans for the Gunners. A brilliant equaliser in the 50th minute by Christian Benteke followed by the second and the winning goal by Odsonne Edouard in the 73rd minute gave Crystal Palace an inevitable 2-1 lead. Things turned around drastically in stoppage time. It was a shocker for Palace as they ignore the incoming corner delivery in the Penalty area. Ben White has his shot blocked while the ball lands to Alexandre Lacazette who drills into the back of the net from close range to make it 2-2.
They had the lead then they lost it and later conceded a goal to be losing 2-1. However, Lacazette pops in to make it 2-2 with the points now being shared. Here are the player ratings for the encounter :
Arsenal
Aaron Ramsdale (GK) (6.9/10) : Ramsdale made some really good saves inside the goal with some good efforts moving around. However, he lacked the ability to deal with the fierce shots that came at him which he let past him and conceded two goals.
Takehiro Tomiyasu (6.2/10) : Tackling was one thing Tomiyasu was exceptionally good with in the game. However, he failed miserably at aerial duels and passing on the long balls which resulted in him losing possession on multiple occasions.
Ben White (6.7/10) : White had a decent game overall for Arsenal. He had two of his shots blocked in the defence, one of which was a fierce attempt at goal which was blocked and landed in the legs of Lacazette who converted it into a late equaliser.
Gabriel (6.7/10) : Gabriel too had an average game. He contributed decently with his neat passing skills and also won fair few duel challenges. He also had a shot at goal but was way off target.
Kieran Tierney (6.6/10) : Just a decent game with not too many eventful incidents for Kieran Tierney. He was off target on one of his attempts at goal. Apart from that, he had a decent game.
Thomas Partey (6.6/10) : Partey wouldn't forget the fact that the ball went past him and onto the Palace striker that conceded the goal for Arsenal. However, he had a decent game apart from that. He had two attempts himself at goal but was off target on both occasions.
Martin Ødegaard (6.3/10) : It was a tough game for Martin Ødegaard. He barely made any contributions as he hardly seemed to be involved in the game. He lost possession on multiple occasions and thus found himself substituted in the 67th minute.
Nicolas Pépé (6.3/10) : Whatever Nicolas tried to do throughout the game, he failed frequently. He was shot down numerously at duels, dribble attempts and lost possession on 22 occasions.
Emile Smith Rowe (6.5/10) : Rowe had two attempts at goal but failed to convert on both occasions despite being on target from one of the attempts. Regardless, he had a decent game.
Bukayo Saka (6.5/10) : Facing an injury, Bukayo Saka was replaced in the second half of the match by Albert Sambi Lokonga.
Pierre-Emerick Aubameyang (7.5/10) : Aubameyang recieves a saved reflect in his path via Vicente Guaita which he reacts greatly to and powers it into the back of the net from a very tight angle to make it 1-0 in the favour of Arsenal in the eighth minute of the match. Overall, he had a stupendous game and managed to create multiple goal scoring opportunities, good ones at that.
Substitutes
Albert Sambi Lokonga (/10) :
Gabriel Martinelli (N/A)
Alexandre Lacazette (7.8/10) : Lacazette turned out to be the star of the night for Arsenal as he came up with a brilliant 95th minute equaliser from a close range after receiving a blocked shot of Ben White off a corner.
Crystal Palace
Vicente Guaita (6.9/10) : Guaita had a really good game. He made a fair few really good saves, especially the incoming scorcher on the top left corner from Pepe. That was a difficult attempt but Guaita managed to save that, only to later concede it by Aubameyang.
Joel Ward (6.3/10) : Joel did a decent job with defending but his performance wasn't as impactful as it was required to be. He didn't have much to do with the match and barely made any big impactful moves.
Joachim Andersen (6.6/10) : A decent performance by Joachim. He did a fine job at making valuable tackles and clearences. However, he seemed to be struggling at making clear long balls. He made six of those out of his thirteen attempts.
Marc Guéhi (6.8/10) : Marc was one of the better defenders in the side for Palace. He cleared four balls against the Arsenal players while also being extremely accurate with his passing. He found himself with an attempt at goal but was off target on trying to go for glory.
Tyrick Mitchell (6.9/10) : Tyrick was extremely quick with his feet as he managed to do really well with tackling the Arsenal players and winning multiple ground duels with them. However, his only flaw was he gave away possession on countless occasions.
Luka Milivojević (7/10) : The captain had a wonderful game until his substitution arised in the 67th minute of the game. He did exceptionally well with ground duels and winning tackles but also gave away possession occasionally.
James McArthur (6.7/10) : James was struggling badly with ground duels, hence the loss of possession. But, he made some really good long balls, won some tackles and interceptions and was seen to be correcting his mistakes whenever the opportunity arised.
Jordan Ayew (/10) : Jordan presses high and wins the ball back off Partey in a dangerous position and sends it across to Christian Benteke who makes a clear run and holds on to his nerve to score the equaliser. That was a brilliant assist by Jordan. He had a really good game, he himself had an on target goal attempt but was denied by Ramsdale.
Conor Gallagher (6.7/10) : Gallagher was one of the masterminds with the ball. He kept making regular attempts at goal off which two were on target but nicely saved by Ramsdale. Conor was also good with tackles but it came at a cost of losing possession at multiple occasions.
Odsonne Edouard (7.1/10) : Edouard shined brightly for Crystal Palace. He receives a brilliant pass from Olise and powers his shot at goal. It beats Ramsdale for pace and and cannons against the crossbar before bouncing down and over the line. Here comes the lead for Palace, 2-1.
Christian Benteke (7.6/10) : The striker receives a brilliant assist from Jordan Ayew and beats Gabriel in defence. He shows great composure to keep his calm and he fires it into the bottom right corner of the net to equalise the scoreline. Right after the beginning few minutes of the second half.
Substitutes
James Tomkins (N/A)
Michael Olise (6.6/10) : Olise brilliantly used the counger attack and passed it to Edouard who then cannons against the crossbar and the ball bounces in to get Palace the lead in the match. The scoreline read 2-1 in favour of Crystal Palace.
Cheikhou Kouyate (N/A)
ALSO READ | Premier League: Newcastle United vs Tottenham Hotspur player ratings as Spurs leapfrog Man United in the points table