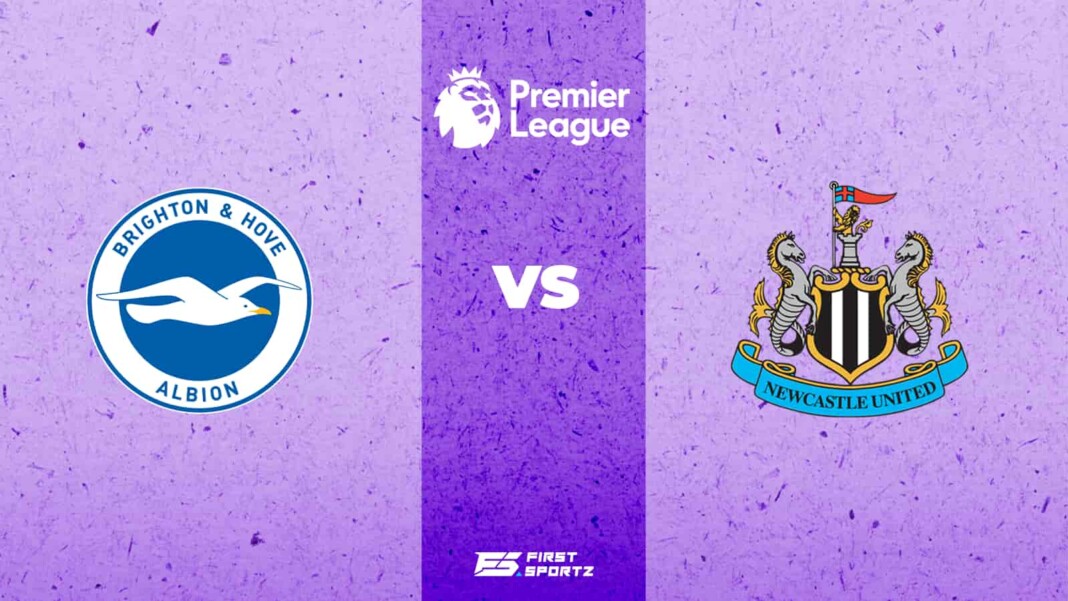 In a high voltage dramatic game at The American Express Community Stadium, Brighton and Newcastle United settle in 1-1 draw. Right from start Brighton looked impressive and they made many chances to score. But in 24th minute, foul by Clark on Trossard in the penalty box leading to a penalty which opened the scoring for Brighton. After timid 1st half performance, Newcastle came back strongly and scored in 66th minute courtesy of Isaac Hayden. The drama intensified when Brighton goalkeeper Robert Sanchez received red card for a harsh challenge on Callum Wilson in injury time. But Newcastle United couldn't capitalize on it. This is Newcastle United's 11th game without a win.
Here are the players rating from the match between Brighton and Newcastle United.
Brighton
Robert Sanchez (GK) (5/10): At goal, Sanchez was very agile and anticipated many movements of Wilson and Saint-Maximin. But in last minutes of the game, he made a rash challenge on Wilson yielding him a red card which left Brighton down to 10 men.
Marc Cucurella (7/10): Cucurella was very intact with his passing and creating spaces on the pitch. In the defensive position also he made great blocks of the passes made by Richie and Murphy.
Lewis Dunk (7/10): At the centre back position, Dunk was spot on to track down the movements of Lallana and Bissouma. He also had 91% passing accuracy which allowed Brighton get more possession based game.
Shane Duffy (7/10): Duffy was equally good on the pitch as Dunk. He ensured effective movements to intercept the passes by Shelvey and Hayden. Also with 94% passing accuracy he allowed defense line to stay intact throughout the game.
Joel Veltman (8/10): Veltman was the standout defender for Brighton. His completion level was close to 96% and didn't allow Almiron and Wilson to penetrate the defense.
Yves Bissouma (7/10): Bissouma was very active and had an excellent game in defensive front, winning two key tackles againstRitchie and Lascelles respectively.
Solly March (6/10): March looked lack lustre on the pitch. He was finding difficult to create spaces against Krafth and Lascelles. At the end of 1st half, he briefly showed some good game and had a shot on goal but couldn't score.
Adam Lallana (7/10): With the ball, Lallana was excellent. He had 99% pass completion and created some great spaces for Trossard and Lamptey to get in scoring positions.
Enock Mwepu (6/10): At central midfield, Mwepu looked little loose with his pass completion only 68% and he was often intercepted by Murphy and Krafth denting Brighton chances.
Tariq Lamptey (6/10): Lamptey from the start of the game looked wavered in terms of his movement with and without the ball at attacking front. However, during the transition from attacking to defensive mode, he showed some good defensive play and also made 2 clearances to dent Newcastle chances to counter attack.
Leandro Trossard (8/10): Trossard was the player of the day for Brighton. He made some glorious runs through Newcastle defense to get in scoring positions. He scored a wonderful goal from penalty to give Brighton an early lead in the game.
Substitutes
Adam Webster (7/10): In last 15 minutes of play, Webster looked very impressive with some creative chances for Lallana and Trossard.
Neal Maupay (6/10): Maupay came as a substitute for March in 66th minute. He was also unable to do much create attacking chances for Brighton.
Alexis Mac Allister (7/10): In the 2nd half substitution, Mac Allister was brought in to bring pace and penetrate the Newcastle defense. He made some great movements and had 88% passes completion on the pitch.
Newcastle United
Karl Darlow (GK) (7/10): It was a busy day for Karl Darlow at goal for Newcastle United. He made 4 great saves to keep Brighton away from scoring but couldn't deny penalty kick from Trossard.
Ciaran Clark (6/10): Clark performed well in patches for Newcastle United. In 24th minute he made an unnecessary foul on Trossard leading to penalty. But in 2nd half, he redeemed himself and provided an amazing assist to Hayden to score the equalizer for Newcastle.
Jamaal Lascelles (7/10): Lascelles was in fine form both on and off the ball. He created some great chances with Saint-Maximin and Hayden and also had 97% pass completion rate.
Emil Krafth (7/10): Krafth was excellent at defense for Newcastle with 89% passing accuracy. He helped to stop March and Mwepu to have a build up to score goals.
Matt Ritchie (7/10): Ritchie was sharp and agile with his runs and passes. He had 92% pass completion and stopped some dangerous counter attacking chances.
Jacob Murphy (7/10): Murphy made some great ball movement and helped Shelvy and Almiron to move forward. He had made some key passes and had excellent build up play in the midfield with Ritchie to increase goal scoring opportunities.
Isaac Hayden (8/10): Hayden at central midfield made excellent movements in the 1st half at the opposition defense. He kept the same intent going and scored an amazing goal to level the score for Newcastle.
Jonjo Shelvey (6/10): Shelvey failed to make an impact in the entire game. Hayden and Almiron made some exceptional moves for him but he was unable to convert it in goal scoring chance.
Miguel Almiron (6/10): Almiron was looking impressive in bits and pieces for Newcastle. Even though he made good passes but goal creation chances for Saint-Maximin and Wilson at front was very low.
Allan Saint-Maximin (7/10): Throughout the game, Saint-Maximin was sensational with his runs in the spaces. He was positioning himself well both on and off the ball to score. In the 1st half, he was close to score on multiple situations but couldn't convert.
Callum Wilson (6/10): Wilson was not at his best against Brighton. He was often blocked by Brighton defensive trio of Dunk, Duffy and Veltmen. Also, with 65% passing accuracy, he never looked to create scoring chances.
Substitutes
Joelinton (7/10): After substituting Almiron in 74th minute. Newcastle's attacking front looked more penetrative and threatening. He produced some key passes and through balls to help Wilson and Hayden get more opportunities.
Dwight Gayle (N/A)
ALSO READ | Premier League: Chelsea vs Burnley player ratings as The Blues are held by Burnley at home