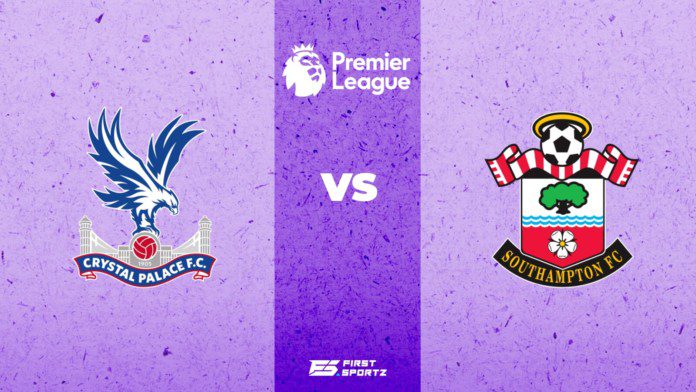 Crystal Palace vs Southampton: Selhurst Park Stadium witnessed a magnificent contest of football between Crystal Palace and Southampton. The two teams fought really hard in order to get those three crucial points.
Being a home game is always a lucky charm for a team and that worked wonders for Wilfried Zaha as he opened the account in just the second minute. However, Ward-Prowse's free-kick equaliser followed by Armando Broja, the Saints had announced their grand arrival.
Regardless of all the drama, Jordan Ayew pulled one back in for Crystal Palace to make it 2-2 as the match was inching towards an end. Eventually, the final whistle blew and the match ended in a draw. With that, let's have a look at how they performed.
Crystal Palace vs Southampton player ratings:
Crystal Palace
Jack Butland (GK) (6.2/10) : Jack made a couple of really good saves but certainly had no response to the two back to back goals that he conceded to equalise and give the lead away.
Joel Ward (6.6/10) : The skipper had as many as six clearences done followed by his without the fear instinct to try and take on the aerial duels. He did that with ease and earned some good points ahah.
James Tomkins (7.2/10) : Despite being on target, James couldn't concede the opportunity in a goal. He also was really busy in the defence making as many as eight clearances.
Marc Guéhi (6.8/10) : Marc had a great time contributing and helping in every way possible. He contributed in defence, midfield and kept the ball moving to help his team along the course of the game.
Tyrick Mitchell (6.5/10) : Tyrick did a decent job overall and contributed well to the company, however, he lost posession on as many as twenty six occasions which could've been a turning point for the home side.
Conor Gallagher (6.9/10) : Conor was really quick with his feet and was superb with his batting skills and that is what certainly earned a place in the side for the upcoming games and also helped him win a bunch of ground duels.
Will Hughes (6.9/10) : One of the most proactive athletes on the field was Will Hughes who kept on winning interceptions while also making successful tackles.
Cheikhou Kouyaté (6.8/10) : Cheikhou did a commendable job at defending but he rather had a lesser impactful influence to this game.
Jordan Ayew (7.5/10) : After the keeper touched the ball as he turned down the effort by Eduoard, Jordan was alert. The keeper made a touch to steer it away but Ayew found the ball yet in play. He then followed it by slamming it home from a different angle.
Odsonne Édouard (6.2/10) : Eduoard had the worst possible day on the ground. He managed to attempt the target on three occasions but all of his attempts were denied the opportunity by a keeper.
Wilfried Zaha (7.5/10) : Zaha provided one of the most unbelievable starts to the homeside. He received a brilliant ball in the second minute of the game which he shifted nicely onto his right foot and rifled it into the near corner.
Substitutes
Joachim Andersen (N/A)
Michael Olise (N/A)
Christian Benteke (N/A)
Southampton
Willy Caballero (GK) (6.8/10) : Willy was one of the busiest in the business and did a brilliant job with the gloves to keep goal. However, he did let loose and let two goals past him which ended the match in a disappointing draw.
Tino Livramento (6.8/10) : Livramento was one of the quickest for the Saints. He had one way too many interceptions and followed it with back to back wins in ground duels and making successful tackles.
Lyanco (6.3/10) : Lost posession way too many times followed by not being able to make accurate and key passes and barely making it any close to sending in long balls. What a disappointing performance.
Mohammed Salisu (7/10) : Salisu has been outstanding as usual for the Saints. He was super busy to keep the ball away from the box as he went on to make eight clearences. He also did a good job at winning duels and making successful tackles.
Kyle Walker-Peters (7.3/10) : Kyle Walker Peters assisted the second goal of the match which put the Saints in front and in the lead for the first time in the game.
Will Smallbone (6.7/10) : Will made a decent contribution to the defence but also had a good impact on creating goal scoring opportunities with some intellectual passing. He had a shy at goal but was off target on attempt.
James Ward-Prowse (/10) : The master of Free-kicks did it yet again in the match. He whipped the free-kick over the wall with such accuracy that it curled and finished into the top left corner to bring in the equaliser for the Saints.
Oriol Romeu (6.5/10) : Oriol was exceptional at taking back to back attempts at goal but because of being off target on both occasions, he failed to convert any into a goal. He did well with interceptions but lost possession wa too many times.
Nathan Redmond (6.1/10) : Nathan hasn't really worked worked but he's finding his way around. He did seem a little distracted on the field and barely contributed by passing.
Armando Broja (7.3/10) : Armando scored the second goal of the match, right after Ward-Prowse's free-kick. Armando received a brilliant ball by Kyle Walker-Peters which helped them get the lead in their favour.
Nathan Tella (6.7/10) : Nathan didn't have too many goal scoring opportunities neither did he create any for himself. He over-all did a brilliant job but wasn't that impactful of a performance.
Substitutes
Shane Long (N/A)
Theo Walcott (N/A)
Moussa Djenepo (N/A)
ALSO READ | "Mine was Manchester United"- Amadou Haidara comments on potential move to Manchester United and his relationship with Ralf Rangnick