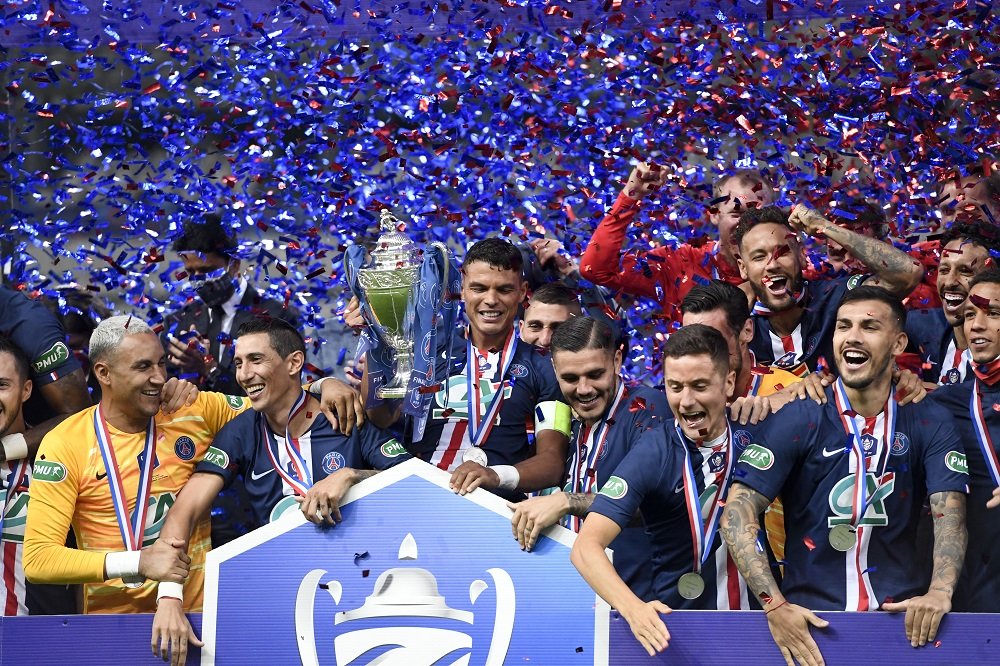 Paris Saint Germain received a major blow to their Champions League aspirations as Mbappe was stretchered off in Coupe De France final. Mbappe was left in pain and tears after receiving ankle clattering tackle from Saint-Etienne defender Loic Perrin. The French sensation was stretchered off in tears at 33rd minute of the first half. Perrin received a straight red card for his reckless challenge. Although Mbappe joined the team's celebration on crutches after appearing late in the second half. Neymar's first half goal was enough for PSG"s win in Coupe de France final against Saint Etienne.
The Finale
The final proved to be a cagey affair as the referee handed out 10 yellow cards and 1 red card throughout the game. PSG enjoyed 60% possession and took 8 shots on target per 90. 34 fouls were penalized by the referee in the final. Neymar scored the only game of the game in the 14th minute. Mbappe's injury sparked a scuffle between both sets of players.
In an interview Thomas Tuchel said "Yes, we won. In a final, that's most important. It was complicated for several reasons. There are many things to improve and analyze. That's good. But it's an expensive victory.
The satisfaction remains to have won. We did not concede a goal and we did not get angry even if we were not at our best" later added Tuchel.
On Saint Etienne's harsh play
Thomas Tuchel also commented on their rivals by saying" In the last three matches against Saint Etienne.They always have a red card in the first 30 minutes. And I'm not telling you what is said in the locker room before. And in addition, we are the ones who had three yellow cards.
Mbappe's injury
The French sensation was left injured and was seen on crutches in post-match celebrations. Injury troubles loom on PSG's Champions league hope as both Mbappe and Thilo Kehrer left the field injured.
"I have no news at the moment. Everyone would be worried after seeing the images of the injury. Of course, I'm worried said Tuchel about injury to Mbappel.
Thomas Tuchel was critical on PSG's performance as he was heard saying, "It was hard despite the numerical superiority. It was the first competitive match [since the shutdown], but we had a lot to lose. We were the big favorites. We had opportunities to score the second and I remembered last year when we lost after leading 2-0."
Paris Saint Germain face Lyon in the Coupe de la Ligue's final next week. A Champions League quarter final against Atalanta in Lisbon on August 12 is also in PSG's future Fixtures. The 'Parisiens' will be hoping for Kylian Mbappe to be fit before the Champions League clash against the high-flying Atalanta.
Also Read : Brendan Rodgers: Manchester United in need of Champions league Football