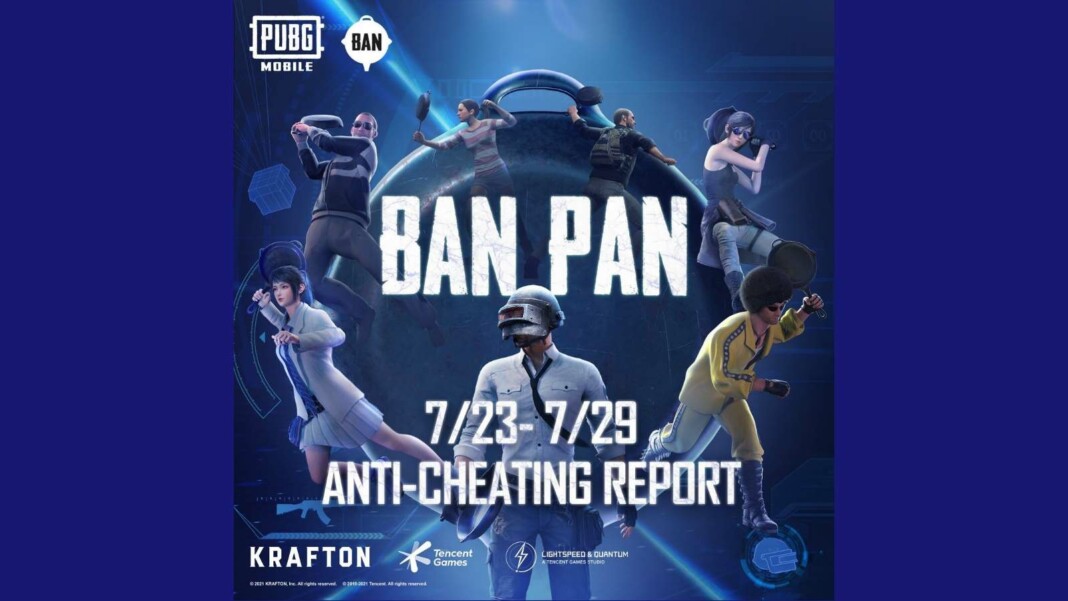 PUBG Mobile is considered the pioneer of battle-royale game as it helped to increase the popularity of battle-royale genre. There would hardly be any gaming enthusiast who hasn't played this game. In addition to that, the game has seen a significant rise in the eSports community which has given us skilled gamers as well as content creators who play a great role for keeping the momentum of the game alive.
PUBG Mobile also achieved the most coveted title of crossing one billion downloads across the world. The game's revenue is also rising significantly. However, this game has been a victim of hackers several times which led several players to turn towards a different game. Hacking is the most troublesome aspect of any game but it is next to impossible to keep a track of those players who resort to unfair means for winning the matches or defeating their enemies. This forced the officials of PUBG Mobile to build an anti cheat system which is able to detect hackers and cheaters in the game.
To ensure a free and fair gaming atmosphere, the officials make sure to detect every hacker and compel them to face the consequence of the act. The anti-cheat system rectifies and bans all cheaters who are subjected to use hacks to gain an unfair advantage over the legit players.
PUBG Mobile anti cheat system bans more than 1 million hackers this week!
The developers of PUBG Mobile publish a weekly report giving the details of the banned accounts, informing the in-game tier of the accounts as well as the reason that led to their ban. This week, the anti-cheat system has banned more than a million hackers this week so that the hackers are subjected to the deserving punishment for their misconduct.
From July 23rd- July 29th, a total of 1,040,818 accounts were banned. Although this week's ban has seen a slight decrease in the numbers compared to the previous week's ban. The main reasons for this week's ban were Modification of Character Model, Auto-aim hacks & X-Ray vision.
Related: PUBG Mobile Mission Ignition set to comeback on 5th August, 2021 with Mission Ignition: Reloaded Live Event
Banned accounts respective to their rank tiers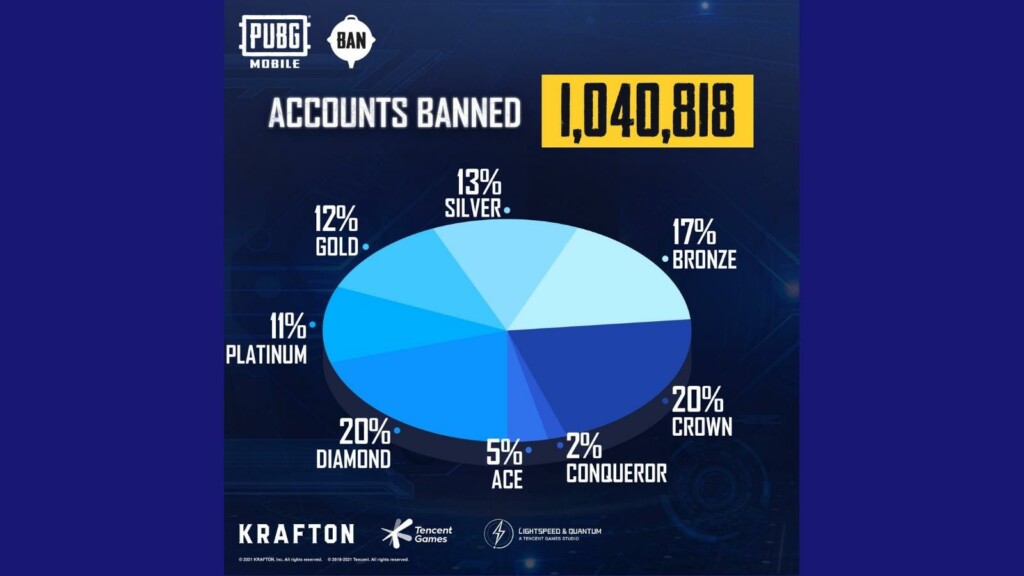 Conqueror – 2%
Ace – 5%
Crown – 20%
Diamond – 20%
Platinum – 11%
Gold – 12%
Silver – 13%
Bronze – 17%
Usually, players of Diamond & Crown Tier resort to unfair means and use cheating tools to increase their rank. This is evident from the fact that the anti-cheat system has banned more accounts from Diamond & Crown Tier.
Breakdown of cheats used this week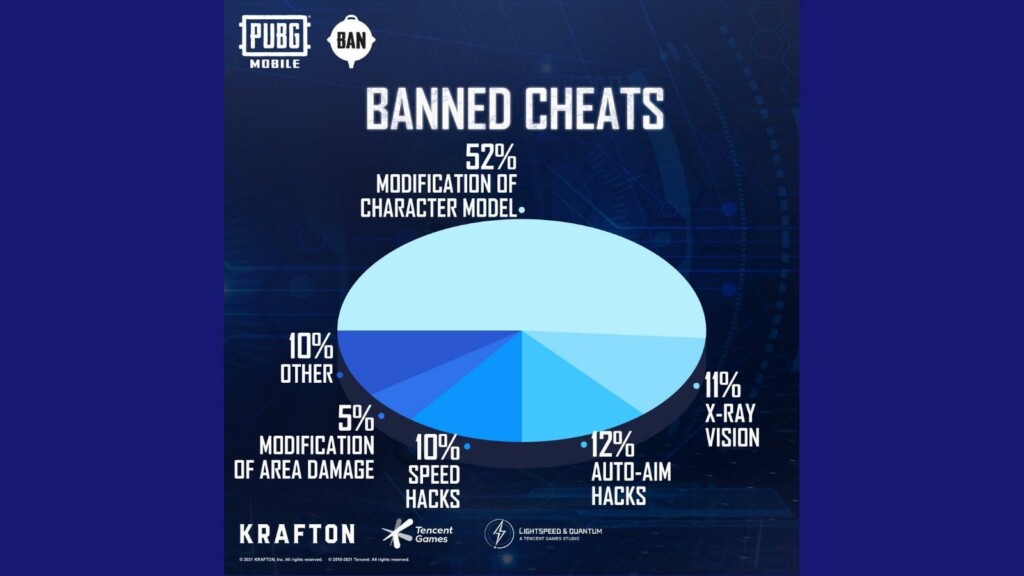 Speed hacks:>> 10%
Modification of character model:>> 52%
X-Ray vision:>> 11%
Modification of Area Damage:>> 5%
Auto-Aim:>> 12%
Others:>> 10%
As we can see, the primary reason that lead to ban of several accounts was Modification of character model.
Also Read: PUBG Taego Hashtag Event: How to participate, rewards and more