PUBG vs COD : A comparison between two most successful battle royale mobile games of all time.
PUBG Mobile has, for a long time, ruled the mobile battle royale roost. PUBG's real challenger comes in the form of Activision's latest, Call of Duty: Mobile. Both these games are looking to draw on an element of realism – to some degree – while presenting us with a blend of intense combat, variety and differing gameplay modes and massive multiplayer action.
PUBG: Mobile is nothing short of a revolution in the world of mobile gaming in India. Never before has a gaming title basked in such renowned glory in the country and certainly not a mobile game. One can say that Tencent, the publisher of PUBG Mobile, has cracked the formula for a successful title in the country where eSports had not been of particular significance. Just when it seemed that the popularity of PUBG would just keep on skyrocketing, out of nowhere, Activision drops a bomb with the Call of Duty: Mobile game which brings the world-renowned franchise on the mobile platform and creates the spark of PUBG vs COD debate.
But what are the elements that really differentiates between these multiplayer battle royale mobile games and takes one of the games a notch higher? Let's find out the ultimate PUBG vs COD review.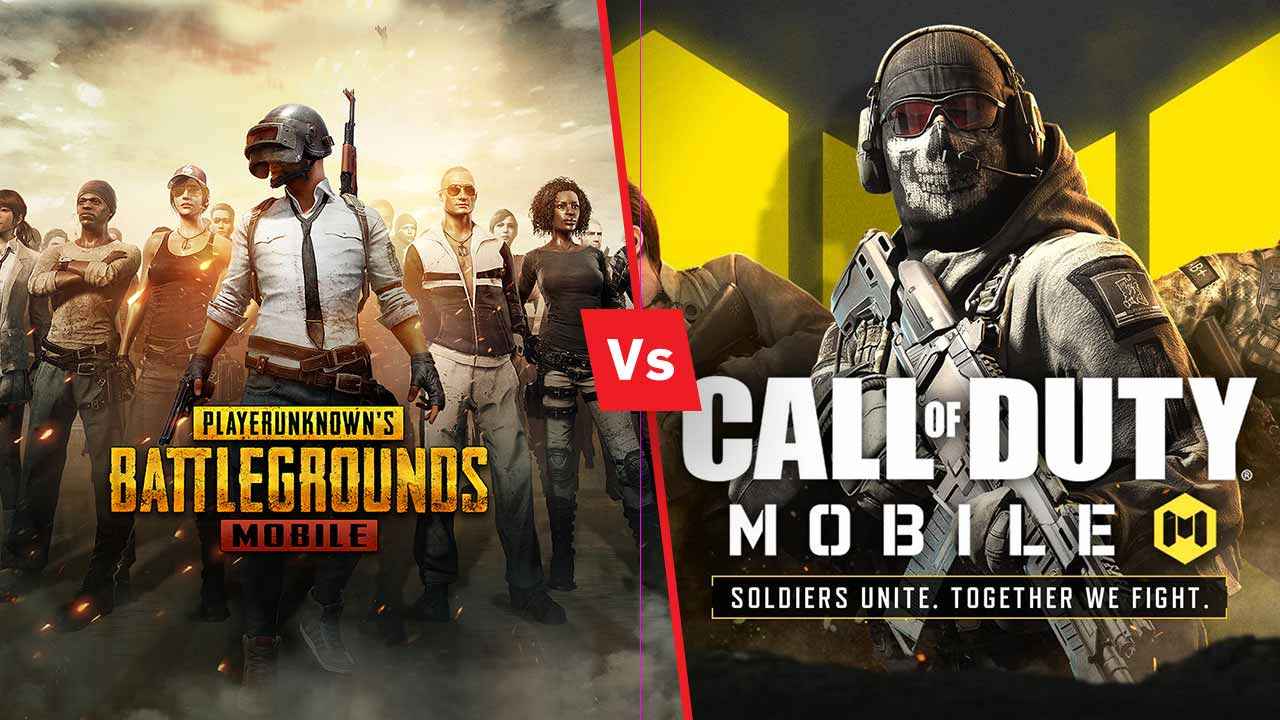 PUBG vs COD : The Ultimate Battle?
PUBG has been the game changer for all mobile gamers and the mobile gaming arena since the time it stepped into the gaming battle. New titles coming out every few weeks with graphics and gameplay that can challenge proper console games any given day keeps the gamer at awe. Activision, who's responsible for the worldwide-hit franchise Call of Duty (COD), has worked with Tencent to bring it to the mobile platform and it's already available in beta now.
Simply titled Call of Duty (COD) Mobile, this aims to bring the familiar COD gameplay to the mobile for fans of the franchise. In addition, to tackle the competition, it also brings in the viral battle royale mode that challenges its gamers to win as the last man standing. Sounds familiar? The concept does sound very similar to PUBG Mobile's gameplay. But here what makes it interesting – a proper PUBG Mobile rival.
PUBG vs COD differences and similarities ,and what takes one of these battle royale game ahead:
Graphics: Unreal Engine 4 Vs Unity engine
PUBG Mobile is powered by the Unreal Engine, while COD Mobile runs on the Unity engine. While, ultimately, this doesn't totally matter, Unreal is often associated with photo-realistic visuals, while it's said that it takes a lot more work to get Unity games to look as polished.
That's one of the differences a gamer will immediately spot in these two games. Graphically they have very different character. PUBG Mobile appears to have a lot more fine detail, while COD feels graphically dense, with a lot crammed in, but not quite the same level of clarity. PUBG Mobile also feels like everything has a little more breathing space, while in COD things seem a little more thickly plastered, certainly in terms of the maps.
Gameplay versions :
One of the finest difference while performing a PUBG vs COD analysis is the gameplay modes these two games offer. PUBG is a generic battle royale game more so than anything, putting arcade games behind. It's more of a genre-defining game with many looking to recreate the sort of multiplayer battles that it offers. With Tencent involved in both games, it's no surprise there are similarities, especially around the controls, which are similar both in layout and on-screen elements.
COD Mobile is faster and action-packed. It opens with multiplayer instead, a 5 vs 5 battle in smaller areas – crash, killhouse, crossfire, Nuketown and hijacks in a number of different modes – frontline, deathmatch, dominations and search and destroy. It took PUBG a year or so to offer this type of multiplayer and COD Mobile immediately feels more engaging and dynamic – you can do more and it plays better with a range of difference maps to play on.
Call of Duty Mobile lets gamers explore more :
PUBG Mobile is a fairly simple survival game at its core: parachuting in, gather, survive and win. In Call of Duty Mobile gamers tend to start with little, gather more quickly, but also have a full range of skills that PUBG doesn't offer. A lot of the elements is the same, like airdrops, ground vehicles and maps with varied terrain and vehicles, and a decreasing game area.
But COD Mobile often lets its gamers get to bigger weapons faster. There's rocket launchers, sticky grenades and things like drones and UAVs to remotely locate and attack other players, all of which expand the range of combat options; and it's not even in the arcade mode. PUBG vs COD tolls hard to one game while taking these in consideration.
Summing up: PUBG vs COD
PUBG Mobile has been on the scene for some time and Call of Duty: Mobile is certainly enjoying the hype of being new and shiny. Any PUBG Mobile player will instantly know how to play COD Mobile because they are similar enough to just transfer your skills over. But it's needless to say that Call of Duty offers the better arcade experience while PUBG Mobile is a better game in its own niche : Battle Royale whole COD is a blast and it's something that PUBG does quite as well. 
When it comes to generic battle royale, it is still evident that PUBG looks better and the pace of the game feels very different. But that same logic applies from arcade modes.
---
Also Read: Free Fire Overtakes PUBG Mobile as the Highest-Grossing Mobile Battle Royale in USA: A New Era?