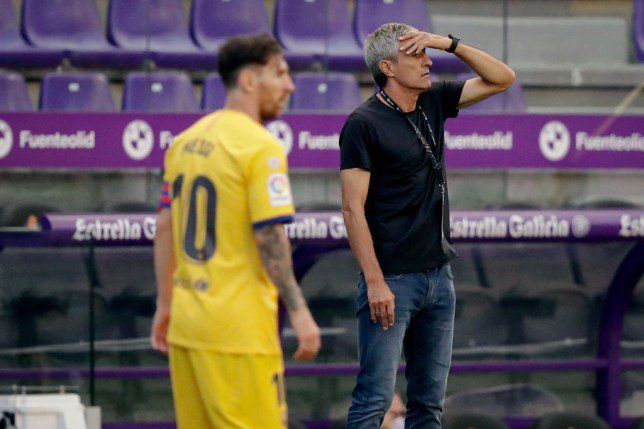 Quique Setien admits he doesn't know whether he will still be managing Barcelona as they start their Champions League competition because he admitted that his position could be at danger following the team 's unsuccessful title defense in La Liga.
At home, Barcelona fell to Osasuna on Thursday night, a 2-1 defeat that came on a night that Real Madrid won the title of LaLiga Santander.
After witnessing his team endure a crippling 2-1 loss at Camp Nou, Setien acknowledged that before European football returns, his tenure in charge at Camp Nou could come to an end.
"I hope so, but I don't know. I agree on certain issues with Messi, including self-criticism." – Setien confessed when asked if he will still be a coach in Barcelona when the Champions League returns in August next month.
The thing Messi was worried about was Napoli's game in the Champions League. Barcelona drew against the Italian side 1-1. They play Napoli in the second leg of their last-16 tie in the Champions League on 9th of August."If we keep this up, we've taken 10 corners today," Setien said.
Also read: Gareth Bale top 3 goals in the Finals: Happy Birthday 'The-Welsh-Golfer'
"If one goes in, we still don't lose. If we go ahead, we still don't lose. We have to be self-critical." – Seiten said.
"If we are self-demanding, there are things to improve, but we have also done things well. I wouldn't throw it all away."
"The frustration of the moment means we have lost a league, which gives us a lot of courage, but now we have a few days off and I'm sure the team will come out of it fresher."
"This is what we have to deal with from our position, to face this tournament with a lot of hope."
Setien admitted blame for what went wrong, but he is sure Barcelona would be able to switch it around:
"I'm the most responsible." – the Catalan manager said.
"I find myself capable and energetic, of course. I'm convinced that we're going to be a different team."
"With an attitude to go for it all and that we will face the Champions League with a positive mindset."Up to that point I can control. The rest I can't control." – the 61-year-old concluded.
Also read: Champions of Spain! Madrid win 2-1 to seal the 34th La Liga title