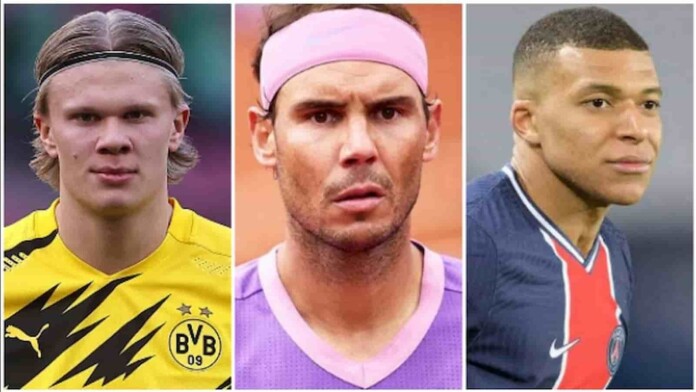 Rafael Nadal, the 20 time Grandslam champion is one of the greatest tennis player of the modern era. The Spaniard claimed his 12th title in Barcelona last week, after he defeated Stefanos Tsistipas in a thrilling three set final.
Next up, the Spaniard will compete at Madrid Open 2021, where he enters as the top seed, after Novak Djokovic's withdrawal. Prior to competing in Madrid, Rafael Nadal participated in a talk show at the inauguration of the Mutua Madrid Open. He spoke about several things, and also gave his views on football.
Rafael Nadal is a huge fan of the La Liga side, Real Madrid, and has been following them since several years. The Spaniard has good relations with Real Madrid President, Florentino Perez and captain, Sergio Ramos. He was asked to choose as to which player he would choose to sign at Real Madrid, with Kylian Mbappe and Erling Haaland as his options.
Kylian Mbappe or Erling Haaland: Rafael Nadal gives his verdict
In response to the question of picking either of Haaland or Mbappe, Rafael Nadal stated that he would prefer to have both stars at Real Madrid. "I would like both of them. To be honest, both are going well for me," the Spanish tennis player said.
Feliciano Lopez, who also participated in the talk show came up with an answer and chose the PSG youngster, Kylian Mbappe. "If I have to catch one, Mbappé," said Lopez.
Rafael Nadal has received a bye in the first round of the Madrid Open, by virtue of being the top seed. In the second round, he will come up against either of Carlos Alcaraz or Adrian Mannarino. The former has been touted as Rafael Nadal's successor, and has shown plenty of promise at the age of just 17.
Also Read: Find Out: What Rafael Nadal had to say on the bubble life in Madrid