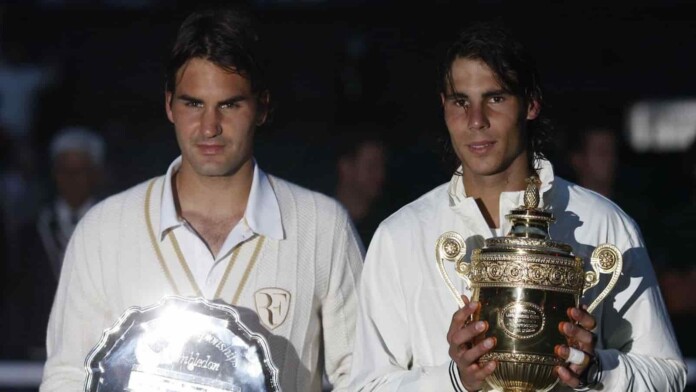 Rafael Nadal has played several memorable matches in his long and illustrious career. The Spaniard has won 20 Grandslam titles in his career so far, and is one of the most respected athletes around. One of his fiercest rivals over the years has been Roger Federer. The duo have faced against each other on 40 occasions, with Nadal leading the head-to-head encounter, 24-16.
Recently, Rafael Nadal revealed his favorite Wimbledon memory. The 34-year old has won the prestigious championships on two occasions in the past, in 2008 and 2010. He revealed that his favorite memory was winning his first Wimbledon title in 2008, after he defeated Roger Federer in a thrilling five-set final.
Rafael Nadal talks about the Wimbledon final against Roger Federer
Rafael Nadal was defeated twice in the Wimbledon final in 2006 and 2007 by Roger Federer, so the 2008 final was of particular significance for him. "My favorite Wimbledon memory is the 2008 final against Roger Federer. No doubt about it," said Nadal.
Rafael Nadal and Roger Federer battled for over 4 hours 30 minutes on the legendary center court. The Spaniard won the first two sets, however, Roger Federer came storming back into the match, winning the next two sets. The fifth and final set went all the way down to the wire, as Nadal ended his losing streak against Federer at Wimbledon, by clinching the decider by a score-line of 9-7. This final is regarded by many as one of the greatest Grandslam matches that have ever been played.
Unfortunately, last year the Wimbledon Championships were cancelled owing to the covid-19 pandemic. The Championships are scheduled to be held this year, as the world awaits for another thriller Rafael Nadal and Roger Federer.
Also Read: "I don't know whether I will play at the Olympics," says Rafael Nadal