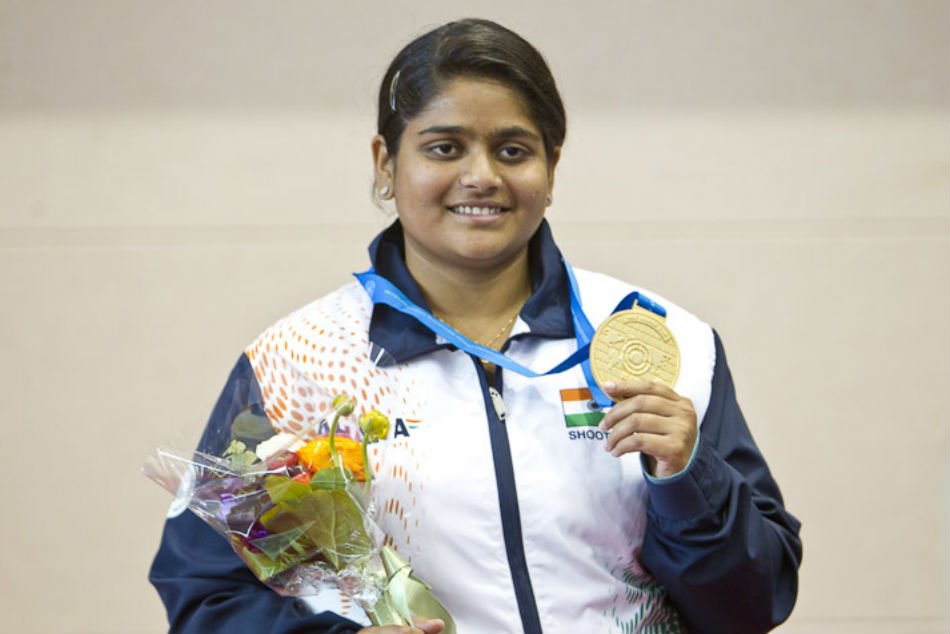 Rahi Sarnobat gave further proof of why she is regarded as the most consistent sport pistol shooter in the country. The 29-year old Asian Games gold medalist from Maharashtra clinched first place in the Women's 25m Pistol Trial 1, part of the ongoing NRAI trials being held in New Delhi.
Despite a middling score of 578 in the qualifying round, Rahi fought off the dual challenge posed by Chinki Yadav and Manu Bhaker in the finals. Rahi won with a score of 36, 2 clear of Chinki's 34. Manu was eliminated in 3rd place.
Chinki was leading after the first 3 rounds, but a couple of 2s combined with 5s from Rahi cost her the match. Manu yet again could not capitalize on a strong qualifying round. This has been the pattern of her career in the 25m event.
Manu topped qualifications with 582, which included 289 in precision and 293 in rapid. Chinki was the only other shooter with 580+, ultimately scoring 581. Rahi's qualifying round was marred by a 92 in the 3rd precision series. She ended up qualifying in 4th place. The finals cut off was 574.
While it seems Rahi has almost certainly booked a place for the Tokyo Olympics, who between Chinki and Manu will be chosen for the other spot remains to be seen. Manu has been excellent in qualifications of this event only to falter in the finals, while Chinki is the one who bagged the quota albeit having inconsistent scores.
Trap Trial 1 Results
Men
Lakshay Sheoran was the winner in the Men's event, scoring 46 in the finals. Adhiraj Singh Rathore was 2nd with 42, while Zoravar Singh Sandhu was eliminated in 3rd place.
Kynan Chenai topped qualifications with 121 but finished 4th in the finals. Lakshay was 2nd with 120. Zoravar was 6th with 116.
In Men's junior trap, Shapath Bharadwaj was the winner with a score of 41, just ahead of Shardul Vihan with 40. Aditya Bhardwaj was 3rd. Shardul had topped qualifications with 112.
Women
Rajeshwari Kumari won the Women's event with a finals score of 43. She was well ahead of 2nd-placed Shreyasi Singh who shot 36. Kirti Gupta was 3rd.
Rajeshwari also topped qualifications with a score of 110.
Kirti Gupta won the Women's junior event. Her finals score of 43 was only one point ahead of Sabera Haris's 42. Neeru was placed 3rd.
Kirti was 1st in qualifications after scoring 105.