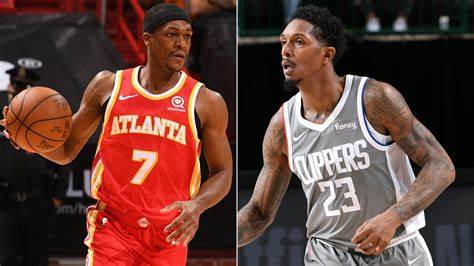 The Los Angeles Clippers acquires veteran guard Rajon Rondo from Atlanta Hawks in exchange of Sixth Man of the Year, Lou Williams as per the latest trade news being official. Not only that the LA Clippers are also sending two future second round picks along with cash considerations in this deal.
Rondo who is now 35, gives the Clippers championship experience, leadership and basketball IQ at point guard. He returns to Los Angeles, where he won his second NBA title last season with the Lakers before joining the rebuilding Hawks on a two-year, $15 million deal.
Rajon Rondo goes to LA Clippers whereas Low Williams comes to Atlanta Hawks
Knowing that the LA Clippers are in a tough spot in the WC and a veteran like Rajon Rondo can be real handful to work alongside Paul George and Kawhi Leonard. The fact to not forget here is Rondo played a major role in helping the LA Lakers win their Championship in the bubble last year.
Rondo is also reunited with Clippers head coach Tyronn Lue, who was an assistant coach with the Boston Celtics from 2011 to '13, when Rondo was with the Celtics. Talking about Lou Williams has won three of the past six Sixth Man of the Year awards and just passed 15,000 career points Wednesday night in the Clippers' win at San Antonio.
With the league reaching at its business end, both teams have made their required trades before the trade deadline. It would be interesting to see where these two teams finish before the playoff's spots get decided. The LA Clippers are currently 3rd in the Western Conference whereas Atlanta Hawks are at #7 in the Eastern Conference. 
Also Read: Victor Oladipo acquired by Miami Heat from Houston Rockets