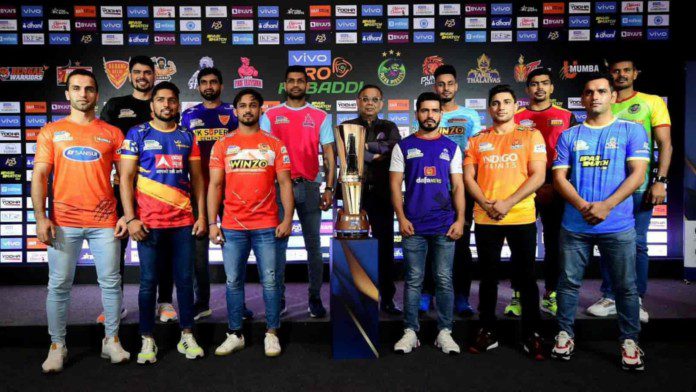 PKL has seen several young and experienced defenders displaying their strength and skills to make a mark among the best. These players aided significantly to their team's progress during the season by helping to produce a solid unit.
Every sport relies heavily on offense and defense. In the PKL, a team's defense is vital to their success. Kabaddi is a sport in which raids get you points, but tackles win you matches. A tremendous tackle requires tenacity, skill, and strength, all of which kabaddi players possess in plenty.
On that note, let's take a look at the top five tackles in the history of PKL.
Mohit Chillar and Surender Nada vs Rohit Kumar (Patna Pirates)
The duo of Mohit Chillar and Surender Nada is among the finest in the history of the league. Mohit and Surender's combination at the left and right corners respectively has proved to be of immense value for the team they represent. While playing for U Mumba in the inaugural season, the duo was at their best to produce a splendid tackle.
They were up against an in-form Rohit Kumar of Patna Pirates. With only the two of them on the court for U Mumba, Rohit walked in confidently to inflict an all-out. However, Mohit and Surender had other ideas as they got the best of the raider.
Surender Nada vs Monu Goyat (Bengal Warriors)
The name of Surender Nada features once again in this list, this time against Monu Goyat of Bengal Warriors. Nada was plying his trade for Bengaluru Bulls in PKL 4 and lived up to his expectations by producing an exceptional tackle. Monu was one of the best performers that season but couldn't ease past Surender Nada.
During the raid, Goyat was going past Ashish Sangwan after the latter's unsuccessful attempt to grab the ankle but Nada came in the way to tackle Goyat and produce a super tackle.
R Elangeshwaran vs Rohit Kumar (Bengaluru Bulls)
The newcomer and youngster R Elangeshwaran had the best moment of his lifetime in the PKL when he showcased his brilliance against one of the best, Rohit Kumar. Elangeshwaran, playing for Telugu Titans in a PKL season 5 clash against Bengaluru Bulls impressed everyone with his defending abilities.
With only three defenders on the court, Rohit had the chance to extend the lead of the Bulls. However, Elangeshwaran had other plans as he grabbed the raider's knees and inflicted an exceptional super tackle.
Fazel Atrachali vs Nitin Madane (Bengal Warriors)
Fazel Atrachanli is one of the best overseas defenders in PKL who has the ability to take on a raider solely by himself. There has been no match for his tackling prowess as the Iranian has produced several unimaginable tackles over the seasons in PKL. One of his best tackles came against Nitin Madane of Bengal Warriors in a season four clash against Bengal Warriors.
Atrachali was then donning the Patna Pirates' colours and was a vital cog in their title defense that season. Coming back to his tackle against Madane, Atrachali was left with just two defenders on the mat and had a great challenge ahead of himself to come out on top. The Iranian rushed towards the raider with all his strength and pushed him out of the lobby to achieve a super tackle and grab two valuable points.
Jang Kun Lee vs Rohit Kumar (Bengaluru Bulls)
Jang Kun Lee is known as the finest overseas raider of all time and a veteran in PKL. He has delivered several match-winning performances with his raiding abilities but had a great moment once on the other side of the mat. In a season five match against Bengaluru Bulls, Kun Lee did something out of the box to come out on top against Rohit Kumar.
Rohit was eager to collect a point in that raid but the South Korean restricted the raider by grabbing his feet and tackling him to complete a super tackle.
ALSO READ | PKL: 5 unbreakable Pro Kabaddi League records