Valorant is a First-Person and team-based tactical shooter game. Players are assigned to defend and attack in the game. It is a game with a team of 5 members. Valorant has attracted a large number of users globally. Many tournaments of Valorant are being conducted daily by Riot and Independent organizations. We also have seen many valorant tournaments in India.
Many talented players want to participate in such tournaments and showcase their talents. We have come with a Valorant tournament that will be conducted by RaptorX. We team FirstSportz are proud to be the Media Sponsor for the tournament. In this article, we will let you know how to register and the rules for this tournament.
RaptorX Esports Valorant Tournament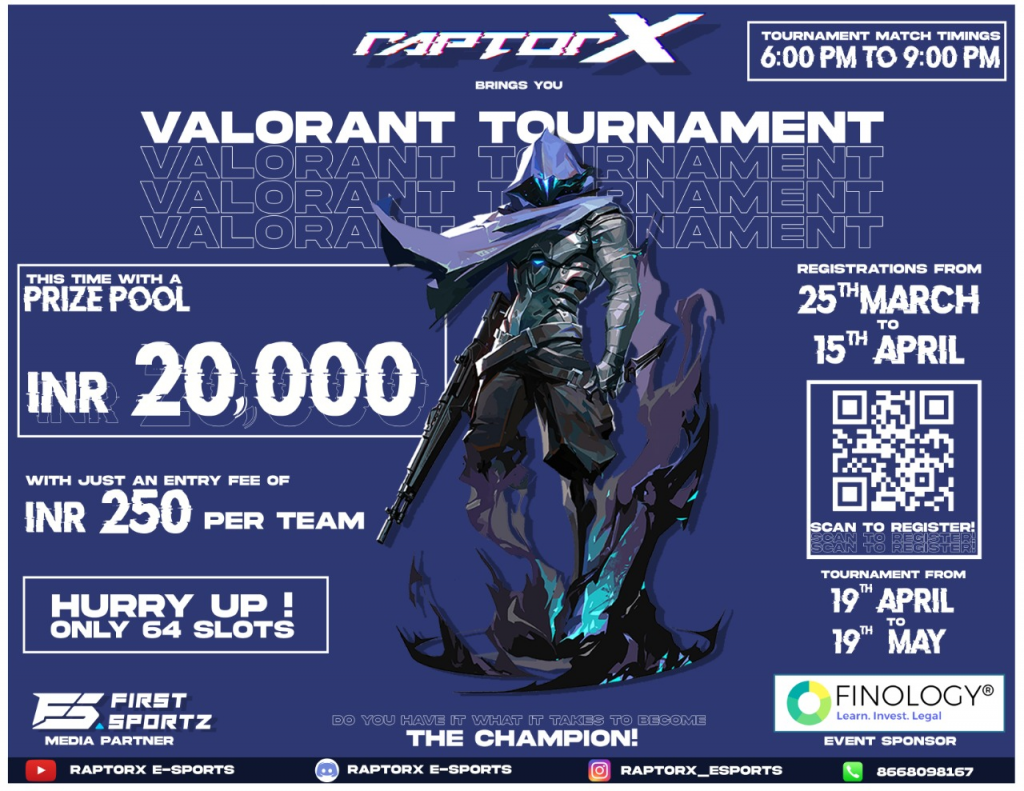 RaptorX Esports is an Esports organization that conducts tournaments frequently on Valorant presently. Conducted and hosted 9 Valorant tournaments. More than 800+ subscribers in YouTube more than 700+ Active Discord members, more than 400+ Instagram Followers. They have also hosted a giveaway. This time they have come with a big tournament with a Total prize pool of 20000 Indian Rupees.
Rules for this tournament
Players and teams
Players are only allowed to come from a single account. You are not allowed to share your account with any other person. Your account is for your use, and your use alone.
Each team's roster will consist of at least 5 players.
The entry fees for a team is Rs. 250.
The maximum number of substitutes allowed per team will be three.
A single player can only represent a single team.
Match Rules
The tournament will be held as scheduled unless stated otherwise by the organisers.
The mode of the tournament will be a knockout.
All players will have to be in the lobby before the time limit goes down (15 minutes). In case of players missing, the team with less than 5 members will be disqualified.
After all the players have joined the lobby, the map for the match will be decided using Veto links.
The teams should be certain not to use the party mic while in game.
Cheating
It is forbidden to cheat, modify the game files, exploit bugs, and/or use any third-party application which would give an unfair advantage against other users and will lead to disqualification from the tournament and any future tournaments.
Behavior and Sportsmanship
Show respect to everyone involved in the tournament.
Do not spam, be it in text or Voice over Internet Protocol (VOIP).
Excessive toxicity will not be allowed, any use of foul language or real-life threats and violence will lead to the team getting disqualified.
Registration for this Valorant Tournament
The registration process for this Tournament will be taken through a registration form via Google Documents. The registration fee for this tournament is Rupees 250 Only.
Registration will start from 25th March 2021.
The registrations will be closed on 15th April 2021.
The tournament will start from 19th April 2021 to 19th May 2021
All the matches will be held from 6 PM to 9 PM (IST)
Here is the link to the registration form. Click here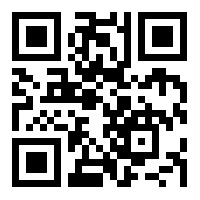 You can also scan this QR Code for the registration from.
"Do you Have it what it takes to become a champion."
The Format and brackets of this tournament will be announced soon. So for quick updates on the tournament follow our social media pages.
Here is the discord invitational link for the tournament. Click here.
The qualifiers will be streamed on the RaptorX YouTube channel. Click here Don't forget to subscribe.
The Quarter Finals, Semifinals, and Finals will be streamed on our YouTube channel. Click here and Don't forget to subscribe.
This event is conducted by RaptorX Esports event sponsored by FINOLIGY and Media sponsored by Firstportz.


Also Read: A step-by-step guide to play Valorant on Mac: All you need to know