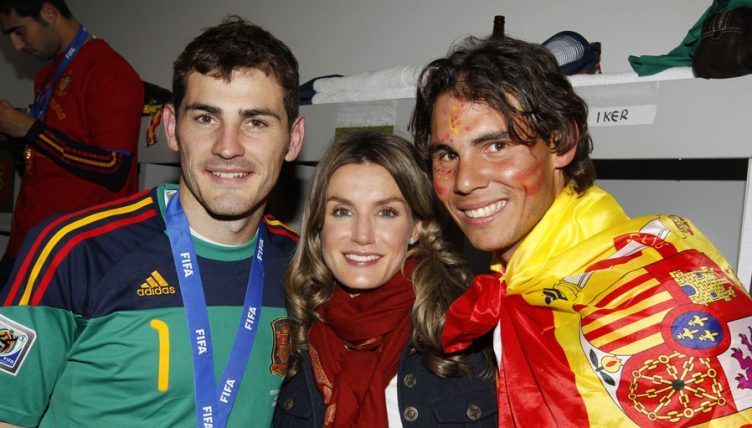 Rafael Nadal has recalled the rush of emotions he felt when Spain bought the World Cup home [Spain]. Nadal also commented on how important football has become for the whole of Europe in general and Spain in particular. The 19-time grand slam winner has also bagged as many as five Davis Cup titles. Last year, he went unbeaten in his country's campaign to win the new version of the Davis Cup.
Apart from tennis, the legend is also a devoted follower of football, so much so that he has even expressed his desire to become the Club president of Real Madrid.
Speaking to MARCA radio, Nadal becomes nostalgic while remembering his Country' s World Cup triumph 10 years ago. On personal terms, 2010 was one of the most memorable years of Rafael Nadal's career, as he became the seventh male player (and the youngest of five in the Open Era) to complete the Career Grand Slam. He achieved the feat by winning the US Open, having already bagged the French Open and Wimbledon earlier in the year.
But that was not the end of his trophy haul journey, he traveled with the national squad to Johannesburg where Spain lifted the World cup trophy. He was seen having a jolly time with the World Cup-winning squad. 2010 FIFA WORLD CUP was happening at the same time as the Wimbledon Championship and Rafa Nadal found himself switching between the two sports.
Also Read The desire is to reach 25 Grand Slam Titles: Rafael Nadal
"I lived it in different phases. The Wimbledon was the first one; and at home I saw the semifinal against Germany with the goal of Puyol. And in Johannesburg the World Cup final one," the Spaniard said.
Rafa also revealed that some tears of joy were shed when Spain Won the World cup. Rafa himself comes from the Footballing Royalty with his Uncle, uncle Miquel Àngel Nadal having played for FC BARCELONA. Rafa admits to have been a good footballer as a youngster before choosing Tennis as his career destination. He has never shied away from his liking for the game and often expressed how football has influenced him.
"The sport of football is the most important in Europe and also in Spain. As a football fan, having been able to see Spain winning the World Cup and two consecutive European Cups is something historic and probably unrepeatable." Rafael Nadal said.
The Spaniard also revealed how he could not control his emotions when Spain won the World Cup and said, "I lived it with the maximum enthusiasm and intensity. I remember the nerves when Iniesta scored, and without realizing it the tears were there."
Nadal was often seen in the stands watching La Liga matches in the private box of Florentino Perez at the Santiago Bernabeu, whenever he was in Madrid.
Also Read Career Loss percentage against each other of The Big 4