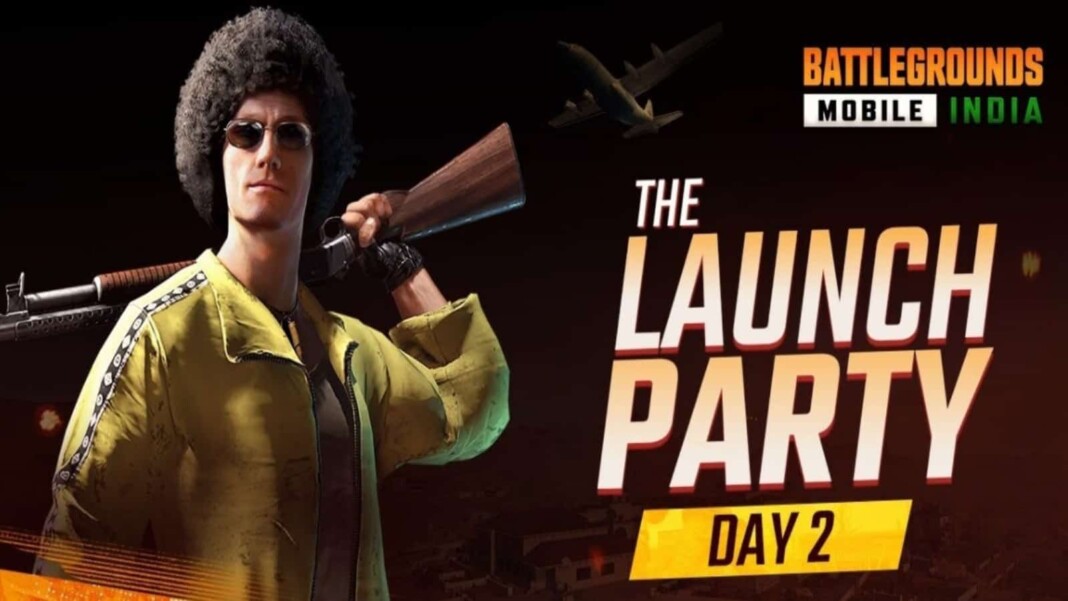 The two-day streamers battle of BGMI Launch Party came to an end today and the results of BGMI Launch Party Day 2 have been announced. A total of 18 professional teams battled for a prize pool of 6 lakhs INR where the winner team took away a whopping amount of 3.3 lakhs. In this article, we have mentioned the result of the tournament as well as overall standings of the teams.
Battlegrounds Mobile India finally concluded its first ever tournament and players were rejoiced to see an action packed performance by different streamers. The tournament was certainly an eye-feast for the viewers as the live stream gained more than 80K viewers. Several teams who struggled to climb the ladders of 'Top 10' in the 1st Day of BGMI Launch Party made a splendid comeback today. We got to notice some nail-biting moments where it wasn't clear even at the last zone that who is going to win the match. Every single streamer is showering love towards their favorite battle royale game as it has made a comeback after several months with a brand new name.
Let's take a look below to know the match results and who bagged the ultimate 'chicken dinner'.
BGMI Launch Party Day 2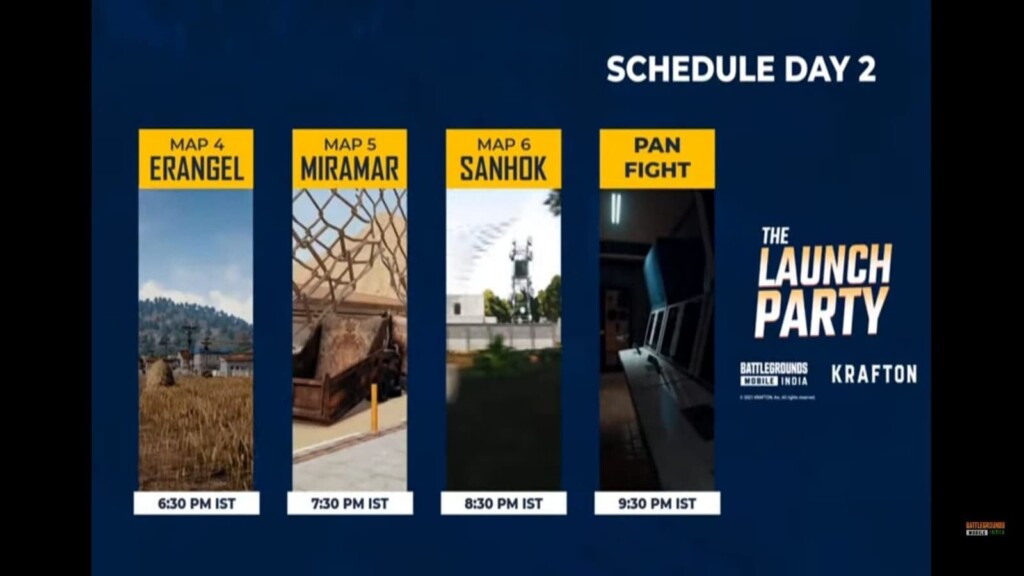 Match 1- Erangel 6:30 PM IST
Match 2- Miramar 7:30 PM IST
Match 3- Sanhok 8:30 PM IST
Custom Pan Fight Match- 9:30 PM IST
Players had to play 3 different matches in Erangel, Miramar and Sanhok maps and a friendly match 'Pan Fight' match at the end. The interesting part about BGMI Launch Party Day 2 was that we got to see different winners in different maps. Everyone played remarkably well, even if the situation turned bitter towards them.
Related: Battlegrounds Mobile India: When and where to watch BGMI Launch Party Day 2?
Results after Match 1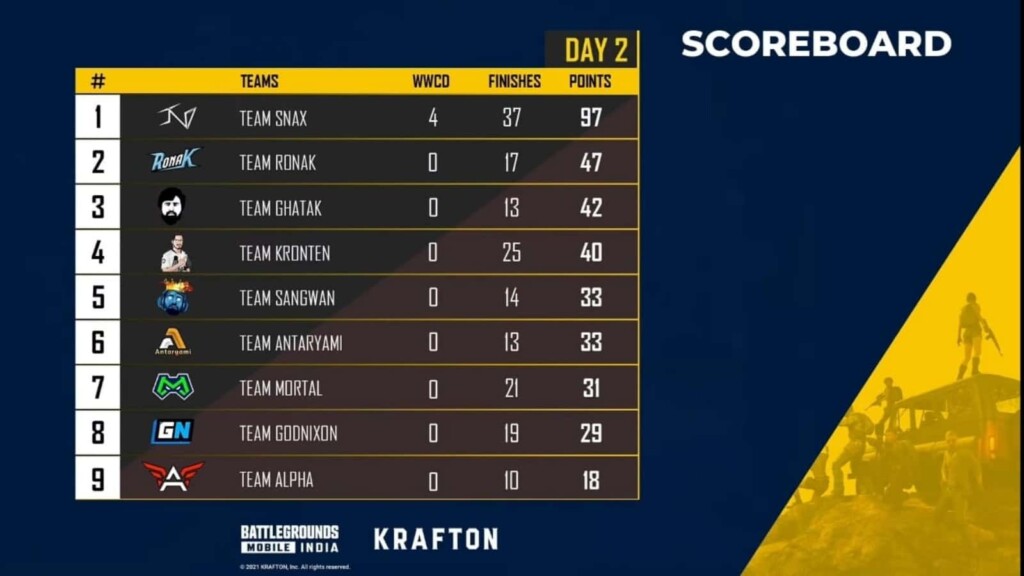 The first match concluded with 'Team Snax' once again taking the 'chicken dinner', accumulating 37 finishes and 97 points. The second and third places were secured by Team Ronak and Team Ghatak respectively. Team Ronak gained 47 points whereas Team Ghatak was just 5 points shy of gaining the 2nd place.
Results after Match 2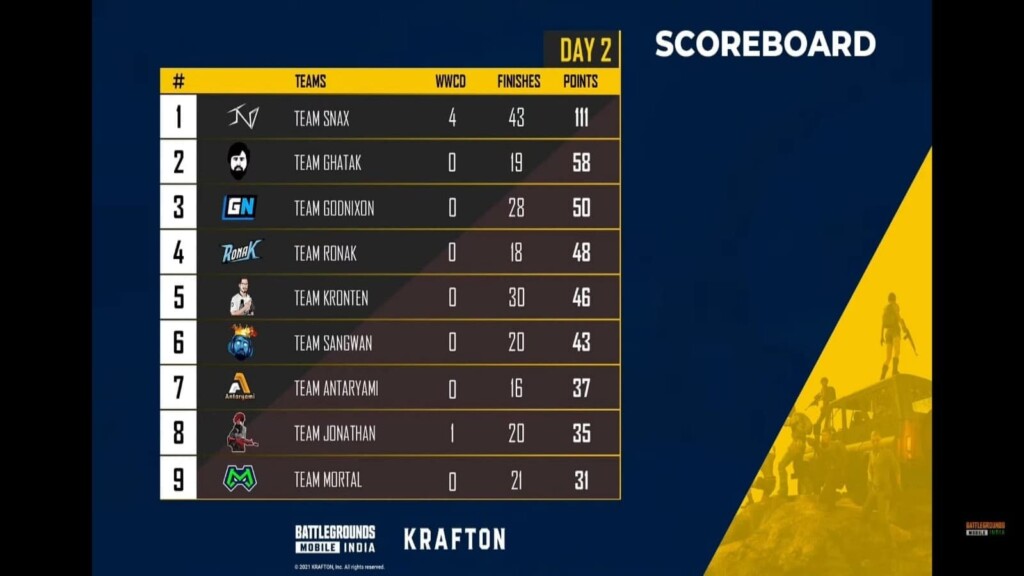 Team Jonathan turned heads of the viewers as it made an outstanding comeback with Jonathan alone picking up 7 finishes. Team Jonathan won the match with 35 points and 20 finishes. Team Ghatak and Team GodNixon secured 2nd and 3rd positions respectively whereas Team Snax was able to retain its position at the top.
Results after Match 3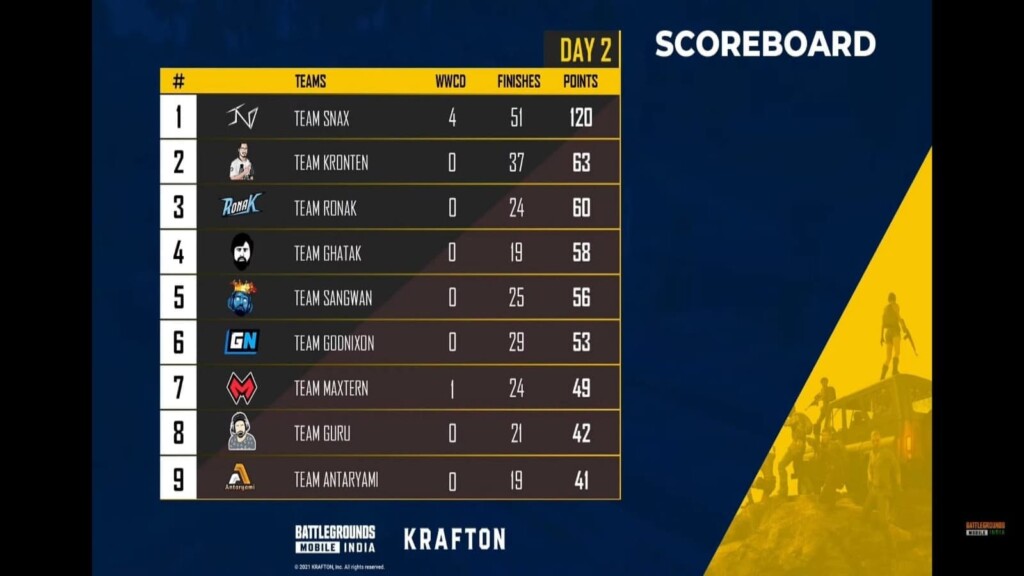 Match 3 saw a new team taking away the 'chicken dinner' i.e. Team Maxtern. They were able to take 24 finishes and 49 points. Team Kronten took 37 finishes. However, Team Ronak had a close win as Team Ghatak was just 2 points short from securing the 3rd position.
Winners of BGMI Launch Party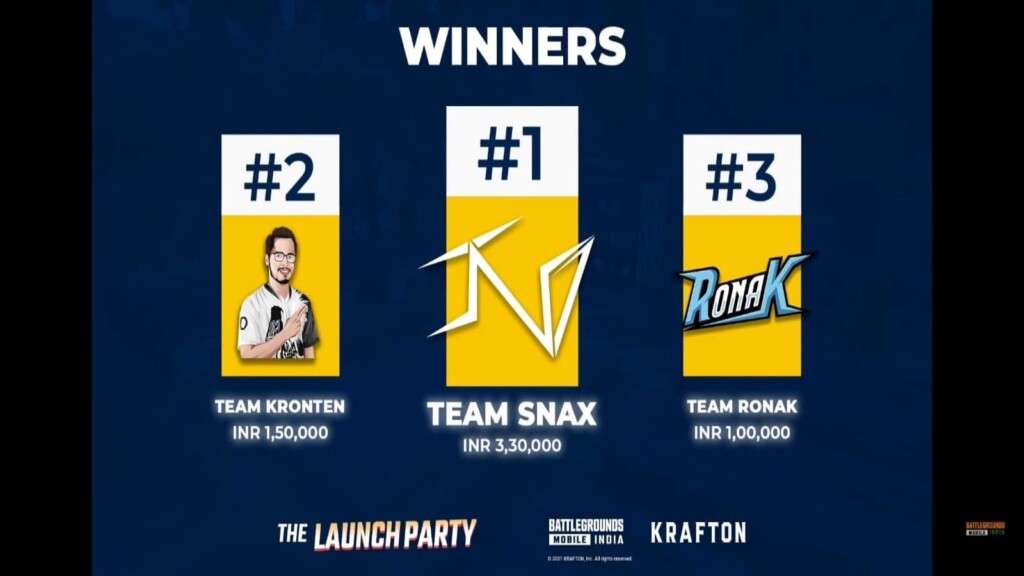 1st position – Team Snax (51 Finishes & 120 Points)
2nd position – Team Kronten (37 Finishes & 63 Points)
3rd position- Team Ronak (24 Finishes & 60 Points)
Team Snax won 3,30,000 INR whereas Team Kronten and Team Ronak won 1,50,000 INR and 1,00,00 INR respectively.
The live stream was available in two languages- Hindi and English and was streamed in the official Facebook and youtube channels of BGMI. Krafton also revealed that more updates on BGMI ESports will come on 15th July, 2021. Meanwhile, they've created a new website for BGMI ESports which is still under maintenance.
Also Read: BGMI Launch Party: Results of BGMI Launch Party Day 1