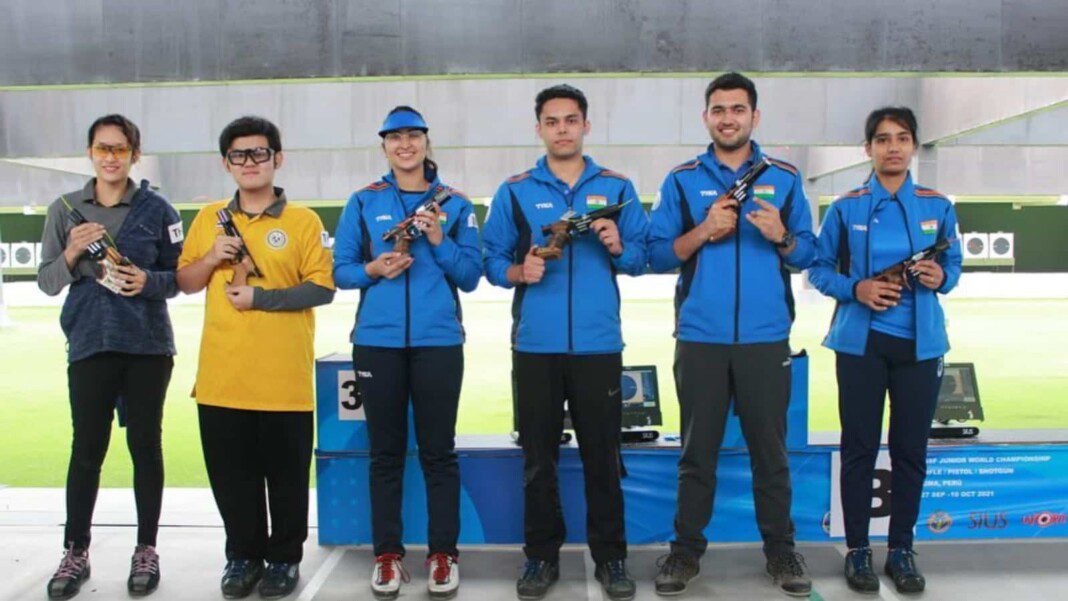 India's gold rush at the 2021 ISSF Junior World Championships continued as the country got another gold via the 25m Rapid Fire Pistol Mixed Team of Rhythm Sangwan and Vijayveer Sidhu.
The Indian duo beat the Thai team of Kanyakorn Hirunphoem and Schwakon Triniphakorn 9-1 in a one-sided final. In the bronze match India 2 comprised of Tejaswani and Anish Bhanwala defeated Thailand 2 of Chaiwasa Paduka and Ram Khamhaeng by a scoreline of 10-8.
This was Rhythm Sangwan's third gold medal of the tournament and Vijayveer's first.
25m RFP Mixed Team is a non-Olympic event and only 2 countries- India and Thailand- had sent participants in the absence of countries such as China, Russia and Korea.
Women's 50m Rifle 3 Positions Team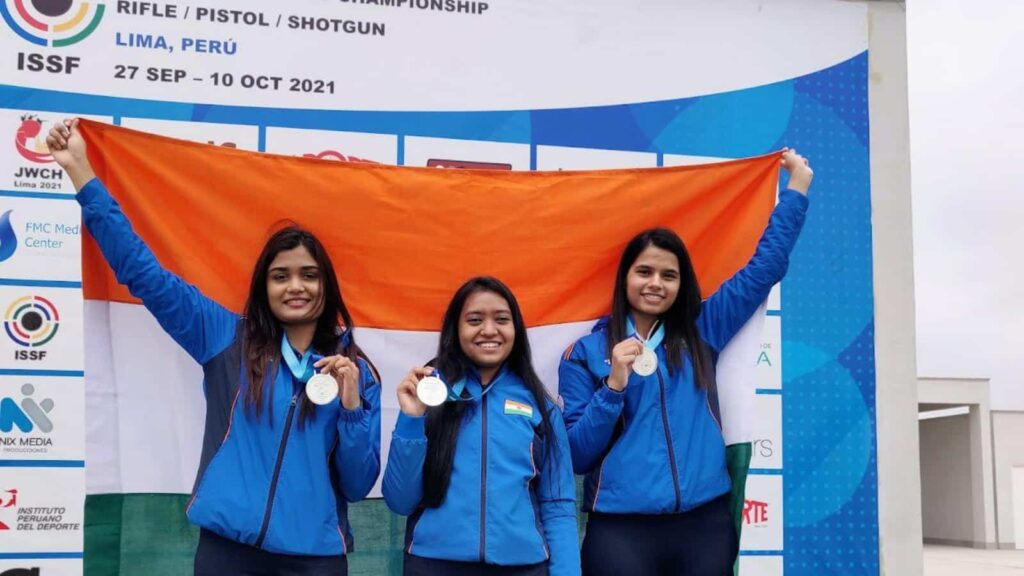 The Indian team of Nischal, Ayushi Podder and Prasiddhi Mahant gave a tough fight before going down 43-47 to a Team USA comprised of Mary Tucker, Molly Mcghin and Katie Zaun in the finals of the non-Olympic Women's Rifle 3P team event.
The Indians had put up a good qualification score of 876, just behind USA's 878, to qualify for the gold medal match.
Germany defeated Estonia 46-38 in the bronze medal match.
No Indian had qualified for the finals of the Women's 50m 3P individual competition where Mary Tucker was a bronze-medalist.
Men's 50m Rifle 3 Positions Team
Aishwary Pratap Singh Tomar's excellent Qualification 2 score of 294 went in vain as the Indian team of Aishwary, Sartaj Singh Tiwana and Sanskar Havelia could not qualify for the medal rounds of the Men's 50m 3P team event.
Aishwary had won the individual gold with a new Junior World Record and posted the highest individual qualification score in the team event as well. Scores at these Championships will give him confidence after the disappointment of the Tokyo Olympics.
Hungary defeated France 46-44 in a close match for the gold medal while USA defeated Germany with an identical scoreline of 46-44 for bronze.
Trap Mixed Team
No Indian team could qualify for the finals of the Olympic Trap Mixed Team qualifications. India 2 comprised of Bakhtyaruddin Malek and Kirti Gupta finished 11th among 13 teams with a score of 127 while India 1 with Vivaan Kapoor and Aadya Tripathi finished 12th with a score reading 114.
India have only won a single medal in Trap a silver via the Men's Team. This is in contrast to skeet where India won three medals including a gold in Women's Team.
The Italy 2 team of Samuele Faustinelli and Sofia Littame set a new World Junior Record of 145 in qualifications. They were however upset by the Spanish team of Juan Antonio Garcia and Mar Magrina 35-41 in the finals. Germany 1 defeated Spain 2 in the bronze match.
With just two more competition days remaining, India lead the medal tally with 22 medals including 10 golds. USA are second with 20 medals including 6 golds.