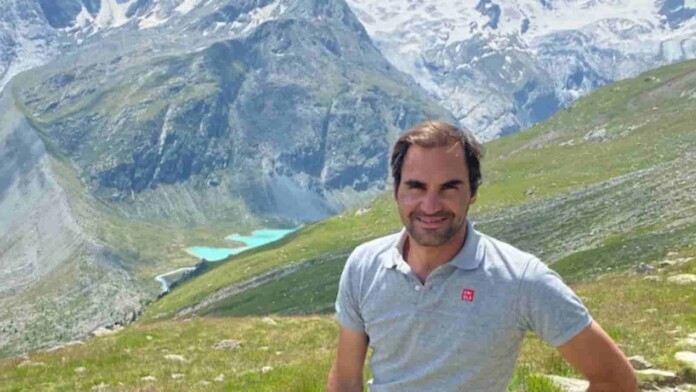 Roger Federer has achieved tremendous success on-court in the past two decades. The 20-time Grandslam champion is treated as a national hero in his home country, Switzerland. Recently, the 39-year old became the the new spokesman for Switzerland Tourism.
In his latest interview, Roger Federer shares details about his favorite places to hike, play tennis and eat in his home country. The Swiss maestro had plenty of time to discover his home country last year, when the covid-19 pandemic hit most of the countries worldwide.
Roger Federer stated that he would continue to live in Switzerland, unlike other sports personalities who shift to Monte Carlo for tax benefits. "I feel like I've always represented Switzerland and I've done my fair share to be an ambassador for the country. But for me to do it in an official mission is a nice thing to do. I feel like I had to be a bit older to do this, At around 40 years old, I've been to maybe 60 countries. I live in Switzerland now and I will continue to live in Switzerland," said Federer.
Roger Federer revealed why he took up the role of a spokesman for his home nation. He stated that he was aware of his country, and it's intricate details and would love to help his nation, as they are coming out of the pandemic.
"I know tourism here very well; I know the restaurants and hotels here very well. And I know how everyone is hurting right now. It's a good time for me to be able to step up to the plate and help the country as we're hopefully going to open again soon," Federer added.
Roger Federer reveals his favorite hiking trails and much more
Roger Federer revealed his favorite hiking places in Switzerland. The country has about 65,000 kilometers of cycling trails. "Hiking and cycling are the go-to things for everyone to do in Switzerland. Some of the most spectacular hiking trails I like are by Gstaad in the Bernese Alps. It's not so brutally up and down, it's more of an even slope, which is great for hiking," said Federer.
"The same goes for Appenzell, which is a very nice place that is not so famous. It's also where I always went hiking when I was a boy," he continued. The Swiss also revealed his plans post-retirement which involves mountain biking. "One of my goals when I retire is that I'll have time to explore our mountain bike trails. Mountain biking has become really big in Switzerland, because we want to make the mountain regions year-round destinations," said the Swiss.
Roger Federer revealed that there are four different languages in his country, with minor changes in accent. "It's also interesting because we have four separate languages here in Switzerland, which makes very different cultures. I'm from Basel and I have a Basel accent, but if you drive a half-hour away from there, the accent changes and the people are a bit different, too," he added.
The 39-year old also revealed details about the tennis clubs in his country, and gave an account of where he played tennis during his younger days. "Tennis club life in Switzerland is important. This is how I grew up. There are many scenic places where you can play tennis in Switzerland. Tennis Club Geneva, where the Geneva Open tournament is played is very beautiful. Tennis Club de Genève Eaux-Vives is also really nice. The clubs in Basel where I played growing up in the Interclub competition are quite nice," said Federer.
Federer also played the role of a travel agent, and gave some ideas to plan a trip to Switzerland. Fly into Zurich or Geneva and go from there. "In the summer, I think you would want to visit Lucerne and Interlaken and maybe visit the Jungfrau, Basel, Zurich, Bern, the capital — its inner city is also really beautiful. We also have some incredible museums in Switzerland. The Fondation Beyeler art museum is great. I grew up visiting the Tinguely Museum, which is very interesting," he opined.
Also Read: Roger Federer meets childhood hero, stars in a comic with him