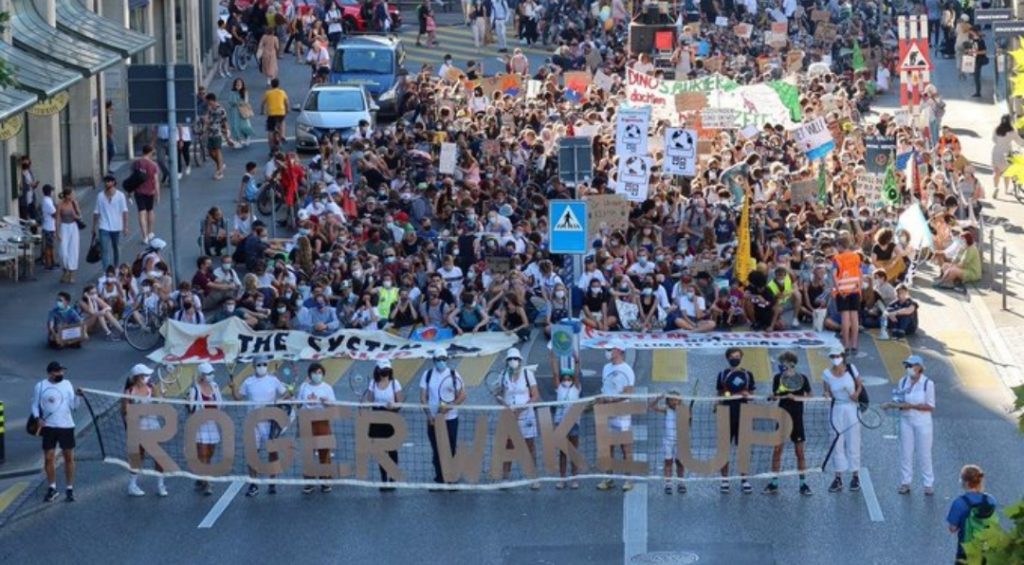 Roger Federer has been away from the tour struggling with a knee injury. Away from the limelight and press, Roger has been back to courts to train. However, his peace is finally to be broken.
He has been a top ambassador for the bank Credit Suisse. The Swiss master even appeared in their latest commercial. However, child activist Greta Thunberg started to urge Roger to wake up. Soon there was a hashtag '#RogerWakeUp' trending. Now, again there seems a recoil of the movement. The issue was again in picture as 12 activists are being judged on appeal for protesting.
Previous outburst in January
The Swiss master treats people with respect and is respected equally throughout the world. In the recent turn of events, people have been protesting to seek action for the GOAT of tennis. Clearly, Federer is one of the biggest names in the world. The twitter is flooded with the allegations of Roger to be passive while his partnered bank has been destroying the environment.
In January too, the #Rogerwakeup was trending at Number 3. As Credit Suisse holds a hefty portfolio of loans to fossil-fuel industries and people want Roger to stop supporting the Swiss bank that is supporting environmental degradation.
Also Read: French Open 2020: Can Rafa win his 13th title and equal Roger Federer's record?
Commercials with Credit Suisse and more
The swiss master was asked to take action on the same earlier as well. When Greta made a tweet to him, he responded promptly.
Roger said in January, ''We owe it to [youth climate activists] and ourselves to listen. I appreciate reminders of my responsibility as a private individual, as an athlete and as an entrepreneur, and I'm committed to using this privileged position to dialogue on important issues with my sponsors."
He said the statement while at Australian Open 2020 amidst the bushfires.
Activists across the world are standing up against Roger Federer. He is endorsing the bank that has loaned money to organizers alleged to be involved in the destruction of Amazon. There is still an answer awaited from Federer on the same recoil. He was recently named the richest sportsman according to Forbes, however, his dealings with Credit Suisse are not known yet.
Also Read: Technology proves that Roger Federer is the 'GOAT' of tennis, ahead of Rafael Nadal and Novak Djokovic
Also Read: "Best Mother, Best Wife, A wonderful person," Roger Federer speaks about wife Mirka being a big support