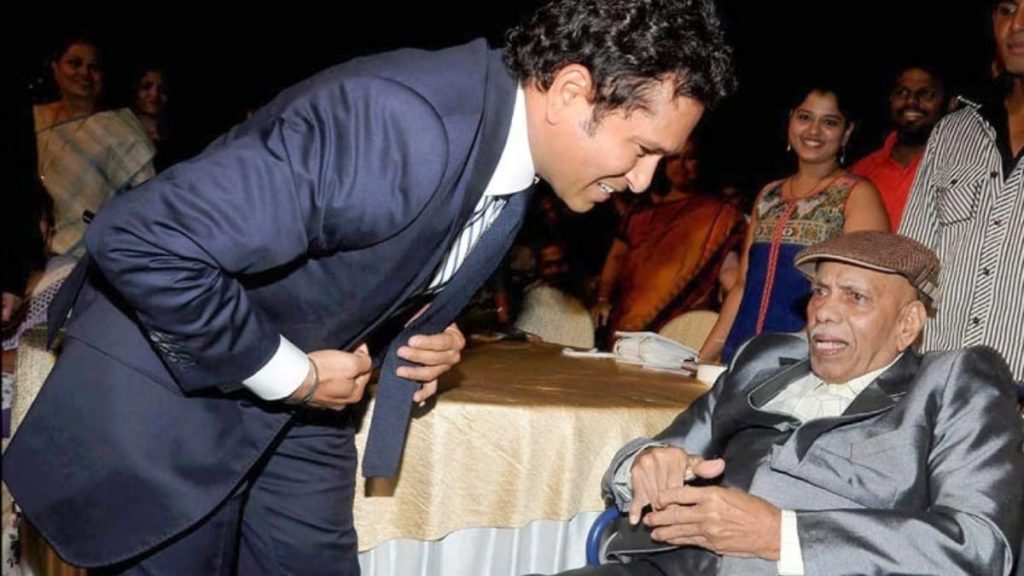 Indian cricketing icon Sachin Tendulkar penned an emotional message to his childhood cricket coach Ramakant Achrekar on the occasion of his birth anniversary. The former Indian batsman took to Twitter to share an old picture of a young Tendulkar being guided by Achrekar on how to hold a cricket bat in position.
The coach who is considered to have made Sachin Tendulkar the great that he was, Achrekar passed away aged 87 last year. Following his death, Tendulkar had stated that it was Achrekar who had laid the foundation for his whole cricket career.
"Cricket in heaven will be enriched with the presence of Achrekar Sir. Like many of his students, I learnt my ABCD of cricket under Sir's guidance. His contribution to my life cannot be captured in words. He built the foundation that I stand on," Tendulkar had said.
'Thank you for everything' – Sachin Tendulkar
On the occasion of his coach Achrekar's birth anniversary, Sachin Tendulkar penned an emotional message as a tribute. He took to Twitter to do the same and his Tweet read, "Thinking of a person very close to my heart who helped countless young cricketers, including me, to realise their potential through the power of sport & character. Thank you for everything, Achrekar Sir."
The emotional message has tugged at the heart strings of a plethora of fans and cricketers worldwide which has led to the poignant tweet going viral on social media.
Also Read: India vs Australia: "Pressure and responsibility bring the best out of him" – VVS Laxman on Virat Kohli