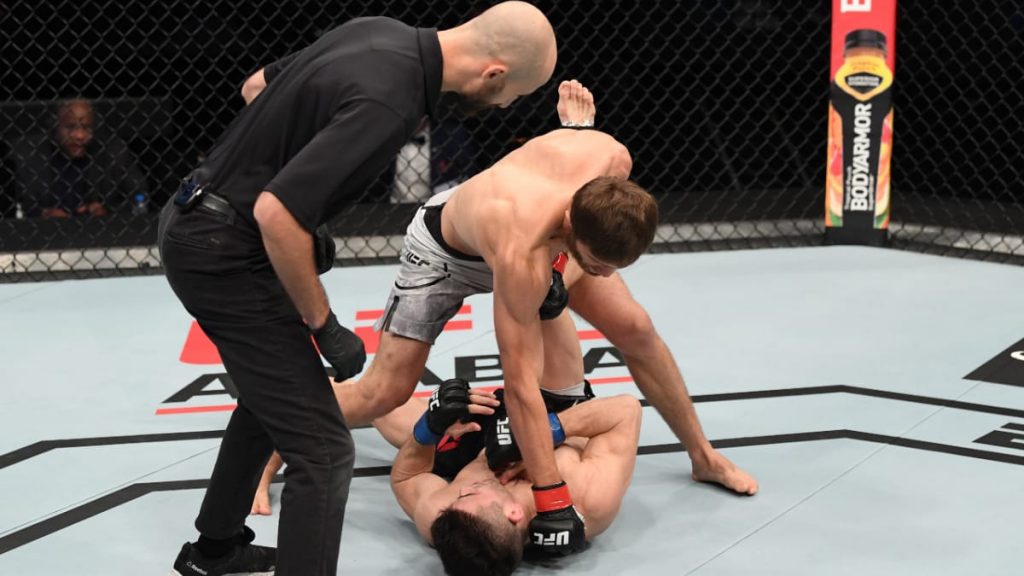 Said Nurmagomedov made his debut back in July 2018 at UFC Fight Night 133 against Justin Scoggins, winning the fight via split decision in the 3rd round. Since then, he has faced Ricardo Ramos on February 2019 at UFC Fight Night 144, winning via TKO in the first round. And a loss via unanimous decision to Raoni Barcelos on 21 December 2019 during UFC Fight Night 165. His most recent fight at UFC fight island 6 saw him brutalize Marc Striegl within 51 seconds of the 1st round itself.
Nurmagomedov's brutal ground and pound attack seals the deal for Streigl
Nurmagomedov needed just 51 seconds to put away Mark Striegl in the first bout of the night. It was a knockout with some of the fastest, nastiest ground-and-pound throwing shots. Streigl grew desparate, missing the target with strikes he had hoped would be significant. The veteran mind of Nurmagomedov showed patience, and it payed out when Striegl marched forward, walking right into the left hand from Nurmagomedov that started the finishing sequence.
Striegl appeared to panic as he was getting back to his feet and attempted a single-leg takedown, which Nurmagomedov caught, and forced his man back to the mat with an unrelenting barrage of rapid-fire punches until it caused Streigl to pass out and award him the KO victory.
The fight leaves Nurmagomedov with an overall record of 14-2 and his UFC record now at 3-1. "I got him with a left hook, he wanted to go to my legs and wrestle, and then I just kept punching him until he fell," Nurmagomedov said after the win. He also implied that he was ready for much bigger opponents, "I'm going to show much more," he said. "I'm just going to go home to spend time with my family and then eat."
Also Read: Jan Blachowicz teases huge match with Israel Adesanya: "I will show him legendary Polish power at 205"