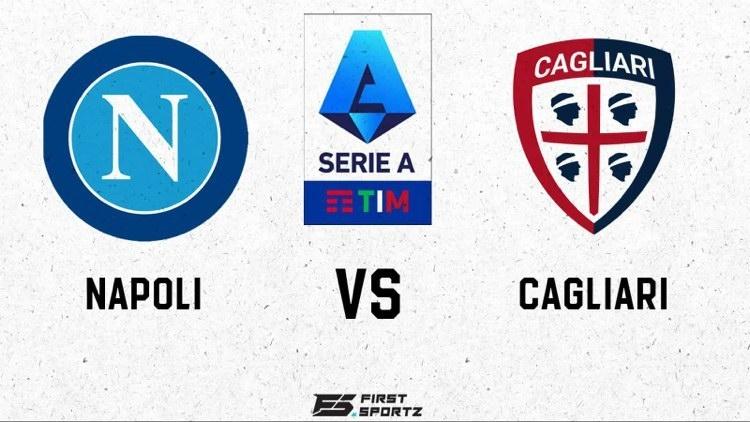 Napoli clinched a scintillating 2-0 win over Cagliari at Stadio San Paolo and maintained their dominance in this year's Serie A by claiming the top spot on the points table. It was a great display by Napoli who have already impressed many with their performances in the past matches.
As the match began, Napoli took control of the possession right away. They succeeded with their gameplay as Victor Osimhen scored the opening goal in the 11th minute of the match. After the wonderful strike, the game went on slowly for both the teams, especially Cagliari.
At the beginning of the second half, a penalty was awarded to Napoli which was comfortably dealt with by Lorenzo Insigne and the lead was eventually doubled. As the final whistle blew, the scoreline read 2-0 in favour of Napoli who bagged three great points.
On that note, let's have a look at how the players have performed in the encounter :
Napoli
David Ospina (GK) (7.2/10) : Ospina made a couple of really good saves to keep the box clean for Napoli. He was complimented well by the other defenders to earn a clean sheet.
Giovanni Di Lorenzo (7.5/10) : Giovanni did a commendable job at passing the ball around extremely well. He did a fairly neat job at winning ground and ariel duels and did well to keep the box clean by steering the ball away from it.
Amir Rrahmani (7/10) : Amir didn't have much of the statistics under his name when it came to clearence or winning duels. However, he was really good with passing around the ball and keeping a strategic gameplay successful throughout the time.
Kalidou Koulibaly (7.1/10) : Kalidou did majorly contribute to Napoli's success in today's game. He looked consistent with his passing in his half of the ground and made valuable clearences.
Mário Rui (7.2/10) : Rui had a decent game just like the other defenders. He played well on the wing and did really well with ground duels. He also had ariel duel challenges but he won just a couple out of many.
André-Frank Zambo Anguissa (6.9/10) : Anguissa didn't do well with controlling the ball or it's possession. He had lesser than 50% success rate on ground duels while he lost possession on way too many occasions. However, he had two attempts at goal but was off target on both occasions.
Fabián Ruiz (7/10) : Ruiz had a decent game and it involved less of taking goal scoring opportunities and more of the passing game. He did have a chance at goal but he missed out on it by being off target.
Piotr Zieliński (7.5/10) : Piotr had a really good game and couple of exciting moments in the match. He created a huge opportunity at goal and assisted it to Victor Osimhen to get the opening goal of the match. He himself had two chances to get hold of a goal but was off target on both occasions.
Matteo Politano (7.2/10) : Matteo was good with providing the long ball in to the players and did a really good job at ground duels. Although, despite having attempts at goal he couldn't get any conversions.
Victor Osimhen (8.2/10) : Victor bagged the opening goal of the match in the 11th minute by scoring a beautiful strike off Piotr's assist. Apart from that, Victor had several attempts at goal to keep the pressure going and he also won a penalty during the process.
Lorenzo Insigne (7.9/10) : The Napoli captain took the responsibility to take the penalty on his shoulders and he didn't fail to impress as he finished it cleanly in the back of the net to make it 2-0.
Substitutes
Hirving Lozano (6.8/10) : There was hardly any time left for Hirving but he managed to redeem himself after he did a commendable job by taking attempts at goal. He had an opportunity and he was on target but denied by the keeper.
Eljif Elmas (6.6/10) : In just 21 minutes of gameplay, Elmas decided to do whatever it takes to keep his team dominant throughout. He lost posession on 7 occasions and barely won one ground duel.
Andrea Petagna (N/A)
Adam Ounas (N/A)
Diego Demme (N/A)
Cagliari
Alessio Cragno (GK) (7/10) : The keeper made some fantastic saves and did the best he could to keep Cagliari in the game but couldn't help control the two goals that went past him.
Sebastian Walukiewicz (6.4/10) : Sebastian got replaced in the 68th minute for Luca Ceppitelli. However, he wasn't having any good of a game for Cagliari before that. He barely won any challenges and did decent at defending.
Diego Godín (6.3/10) : Diego did all he could to keep the ball steer clean off the box. He made one too many clearences and also took the opportunity to go score a goal but was off target unfortunately. However, he committed a penalty for foulplay which cost his team a goal.
Martín Cáceres (6.6/10) : Martín was really good with intercepting the ball whenever the opportunity came across but he lost possession way too many times and didn't impact the game in a huge way.
Gabriele Zappa (6.5/10) : Gabriele did play out the entire game fo Cagliari but his contribution wasn't a valuable one. He lost posession on as many as fifteen occasions and he faired poorly at ground duel challenges. His defensive approach was good on the wing but not enough.
Nahitan Nández (6.6/10) : Nahitan took a rather different approach than his teammates. He didn't hesitate to take on the big guys at all. He challenged them on numerous occasions and he did win a fair few of them. Although, he lost possession way too many times which was a negative for Cagliari.
Kevin Strootman (6.7/10) : A decent game by Kevin. He did contribute well remaining in the centre and also defending the team out but when it came to winning duels or creating goal scoring opportunities, Kevin was nowhere to be seen.
Alessandro Deiola (6.7/10) : Alessandro was really good with ariel duels and in his stint of 68 minutes on the field, he got himself on target and took a shot at goal. Unfortunately he was denied by the goalkeeper.
Charalampos Lykogiannis (6.8/10) : Charalampos was good with winning the ball and ground duels. He also tried taking the Ariel challenge but failed consecutively. However, he also had a shot at goal but was off target on the occasion.
Răzvan Marin (6.5/10) : More than getting to take attempts at goal, the Cagliari forward kept losing the possession of the ball and thus failed at even being successful at duel challenges.
João Pedro (6.3/10) : The captain was a bitter disappointment for his side as he couldn't contribute in any way possible. He lost possession and didn't do well with ground duels as such. A tough game indeed for him.
Substitutes
Luca Ceppitelli (6.8/10) : Luca walked in a little late in the second half. With Cagliari already struggling at getting more chances, he couldn't impact or change it in any way.
Keita Balde (6.3/10) : Keita just managed to get a couple of touches on the ball and didn't have enough time on his plate to contribute in a gigantic way.
Alberto Grassi (N/A)
Gaston Pereiro (N/A)
ALSO READ | Footballers who are proving the statement, 'Age is just a number' currently in the world football