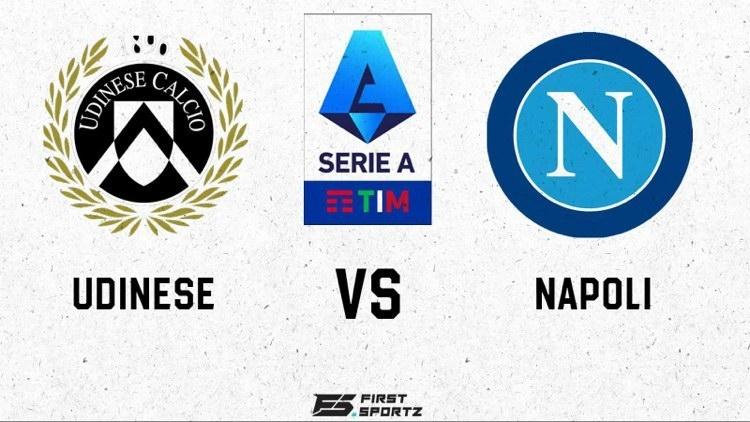 Udinese went head to head against Napoli for their fourth encounter of this year's Serie A. Before this encounter, Udinese had just the two wins while Napoli have won all their fixtures so far. Dacia Arena was set to witness a thrilling encounter and it got one the way it was predicted.
In the first half, Victor Osimhen & Amir Rrahmani scored a goal each to get Napoli up to a 2-0 lead. The first half completely belonged to Napoli, be it the goals, attempts or possession. However, as the second half began, things still remained in the hands of Napoli. Kalidou Koulibaly scored the third goal for Napoli and later made 4-0 by a fantastic goal from super substitute Hirving Lozano.
The match eventually ended with Napoli winning 4-0 and gaining the top spot with four wins out of four games. They're having a dream start to the season and they've only their players to credit. With that being said, let's have a look at how the players have performed :
Udinese
Marco Silvestri (GK) (6.5/10) : Silvestri made some really good saves, even from inside the box. However, he couldn't keep the ball away for too long as he conceded four goals.
Rodrigo Becão (6/10) : A below average day for the defender as he failed on multiple occasion to keep the ball in possession. He had a decent performance but nothing to help his team defend their goal.
Bram Nuytinck (6.1/10) : The captain seemed helpless and hopeless after the first two goals came in the first half. It was indeed a difficult day for him despite trying his best.
Samir Caetano de Souza Santos (6.3/10) : An average game too for Samir. He was good with winning ariel duels and also made five clearences. He also had a shot at goal but was way off target.
Nahuel Molina (6.2/10) : Another day, another average looking performance by Molina. He lost possession on numerous occasions and he didn't do well with winning the ball in the midfield.
Tolgay Arslan (6.2/10) : Not the best at passing in today's game. He lost possession on multiple occasions and also failed at winning the ground duels he came across.
Walace (6.1/10) : It was so difficult for the Udinese players to get going against Napoli as they were all over them. Wallace was doing well staying central but he gave away the ball too many times and just won a single ground duel out of seven challenges.
Roberto Pereyra (6/10) : Just the 64 minutes of gameplay for Roberto as he got substituted. Roberto seemed down in confidence as he found it difficult to win ground duels or the ball in general.
Jens Stryger Larsen (6.3/10) : Did a rather decent job than other players but passing wasn't that well from his end. Jens put all his efforts but just wasn't able to impact the game with his skills.
Ignacio Pussetto (6.9/10) : The striker had a better game than any other player on field. From his attempts at goal, Ignacio got one off target while the other was on target. However, it was denied by the keeper.
Gerard Deulofeu (6.8/10) : Gerard looked really confident when he went on taking attempts at goal or running around trying to create goal scoring opportunities. He had two chances at goal but was off target on both occasions.
Substitute
Jean-Victor Makengo (6.6/10) : Decent with his passing skills, Makengo got himself a couple of ground duel wins and a tackle win in his game of half an hour.
Beto (6.5/10) : Beto seemed to be hyperactive and really good at Ariel duels but consecutively struggled at winning ground duels.
Lazar Samardzic (6.7/10) : In his short stint for Udinese, Lazar got himself a shot on target but was denied. His other attempt was an off target attempt which didn't really help Udinese.
Marvin Zeegelaar (6.5/10) : Marvin did okay while getting on field after being substituted. However, he didn't have that much time nor opportunities to impact the match in anyway for Udinese.
Brandon Soppy (N/A)
Napoli
David Ospina (GK) (7.3/10) : Ospina had smiles all-round as he had a good time witnessing his team bag a 4-0 win and continue their winning streak. David made a couple of good saves but didn't have too much trouble with the gloves.
Giovanni Di Lorenzo (7.2/10) : Lorenzo's passing skills were one to beat. He was excellent at making neat passes and contributed well and effectively in defence.
Amir Rrahmani (8.4/10) : Amir doubled the lead for Napoli by scoring the second goal for them in the 35th minute. A beautiful assist by Koulibaly was dealt with nicely to double the scoreline. He also did incredibly well with blocking three shots and steered them away from the defence area.
Kalidou Koulibaly (7.5/10) : Koulibaly did everything a person would want in a player. He was exceptional with his passing skills. He made good interceptions and clearences. He assisted Amir to get the second goal of them game while he himself scored the third goal for Napoli in the 52nd minute of the match.
Mário Rui (8.2/10) : Rui was doing incredibly well with making the long balls successful. He assisted Hirving Lozano quite well in the 84th minute of the match to get a 4-0 thumping win over Udinese.
André-Frank Zambo Anguissa (7.3/10) : Out of 12 ground duel challenges, Anguissa won 9 of those with great content. He also had one shot on target and missed out on a really big opportunity to score a goal.
Fabián Ruiz (7.9/10) : Passing suited him quite well for the game as he made four key passes with an accuracy of above 90%. Ruiz also had an attempt at goal but was way off the target. He did successfully assist Koulibaly to triple the lead for Napoli.
Elif Elmas (6.7/10) : A very decent game for Elif. He did contribute well in the midfield with good passing and was one of the game makers for Napoli but didn't impact the match in an effective way.
Matteo Politano (7.5/10) : Matteo was really quick with his feet which helped him win ground duels and tackles quite convincingly. However, he did lose possession on one too many times.
Victor Osimhen (7.8/10) : Victor was one of the stars for Napoli in this encounter. He did take many attempts at goal with hi skillwork. He provided the opening goal and the lead to Napoli courtesy of Insigne's assist.
Lorenzo Insigne (7.6/10) : Apart from assisting the opening goal in the 24th minute, Insigne himself had a fair few shots at goal. He was on target on one occasion but was denied the opportunity. The other two times he was way off target, off which, one was a huge opportunity missed.
Substitute
Alessandro Zanoli (N/A)
Andrea Petagna (N/A)
Adam Ounas (N/A)
Hirving Lozano (7/10) : Hirving did a fantastic job walking into the field as he turned out to be the super substitute for Napoli. He scored the fourth goal, minutes before full-time courtesy of Rui's assist.
Piotr Zieliński (6.6/10) : Piotr barely got a fair few touches in his short span out in the middle. However he walked away from the pitch having played for a winning team.
ALSO READ | Serie A: Juventus vs AC Milan Player Ratings as both teams settle for a point in a high profile clash