History was created on day 3 of the Tokyo Olympics, as the first ever medal was awarded in skateboarding, which made its debut this year. In Skateboarding at Tokyo Olympics, the host nation dominated as Yuto Horigome took home the gold medal in men's street skateboarding.
The street skateboarding event began with 'runs' skaters performed complete routines incorporating the ramps, rails and jumps throughout the course. Each skater had to go twice. Then came the 'tricks', one off tricks that skateboarders perform, 5 of them in a row. Of the total 7 runs and tricks, the top 3 scores count towards the rankings.
Yuto Horigome started off with a run and slipped, but his run was tough enough to get him a score of 8.02. Horigome's second run was bad, as he lost control of his board and fell on his back, earning him only 6.77. Things were looking bleak for Horigome, as he finished runs in 4th place with a score of 14.97. Kelvin Hoefler was leading in the event, and would later go on to win silver.
Horigome's tricks were spectacular, as he started off with a score of 9.03. After a fall in the second trick he went on to seamlessly score 9.35 in the third trick. He finished it off in style, with an impressive score of 9.50 in the fourth round and 9.30 in the fifth round to secure the gold medal with a final score of 37.18.
Skateboarding at Tokyo Olympics: USA's Jagger Eaton wins Bronze; crowd favourite Nyjah Huston misses out after poor performance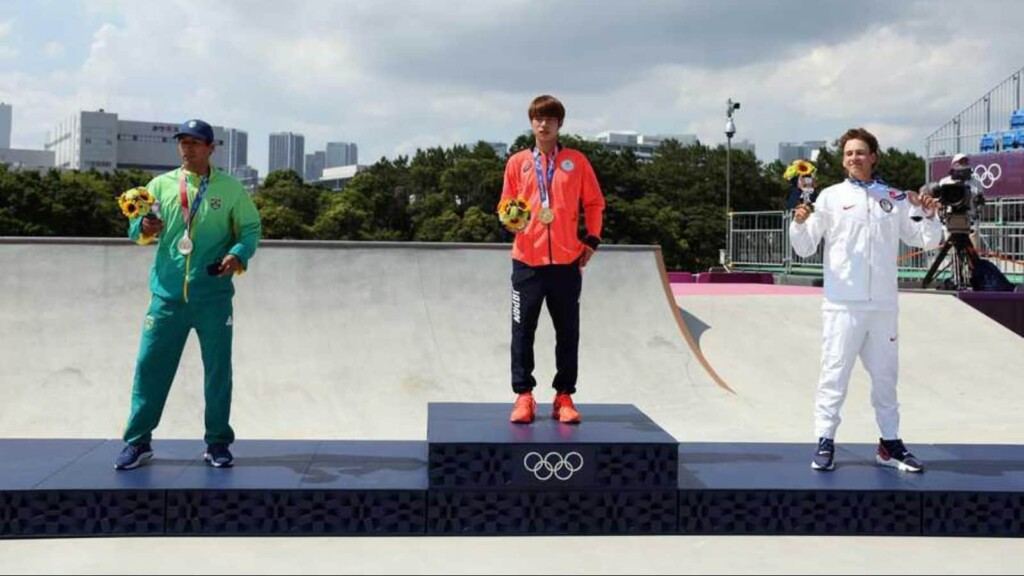 Jagger Eaton maintained his position well, as he finished in 2nd place after the runs with a score of 17.25. Eaton's 8.70 and 9.40 in the second and third set of tricks helped him hang on to the bronze medal as he finished with a final score of 35.35.
Brazil's Kelvin Hoefler took home the silver with a consistent performance, after leading the runs with a score of 17.82. His first trick earned him a score of 8.99. After falls in the next two tricks, he came back strong and finished with a total of 36.15.
Nyjah Huston, who was a crowd favourite, and expected to win the gold medal this year at the Tokyo Olympics, finished 7th. While Huston was in third place after runs, 3 falls in the tricks sealed his fate. Although he scored a spectacular 9.09 in his final trick, it was not enough to catch up with the podium finishers, and her finished second to last.
Also read: Swimming at Tokyo Olympics: Australia Breaks Women's 4x100m Freestyle Relay World Record and Olympic Record