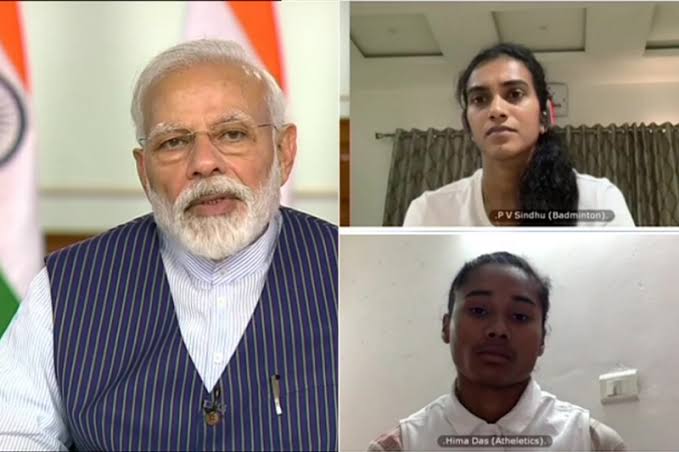 Prime Minister Narendra Modi on Friday has held a meeting with 40 of the most popular and celebrated sportspersons of the country. In the meeting through video conferencing, players like Indian captain Virat Kohli, Sachin Tendulkar, BCCI President Sourav Ganguly and Mary Kom were also included.
Interestingly, This has happened for the first time that The Indian PM has interacted with sports personalities since the enforcement of the 21-day lockdown in the country in the bid to contain the spread of the ongoing Novel Coronavirus pandemic.
Some other big names present in the meeting were Pullela Gopichand, Vishwanathan Anand, Hima Das, PT Usha, Bajrang Punia, Rohit Sharma, PV Sindhu, Virender Sehwag, Yuvraj Singh.
In the meeting PM said, "Today my batting order is number 4 , For Team India I batted at number 4 and against Corona I am happy to bat at Number 4′- Sachin Tendulkar tells PM Narendra Modi in the meet on COVID-19."

Meanwhile, Sourav Ganglu was amazed that Prime Minister follows all top athletes so regularly and keenly.. The BCCI President told the PM that police is doing a good job and the nation will overcome the battle .
Earlier today, Modi had urged people to gather together for a unique exercise on April 5 at 9 pm to show they were together in the fight against coronavirus.
"On this Sunday, April 5, we will challenge the darkness of coronavirus threat together. On April 5, at 9 pm, I need your 9 minutes. At 9 pm, turn off all the lights in your houses and light a Diya, candle, torch or flashlight for 9 minutes at your doors, or balcony," Modi said in his interaction with the nation.
The Prime Minister has further said that this thing will send out a message that nobody among the 130 crore Indians is alone amid this fight against the deadly coronavirus.
The Novel Coronavirus 'COVID-19' was declared a 'Pandemic' by WHO on March 11. Particularly in India, this virus has infected more than 2000 people and has resulted in 56 deaths so far.