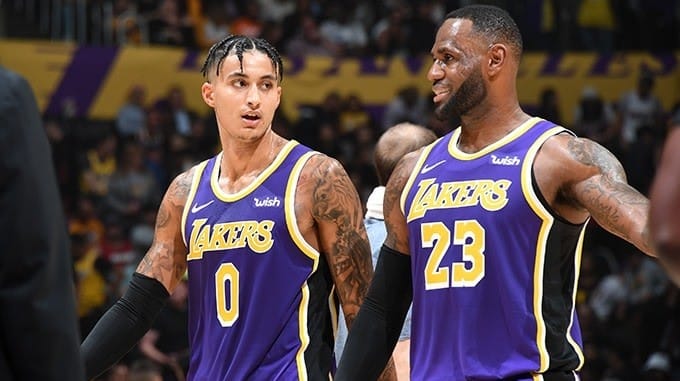 The outbreak of COVID-19 has affected the teams. The rosters have also been narrowed down to eight and nine men. This has created a new concern and fear for another bubble. NBA all-star and veteran LeBron James and teammate Kyle Kuzma of the Los Angeles Lakers anticipate another bubble coming in their way.
The players aren't too amused to be playing in a bubble. The playoffs last season was held in an isolated and secure arena. During a post-game interview, LeBron punned about how thing of the bubble game him PTSD.
He said, "You give me PTSD, every time you asked me about the bubble. "I start shaking, thinking about 96 straight nights in that place." His teammate, Kyle Kuzma also elaborated that he doesn't like the idea of another bubble, but ultimately streamline if there is no option left.
LeBron James and Kyle Kuzma on their fear for another bubble
Kuzma expressed, "Obviously that would be a last resort type of deal…But this team, this organisation, if championship is on the line, that's what we're going to do."
The NBA has restricted its outsourcing in many ways. The in game attendance has been strictly prohibited. As a result, the players have been missing the hope from the crowd. The league recently issued new protocols that the teams and the players have been strictly abiding. There has been a different set of rules on-court and off court mandated. LeBron James said that it is no big deal for the Lakers as they have been following the same since March.
Kevin Durant, the Brooklyn Nets marquee player recently violated some COVID protocols of the league and hence missed 3 straight games.
LeBron highlighted, "But for our team, we live in LA County. So the new protocols that came out today, is pretty much everything we've been doing since March." Players were seen quite disgusted with the idea of another bubble. They were isolated and kept away from their families in the last bubble last year. Hopefully the rumours for another bubble remains a rumour.
Also read: Kevin Durant leads Brooklyn Nets to charge back from 18 down…