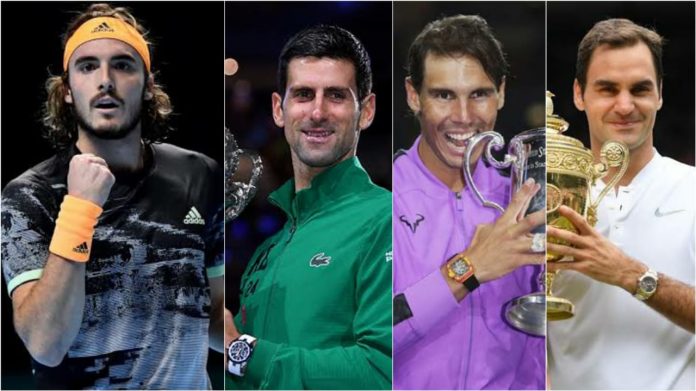 Stefanos Tsitsipas is only one of the few players who have managed to win matches against each of the Big Three players- Novak Djokovic, Rafael Nadal and Roger Federer. The 22-year old has been in terrific form this year, having claimed his first Masters title in Monte Carlo last week.
The Greek secured one of the biggest wins of his career at the Australian Open 2021, where he defeated Rafael Nadal in five sets, coming back from two sets down to progress into the semifinals. He believes that the Big 3 will eventually change into the Big Six or the Big Eight, with several young players making their way onto the big stage.
"I think our generation is going to be different. We've gotten used to talking and reading about the Big Three all the time and I feel like we're going to be the Big Six or the Big Eight," said the Greek.
The new generation will be fascinating: Stefanos Tsitsipas
Stefanos Tsitsipas believes that the new generation of players, will revolutionize the game of tennis and end the dominance of the Big Three. The Greek stated that this will benefit the sport, as it will give the fans several exciting match-ups to watch.
"I think it will be more fascinating, a kind of revolution, to have a greater number of players competing with each other. It will be more exciting for the viewer," Tsitsipas said.
Stefanos Tsitsipas revealed that he would love to win the French Open, a title which Rafael Nadal has won on 13 occasions. He also stated that the Wimbledon Championships, is the most prestigious tournament in the world.
"I always liked playing in Australia due to the fact that there are a lot of Greeks in the stands. I feel your support and love. At Roland Garros, for example, I feel like I want to take that trophy that Nadal has lifted 150 times. I would stay between Paris and Wimbledon, which is synonymous with prestige. I think it is the biggest tournament in our sport," the world number five added.
Also Read: Find Out: Stefanos Tsitsipas reveals his moments of despair and darkness in confinement