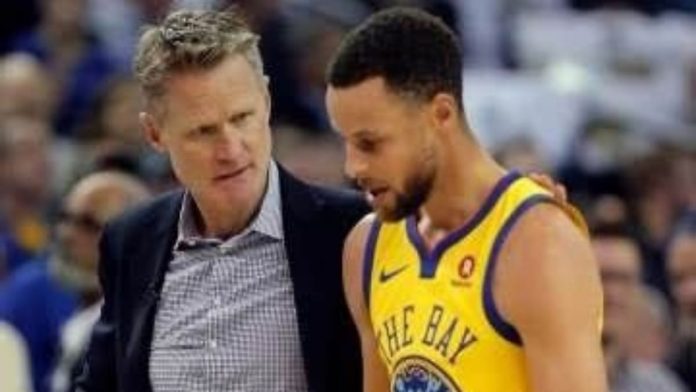 The Golden State Warriors seem to be back on the winning terms. Ever since Stephen Curry has made a comeback to the side from tailbone injury, the elite player doesn't seem to stop. Neither he has intentions of stopping before breaking some subtle records. Recently Stephen Curry has broken the record held by Wilt Chamberlain for the highest scorer in the franchise. Today, the Dubs blew out Oklahoma City Thunder by 38-points while Stephen Curry was on verge of making another record. The phenomenal shooter was stopped from getting back on court by head coach Steve Kerr in pursuit of breaking Klay Thompson's standing three-point record.
Warriors and Thunders went neck to neck to in the beginning of the match. However, the greatest shooter playing in the league turned the game completely towards' the Warriors'. Stephen Curry played just 29 minutes and still had a mammoth 42-points by his name. He went for 14-20 from the field and out of his 14 made shots, 11 were three pointers. Moreover, Curry reached this milestone with one quarter spare. The game ended with 109-147 and the veteran Warriors Draymond Green registered a triple-double in the crazy night. He had 12-points, 16 assists and 10 rebounds by the final buzzer. On the other hand, OKC could not match up with the elite level shooting by Stephen Curry.
Steve Kerr holds back Stephen Curry
Curry had 11 made three pointers by the end of the 3rd quarter. He had one whole quarter to surpass Klay Thompson's 14 made triples against the Chicago Bulls in 2018. However, head coach Steve Kerr refrained Curry in the most hilarious style to step back on court. Stephen Curry was eager to enter the court during the 4th quarter but Kerr held him and made him seat back on the bench. Warriors were leading by 30-point already and he refused Curry to break some potential records.
Steph's wingman and teammate Klay Thompson previously holds the record for the highest number of three pointers in the league. However, Curry had 13 as his previous best. The way Steph was hot handed, he would have broken the record for sure. Stephen Curry had 10 made three pointers in his last game against the Denver Nuggets. In this pursuit he also became the highest scorer for the franchise. This is also the second time he has had back to back 10+ threes in the regular season. The sensational performance by Curry displayed the Warriors may not have tanked down and will put a tough fight for the playoff spot.
Also Read: Khris Middleton takes charge as Milwaukee Bucks breeze past Minnesota Timberwolves…