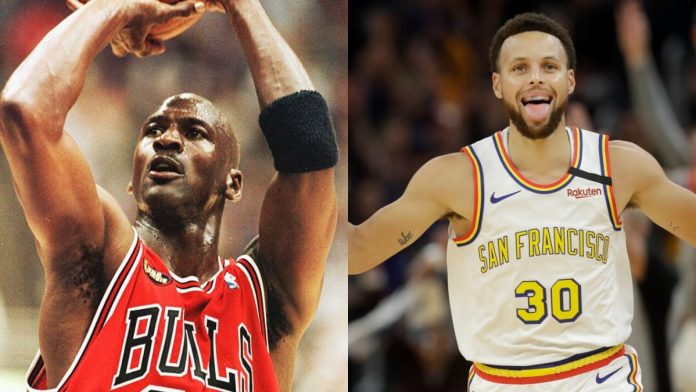 Stephen Curry is undoubtedly the best shooter in the league currently. He has become a household name ever since his Golden State Warriors have achieved their dream run. The undisputed shooting sensation has changed the game with his accuracy on making shots. Recently Stephen Curry surpassed the record of being the highest scorer for the Golden State Warriors. The phenomenal shooter has now become a sensation for the team. Bouncing back strong from a tail bone injury, Stephen Curry has made a strong statement in the league. The Indiana Pacers legend Reggie Miller compared him with the legendary Michael Jordan. Stephen Curry expressed his surprise on being a part of the comparison.
The Golden State Warriors recently came over Denver Nuggets in a dramatic sequence of events. Stephen Curry ended his crazy night with 53-points while he crossed Wilt Chamberlain in this scoring record for the franchise. He has now become the highest scorer for the franchise with 17818 pints in his career for the team. However, Nuggets faced a typical blow in the game as Jamal Murray suffered a dangerous knee twist in the same event.
Stephen Curry elated on being compared to the NBA legend
The Pacers' legend Reggie Miller compared the NBA legend Micheal Jordan with the shooting sensation Stephen Curry. He was overwhelmed to when he was acknowledged about the fact. He said, "Who said that? Oh, my god. Kind of goes back to what I said earlier, is the way I've understood how to play this game and elevate and try to do what I work at when I'm confident, doing there on the court…"
He added," He embrace the style that hadn't been mastered, but just that kind of a different way to play it now. It's starting to take shape and how guys and girls are coming up in the game in terms of stretching their range and working on the jump shot and figuring out how to get creative with it. So, yeah, wherever that falls in chain and I do know the game has changed. I'm proud of that."
The 3-time NBA champion beats Jordan on very crucial parameter. Stephen Curry averages 55.8% in 112 post-season games so far. On the other hand, Jordan has 50.3% in eFG. The gifted shooter has also increased his ball handling skills. The way he creates separation to take his jumper is absolutely incredible. Stephen Curry is a prodigy who never seem to drop down. He took all responsibility for the team when they were slumped and had hit the rock bottom.
Also Read: Kevin Durant led Brooklyn Nets past Minnesota Timberwolves in rescheduled game