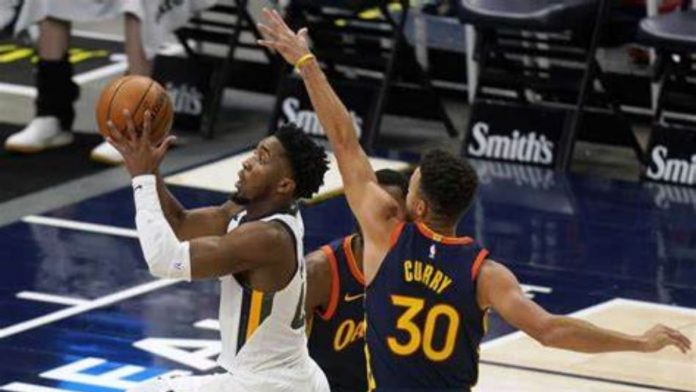 Stephen Curry turned 33 today and inspired his team in the most emphatic of ways to win over NBA leaders, Utah Jazz in dominant fashion. The 3-Point King scored game-high 32 points to lead the Golden State Warriors after a 4-game skid. Having to face the defending champions, Los Angeles Lakers next, Curry ensured he motivated his boys enough to bounce back to the Win column.
Not only Stephen Curry, but Draymond Green was also impressive. Having scored a triple-double with 11 points, 12 assists and 12 rebounds, Warriors were helped majorly by Andrew Wiggins who was impressive all around the court with his 28 points and 3 steals. The Warriors outscored Utah Jazz in every quarter except the 3rd to win by a 12-point margin.
Stephen Curry celebrates his Birthday with a W over Utah Jazz
Talking about the Utah jazz players', Donovan Mitchell and Rudy Gobert led the offensive charts with 24 points each. While Mike Conley added 23. The Warriors bench outscored the Jazz's bench 51-36.
This was by far one of the most crucial wins for the Dubs, considering they have 16 games against lower-ranked teams to play in the remaining of the 2020-21 season, this was a big win to make it well into the western conference playoff spot. With Klay Thompson out, this was one of the most complete offensive performance by the Warriors in the entire 2020-21 season so far.
Stephen Curry celebrated his birthday with teammate Nico Mannion, who also played for 12 minutes and scored 5 points. Curry was applause worthy from the 3-point line in this game as well scoring 6 from 9. While the Jazz was over 34% from downtown. The Warriors were just over 51%. 
Also Read: Giannis Antetokounmpo and Russell Westbrook both score triple-double in end-to-end battle