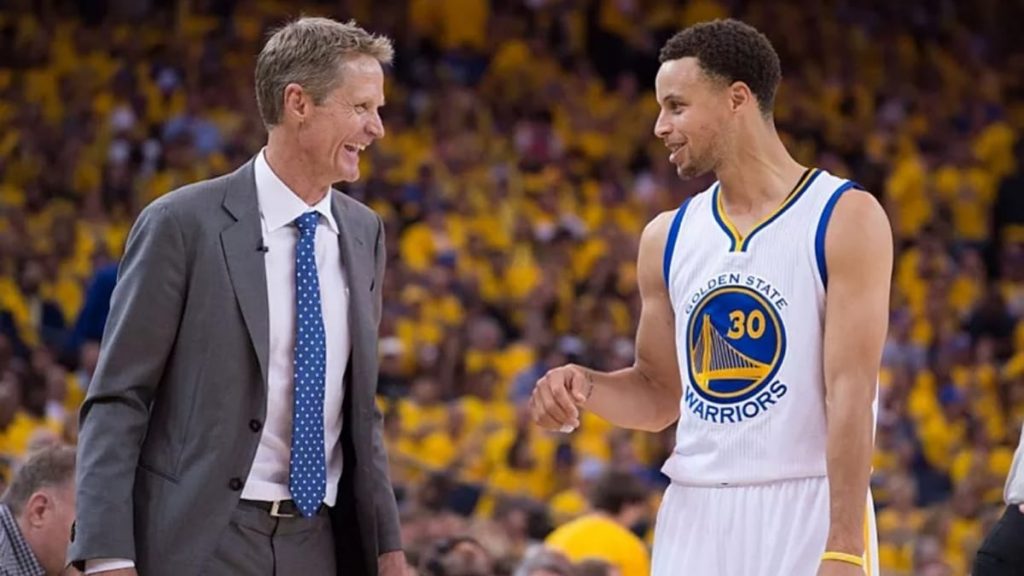 The Golden State Warriors seem to be struggling with their consistency. They lost their 3 game series against the Portland Trail Blazers 1-2. After their defeat today, a lot of questions have been arising regarding the performance of the team. It has not been easy for the Dubs. Coming back from a rough season and injured players making back to the team has taken a long time to settle things. Even Klay Thompson will miss this entire season with an injury. No matter they have been great on offence, but their defense is lacking way behind. Steve Kerr vented his positive attitude after a great team game today.
The GSW were up against the Trail Blazers. It was a low scoring match. Damian Lillard sealed the game with his late clutch show. He made a three pointer way beyond the arc. They survived going to an OT as the game ended with 108-106. Stephen Curry heroics cannot be questioned. After a 35-point game also he could not help his team secure a win. After their consecutive losses, they have descended one spot in the conference.
Coach Steve Kerr clarifies his idea of team game after latest loss against Trail Blazers
The Golden State Warriors game has been solely molded around Stephen Curry. The whole team is dependent offensively on the superstar. This has been the major problem the team is facing. Steve Kerr addressed the same in the post-game interview. He said, "We just need more scoring in general from anybody other than Steph. He's generating everything for us on or off the ball. Obviously, without Kelly tonight, took away one of our best scorers. So, we don't necessarily need scoring from one position. We just need people to step up night in and night out, provide some extra scoring for us, so we're not relying solely on Steph." It is high time for the bench to put up their performance.
Stephen Curry has been the sole leader at the Dubs. In the absence of Klay Thompson, a lot is dependent on him. Especially when it comes to scoring. Regardless of his efforts, the team hasn't backed him well. Even with a roster comprising Kelly Oubre Jr., James Wiseman, Draymond Green etc. the team has let its fans down. The inconsistency and lack of defensive efforts have now pushed them back to #9 in the West.
Also Read: James Harden knocks triple-double to guide Nets home in his return…