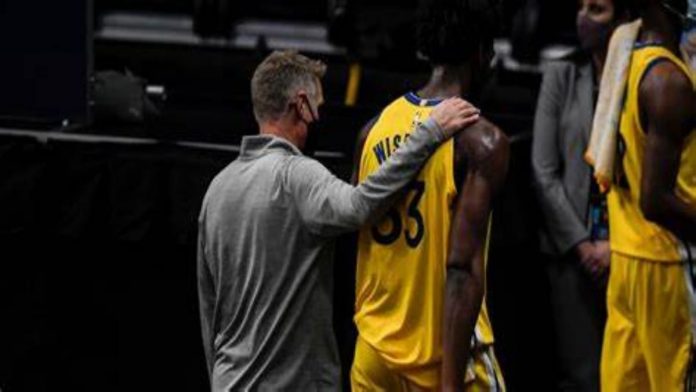 The Golden State Warriors continued their off form in the 2021 season as well. After a tanked 2019 year, the team had high hopes to start this season with a huge impact. However, they were prone to injuries. Klay Thompson was side lined for the rest of the season. But one more belief that everyone had was they tanked their 2019 season to get the draft pick. The Dubs acquired James Wiseman, the rookie via the draft. He has been a goldmine of talent. Head coach Steve Kerr believes that the 19-YO has bright future ahead in his career.
James Wiseman hasn't been as successful as his teammates. He fell prey to injury that made him miss most of the important games. After Klay, Stephen Curry has been out and his expected return is uncertain. James Wiseman, who missed out with a sprained wrist is still expected to be more successful gradually. However, he is now completely fit to be back on the roster and help GSW clinch the playoff spot.
Steve Kerr heaps huge appreciation from Head Coach Steve Kerr
Amidst all the criticisms that James Wiseman is surrounded, he has had his moments. Head coach Steve Kerr has shielded him against all such back lashes. Steve Kerr discussed in a recent interview about Wiseman's bright years.
He said, "He's so respectful, and he doesn't take coaching personally… Some young guys think coaching is criticism, and it's anything but. My job is to help James become the very best player that he can. He's 19, big guys without any college experience, they don't come in and dominate the NBA. He's having a better year than Kevin Garnett had, for example, when Kevin was a rookie. You can look at the numbers, watch the tape. James has had some moments."
The 7'1'' centre is in a way much better than Garnet's rookie season. His stats are way better than KG's.
Kerr said, "There's no doubt that James knows what LaMelo is doing, or what Anthony is doing, and wants to be playing 30 minutes… But it's a different set of circumstances, and as a big man, it's a much tougher transition than it is as a guard. He's learning every day… this guy's gonna be special, not just because of his talent but his work ethic and his character."  
The absence of Stephen Curry has now put Wiseman under a lot of pressure to get what Dubs expect from him. At least a playoff spot will do.
Also Read: Can LeBron James still win the MVP even after his injury?