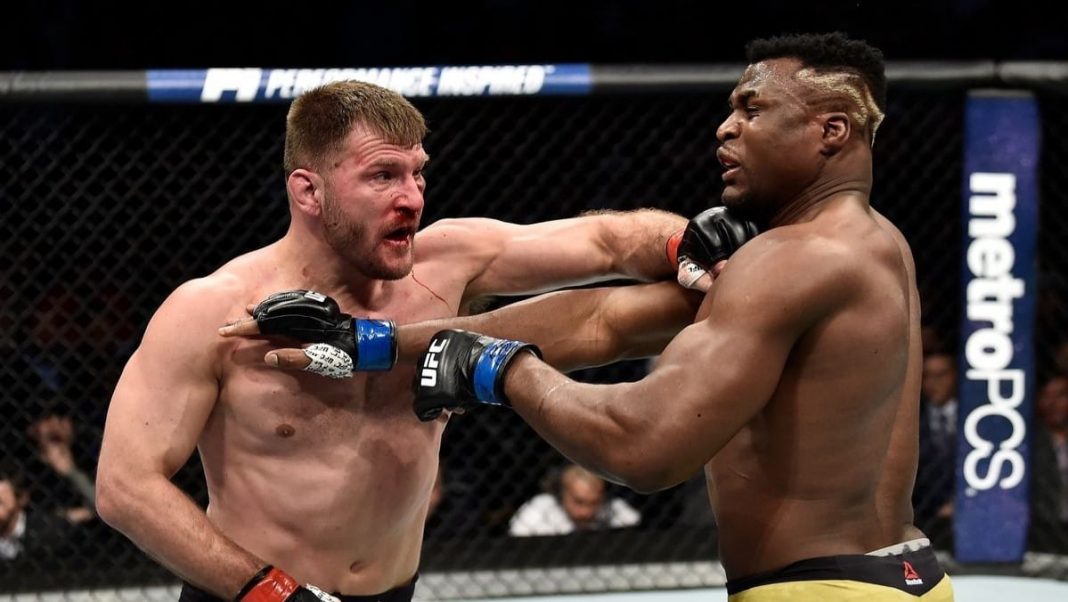 Arguably the greatest heavyweight contest of the year is almost upon us. A renewed Francis Ngannou will be taking on Stipe Miocic in a rematch, with the heavyweight title on the line. Miocic, the champion will be looking forward to recreating what he did to Francis Ngannou, three years back, when the pair met at UFC 220 in January 2018.
In the recent countdown video released by the UFC, Stipe Miocic acknowledges Francis Ngannou's improvement since the pair last met. However, he still claimed that he would emerge victorious since his style of fighting would be difficult for Ngannou to read.
'Francis has gotten a lot better since the first fight with me' – Stipe Miocic
Stipe can be heard saying, "Francis has gotten a lot better since the first fight with me, but styles make matchup, and unfortunately, the style I have is not good for him. I'm walking out And Still."
Since his loss against Stipe Miocic, Ngannou has gone on to win four of his five matches (with one loss, in the match against Derrick Lewis via. unanimous decision). The four wins have been absolute demolition – with all opponents being knocked out in the very first round (including the likes of Cain Velasquez, Curtis Blaydes). He has looked a different beast altogether.
Miocic, on the other hand, has just faced one opponent since UFC 220 – but thrice. The Daniel Cormier – Stipe Miocic trilogy took the world by storm, with DC winning the first one. However, Miocic came back stronger as he won the next two fights, thereby reclaiming his heavyweight title.
Also Read : Daniel Cormier in awe of 'different breed' Khabib Nurmagomedov
Also Read : What if Kevin Holland had remained quiet during his match against Derek Brunson? – Daniel Cormier answers