Today marks the end of India's biggest esports tournament in the region i.e., Free Fire India Championship 2021 Fall with the finals being concluded today. The tournament has seen some of the finest performances from India's best Free Fire teams, especially underdogs. Finally, Team grabbed the Championship title and the lions share of 35 Lakh INR from the prize pool.
Free Fire India Championship 2021 Fall is an Indian Free Fire tournament announced after the FFCO 2021 with a 75 lakh INR prize pool. It had kicked off on August 23 with online FFC mode qualifiers and completed the Play-INs stage recently on October 2021. The Grand finals were scheduled to take place on October 17, 2021 (today) with several watchtime rewards.
One of the best, experienced, and fan favourite teams i.e, Team Elite has made it with a single point difference and emerged as the Champions of Free Fire India Championship 2021 Fall with 73 points. Despite showing top-notch performance, Team PVS Gaming had a very bad day as they had lost the Championship title with a single point. They have secured the second spot with 72 points. The third and fourth place was claimed by Team Total Gaming Esports and Desi Gamers Esports respectively.
Read More: How To Identify Hackers In Free Fire?
Free Fire India Championship 2021 Fall Grand Finals Overall Standings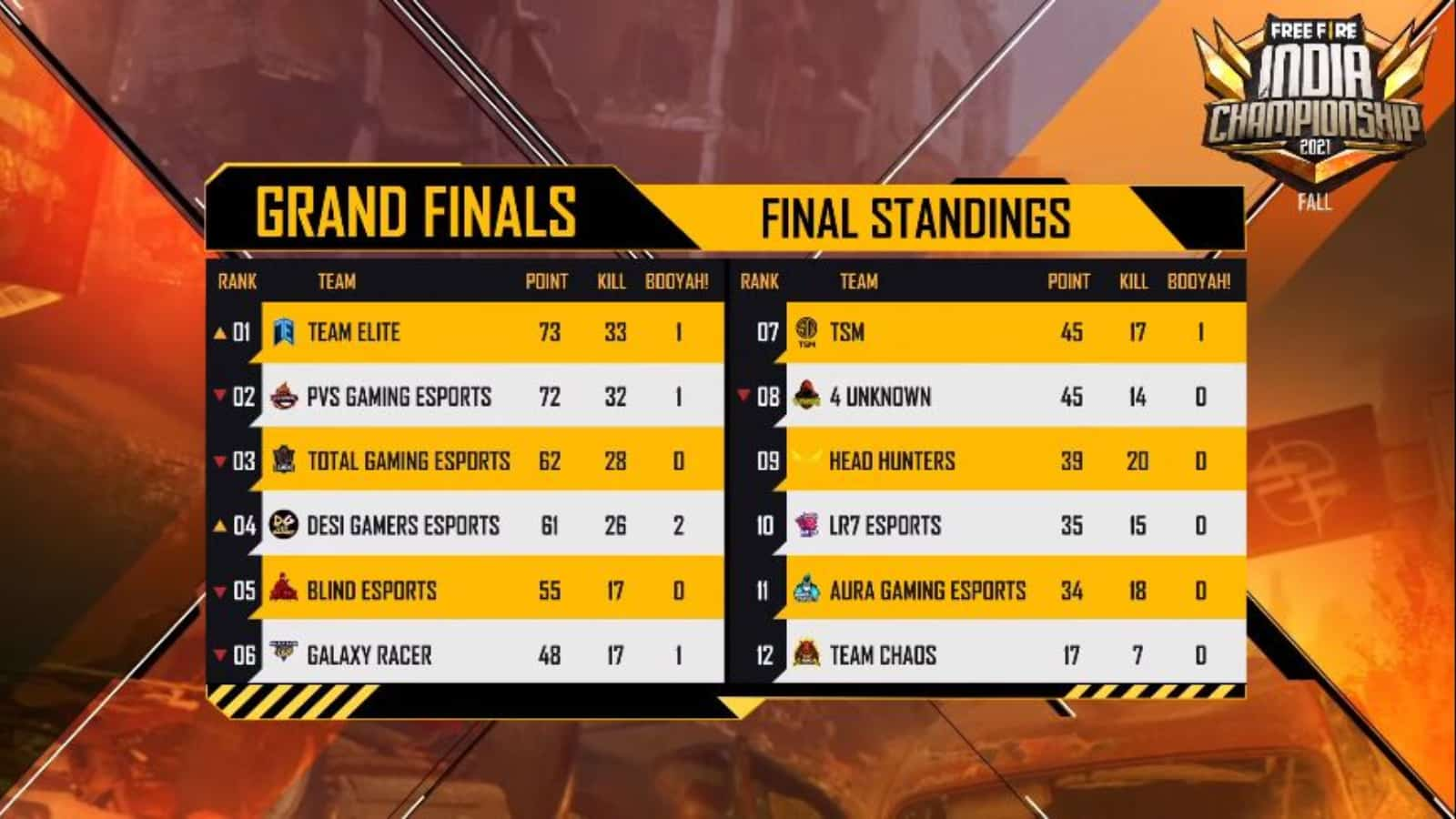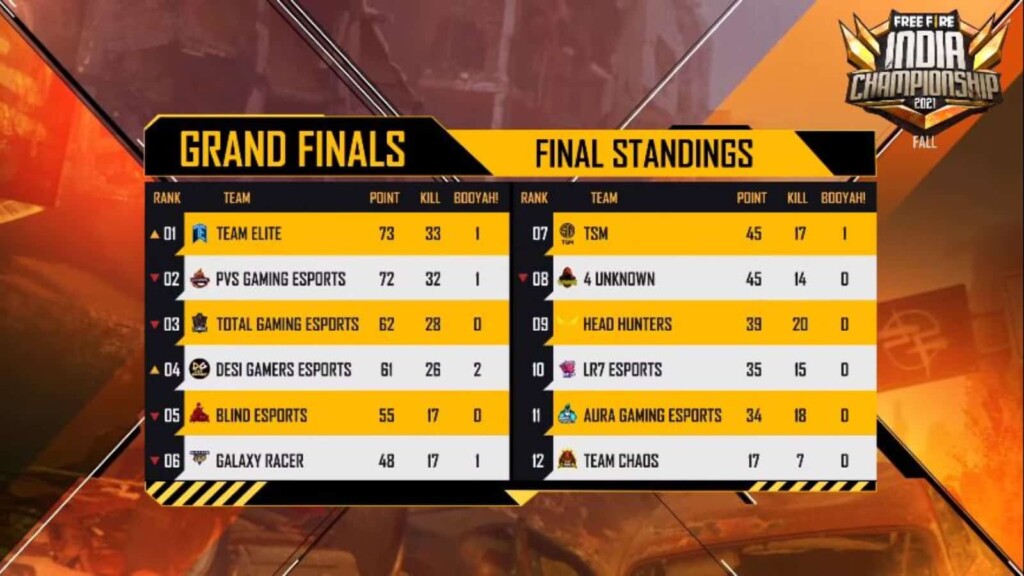 The first match of the day was played in Bermuda and this match was won by TSM with 3 frags. Team LR7 has lost the Booyah to team TSM in this match.
Purgatory was the map on which the second match was played and this match was claimed by Team Elite with six frags. Team PVS Gaming had dominated the match with 12 kills but lost the Booyah to Team Elite.
The third match was played on the desert map Kalahari. Viewers have seen Team Galaxy Racers playing aggressively and clinching the Booyah with 12 kills while PVS Gaming took the second spot. Team Total Gaming played well but was eliminated at the third spot with 10 kills.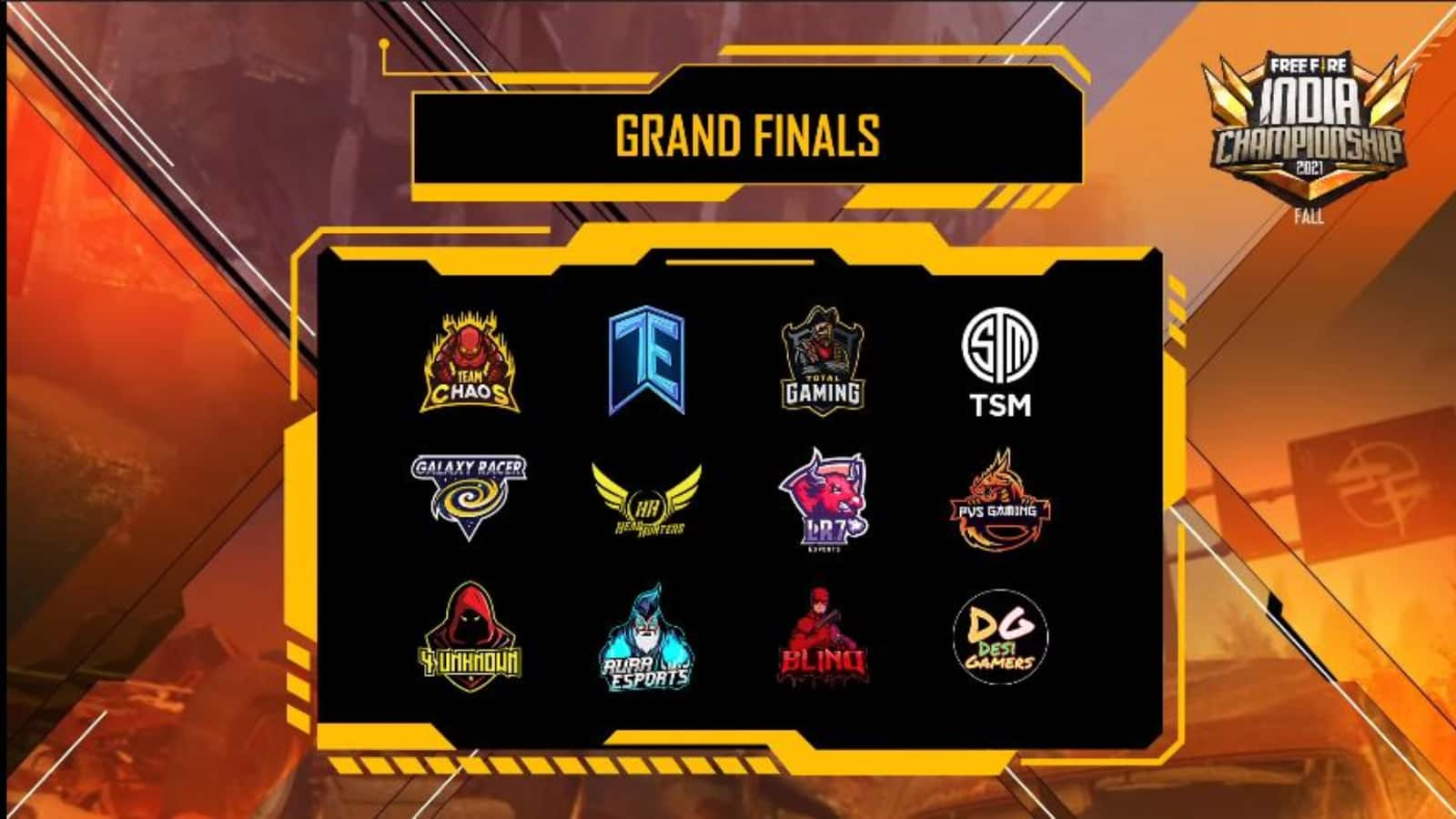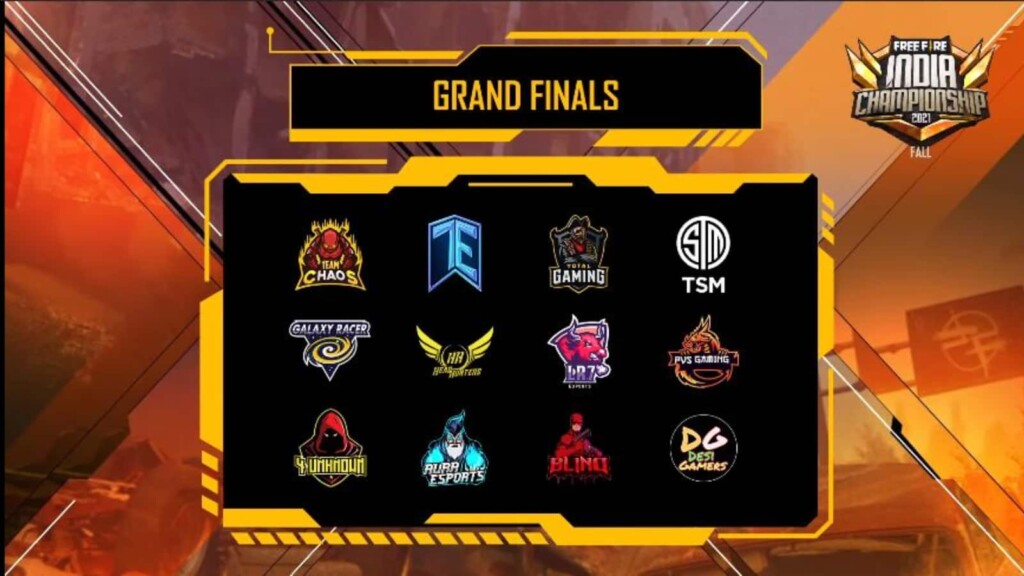 It was team PVS Gaming who acted and played smart with healings even after the last zone is finished and won this fourth match with 8 kills, whereas Team Total Gaming was eliminated at the second spot with 9 kills.
After the fourth match, Team PVS Gaming was in lead with 70 points followed by Team Elite with 47 points.
Team Desi Gamers has emerged victorious in the fifth match whereas Bling Esports took #2 position in this match with 3 kills.
The last and final match was won by Team Desi Gamers with 11 frags and Team Elite took the second match with 10 frags in total. This match was the turning point for Team Elite where Killer had taken the two kills at the end of the match, which led them to the first position.
---
FFIC 2021 Fall Prize pool distribution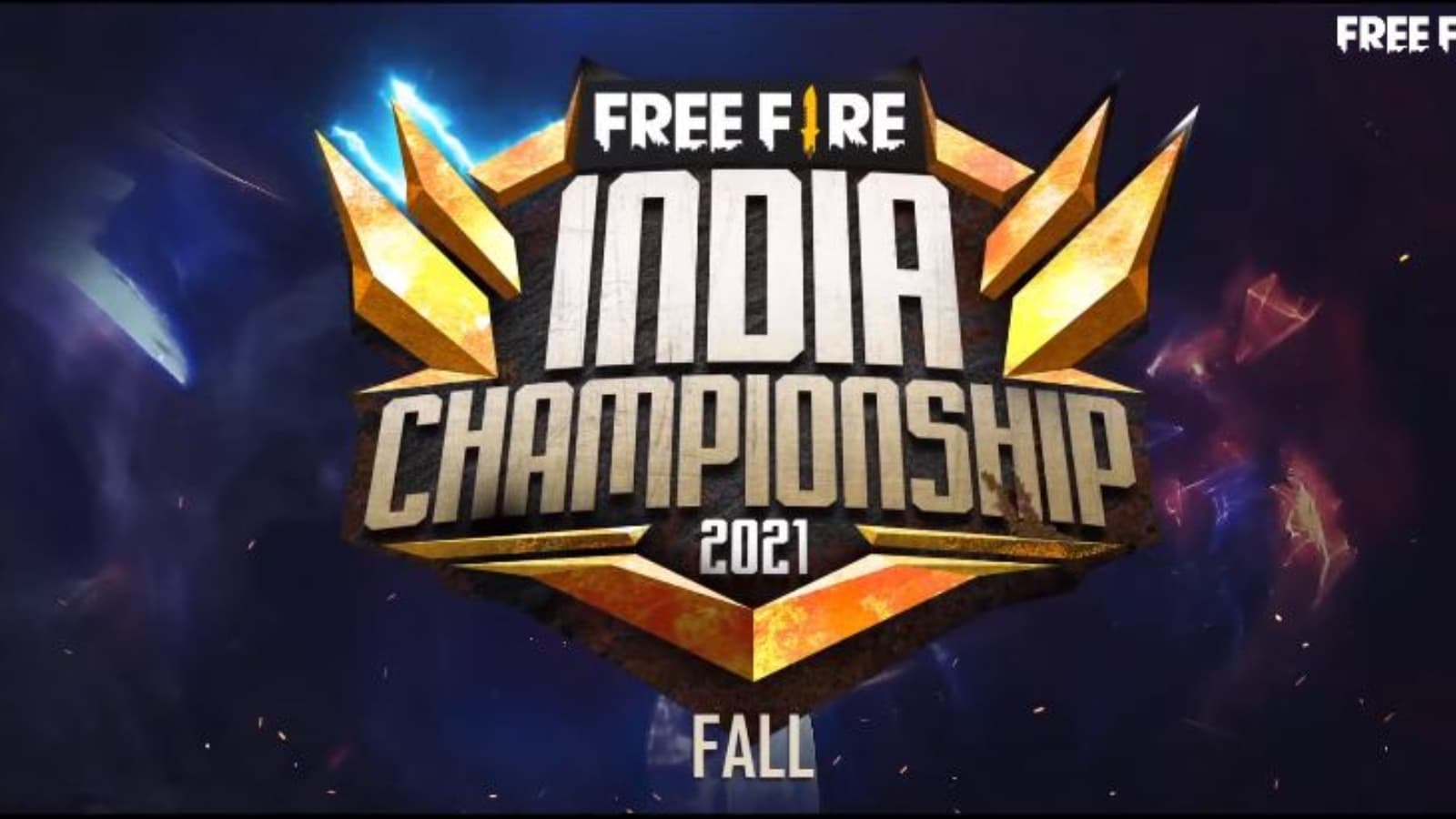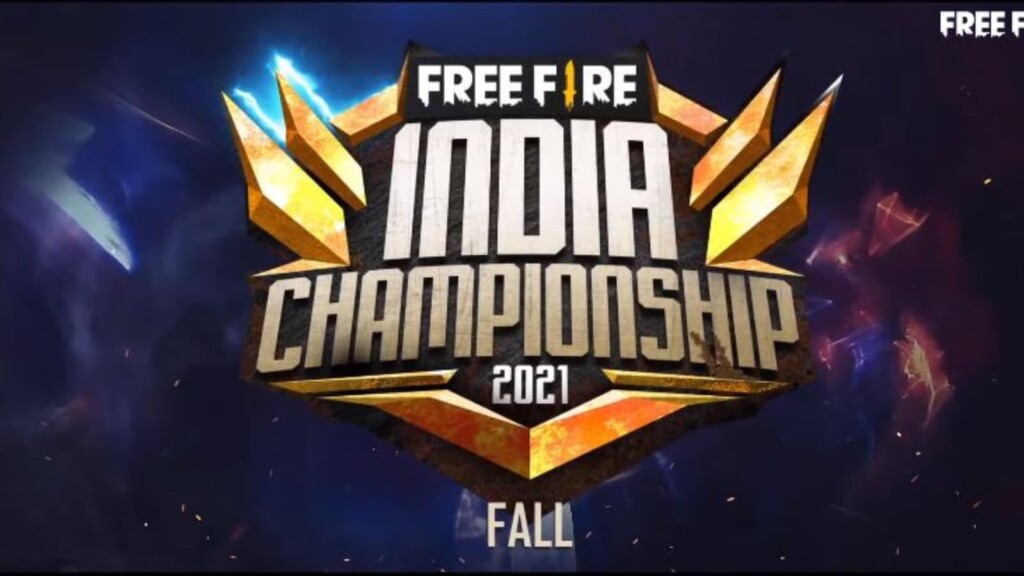 | | | |
| --- | --- | --- |
| Place | TEAM | Prize Money |
| 1st | Team Elite | 35,00,000 INR |
| 2nd | PVS Gaming Esports | 15,00,000 INR |
| 3rd | Total Gaming Esports | 7,00,000 INR |
| 4th | Desi Gamers Esports | 6,00,000 INR |
| 5th | Blind Esports | 3,00,000 INR |
| 6th | Galaxy Racer | 2,50,000 INR |
| 7th | TSM | 2,00,000 INR |
| 8th | 4 Unknown | 1,50,000 INR |
| 9th | Head Hunters | 1,00,000 INR |
| 10th | LR7 Esports | 1,00,000 INR |
| 11th | Aura Gaming Esports | 50,000 INR |
| 12th | Team Chaos | 50,000 INR |
---
Free Fire India Championship 2021 Fall Finals MVP Rankings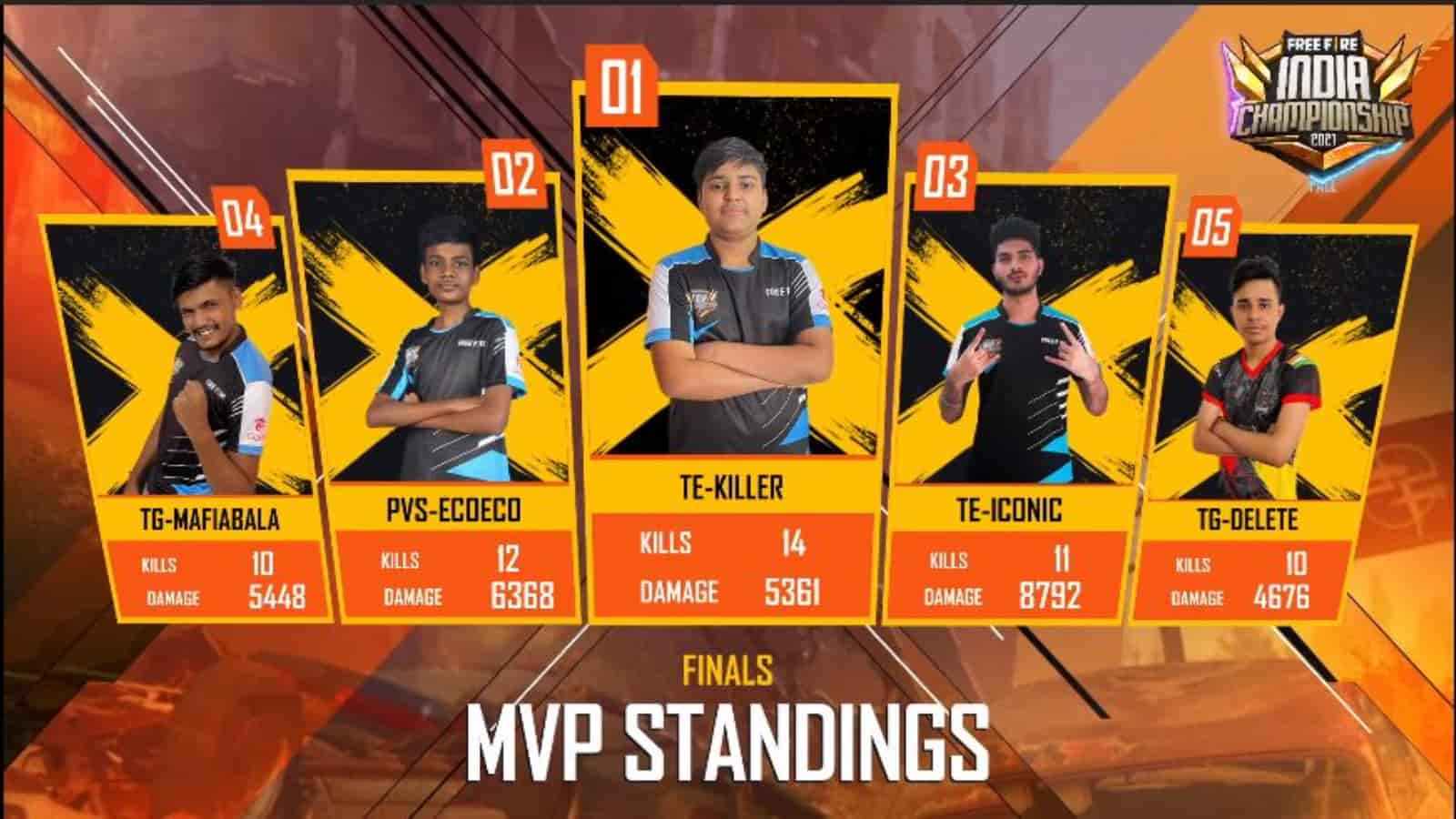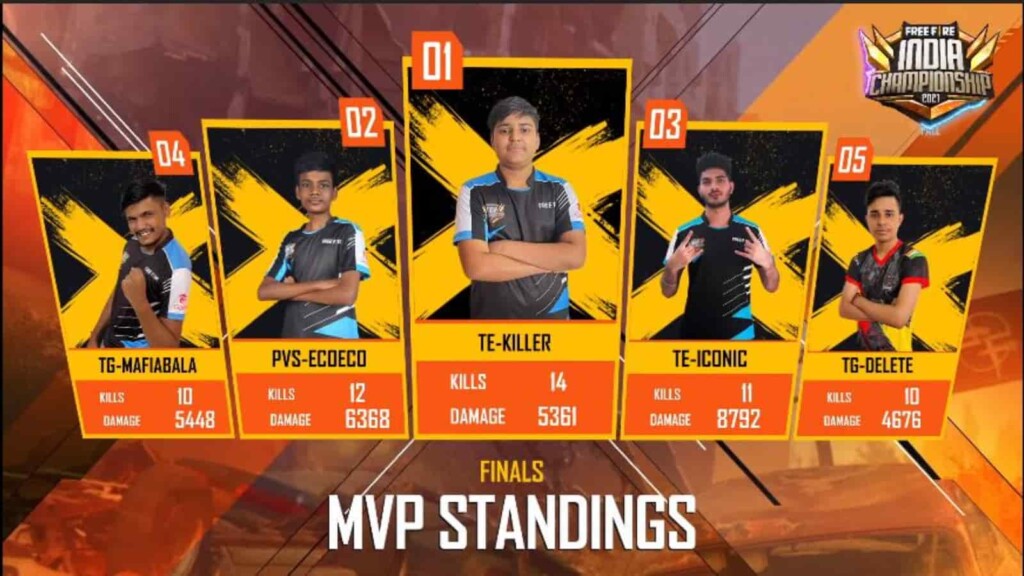 Team Elite's Killer, who has been the reason behind Team Elite's Championship has been rewarded the MVP title for taking 14 kills. The next spots were taken by the following players:
PVS EcoEco- 12 kills
TE Iconic -11 kills
TG Mafiabala – 10 kills
TG Elite – 10 kills
---
FFIC 2021 Fall Redeem Code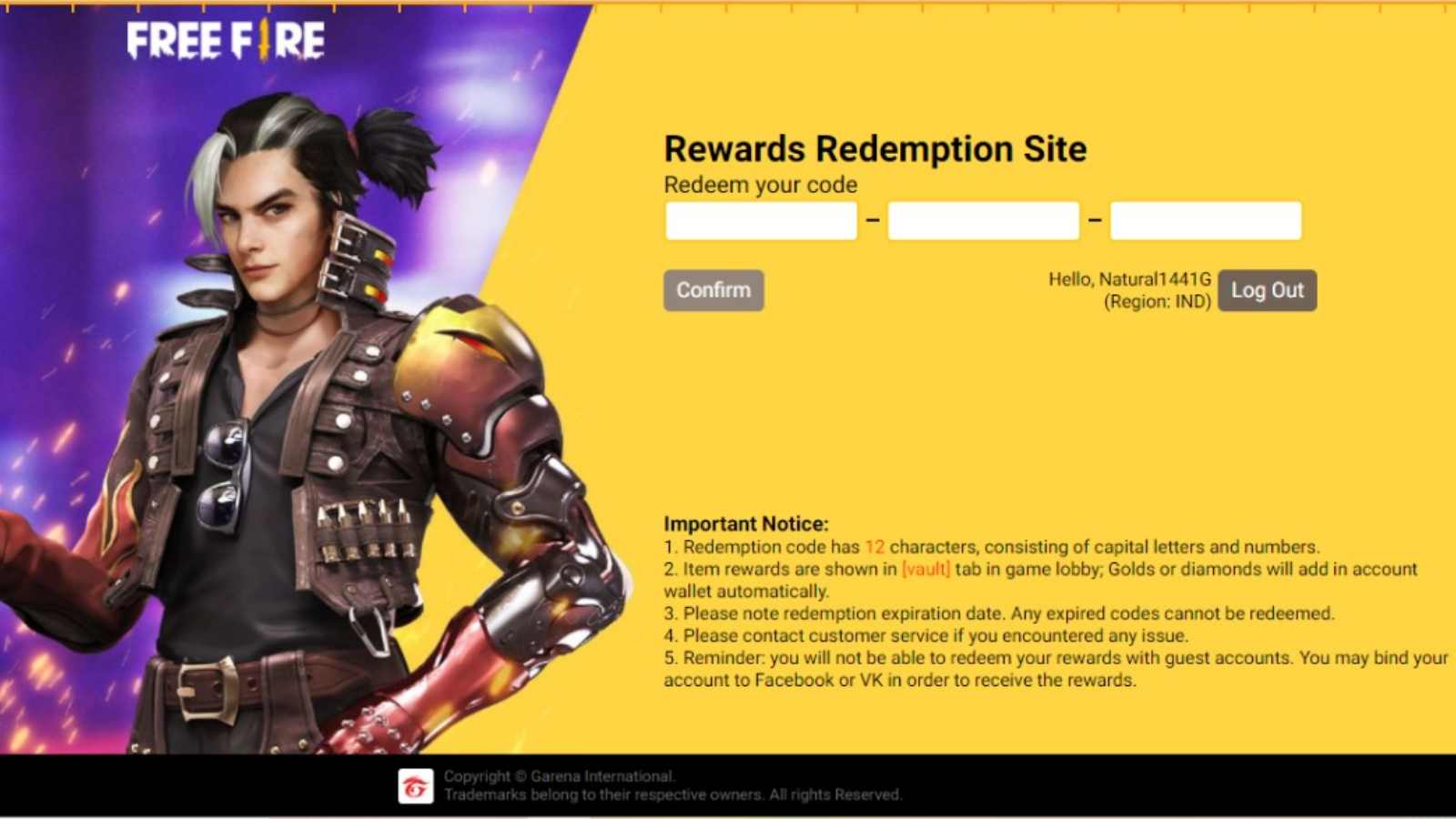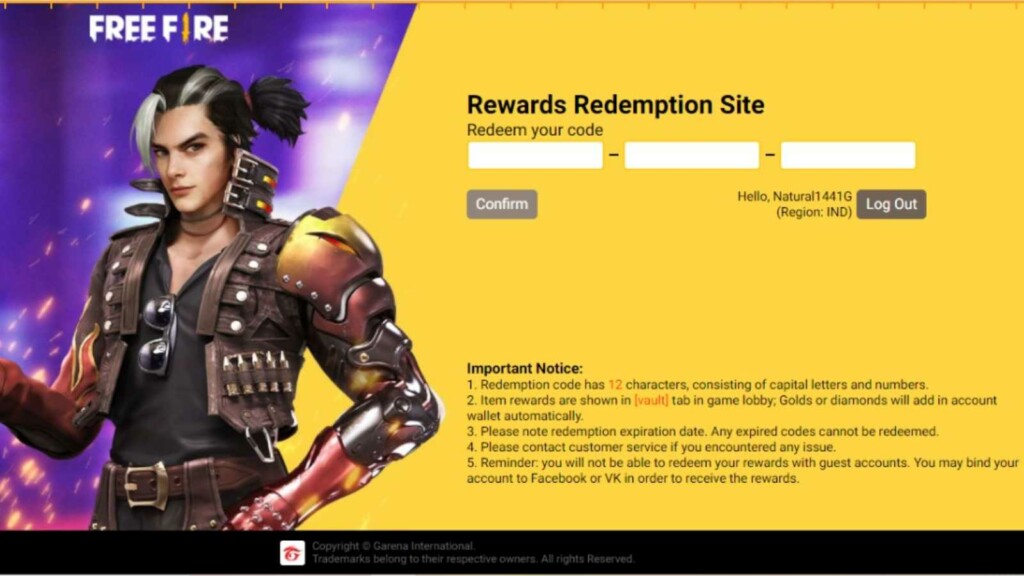 The redeem code is: FFIC-JGW9-NKYT
Redeem the code from here.
Note: The redeem code expires by 11:59 PM IST on October 17, 2021
Also Read: How to play Free Fire Game Online without downloading it on Mobile (October 2021)