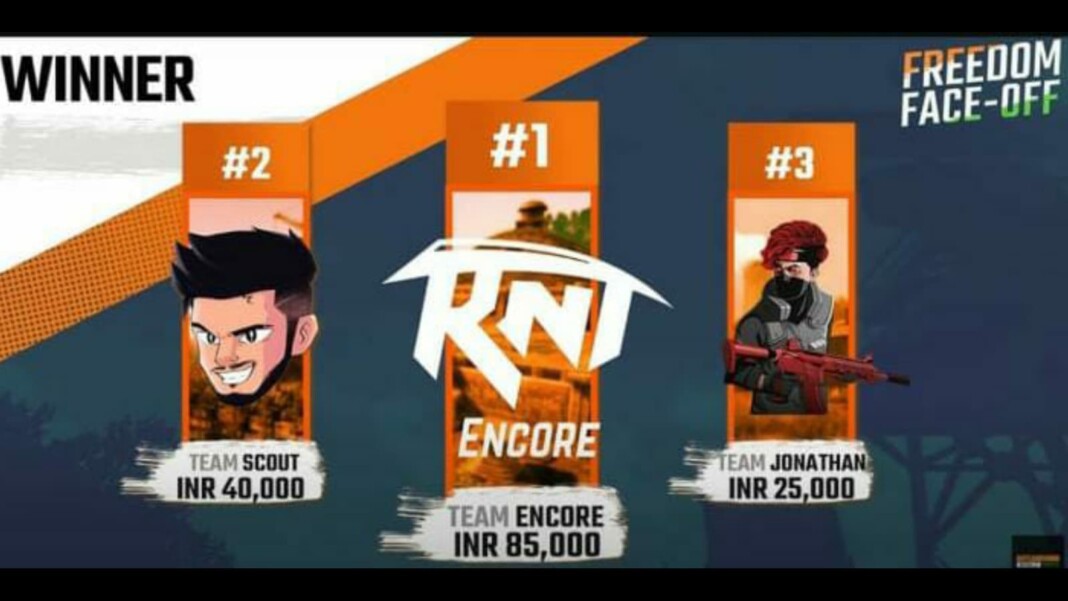 BGMI Freedom Face-Off hosted by Krafton has concluded today with Team Encore winning the tournament. BGMI Freedom Face Off was an invitational tournament organised specially for the celebrations of 75th Independence Day.
This is the third major event of Battlegrounds Mobile India, considering BGMI India Series 2021 is still in its registration phase. A total 16 teams were invited where they had to battle it out for a total prize pool of 1,50,000 INR. However, the casters revealed that 30K will be awarded to the Pan & Fist fight winners which made the total prize pool 2,10,000 INR. The tournament was live streamed in the official youtube channel as well as Facebook channel of Battlegrounds Mobile India.
Let us now look at the overall standings and result of BGMI Freedom Face-Off
BGMI Freedom Face-Off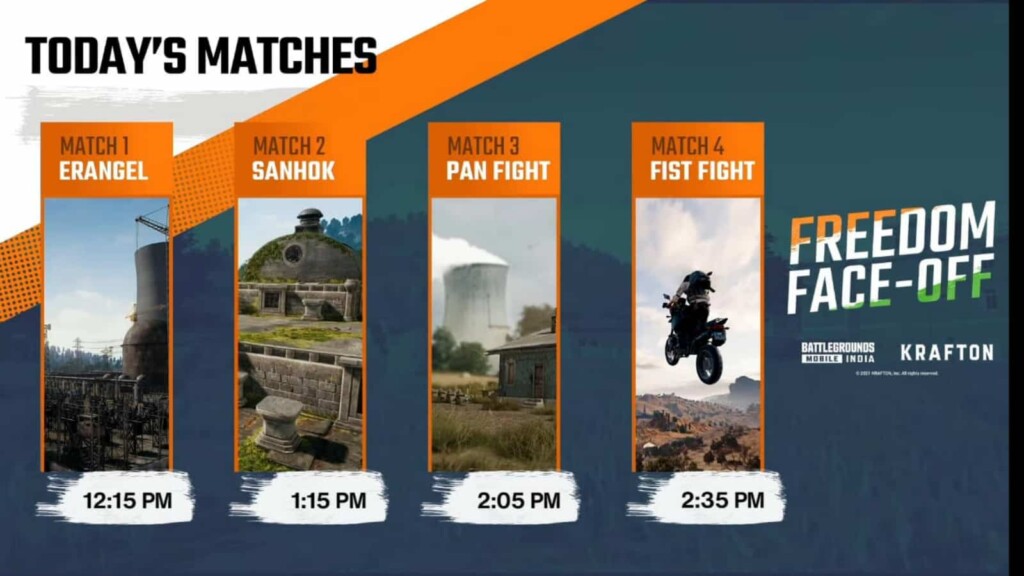 Match 1- Erangel 12:15 PM IST
Match 2- Sanhok 1:15 PM IST
Match 3 (Pan Fight) – 2:05 PM IST
Match 4 (Fist Fight) – 2:35 PM IST
Players had to play 2 different matches in Erangel and Sanhok maps and a friendly match 'Pan Fight' and 'Fist Fight' match at the end. The interesting part was that we got to see different winners in Erangel and Sanhok.
Related: Krafton announces BGMI Freedom Face-Off with 1.5 lakhs INR prize pool
Overall standings after Match 1 (Erangel)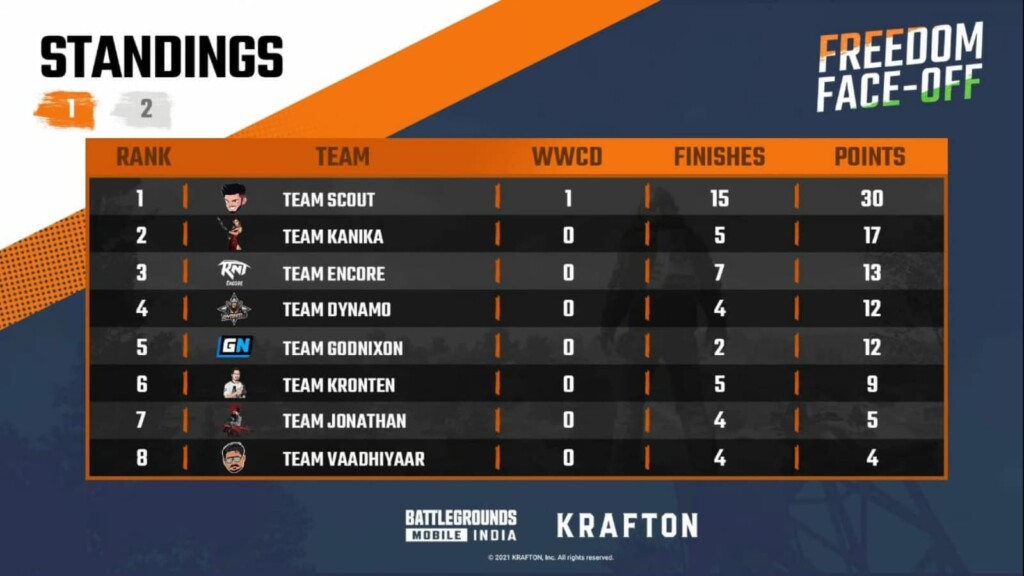 The first match played on the classic map of Erangel was won by Team Sc0ut with 15 finishes and 30 points where Pukar's performance was noteworthy. They were followed by Team Kanika who showcased an astounding performance grabbing 5 finishes & 17 points to secure the second position. Team Encore were closely following Team Kanika with 7 finishes & 13 points.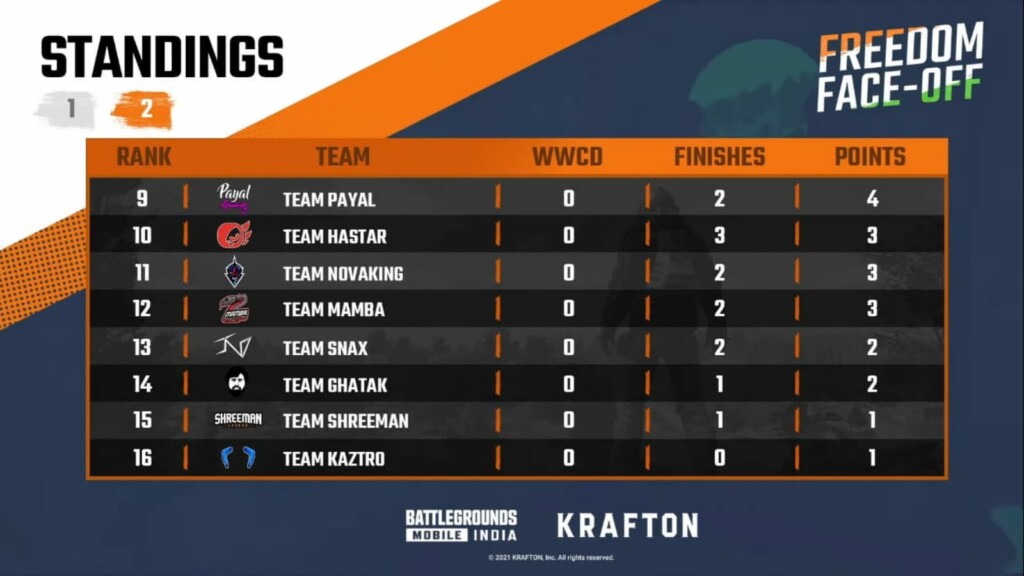 Team Snax who was crowned the winner of BGMI Launch Party failed to leave an impression in BGMI Freedom Face-Off, securing only 2 finishes. Team Kaztro was unsuccessful to grab any finish.Team Shreeman Legends was eliminated early but they managed to obtain 1 finish.
Overall standings after Match 2 (Sanhok)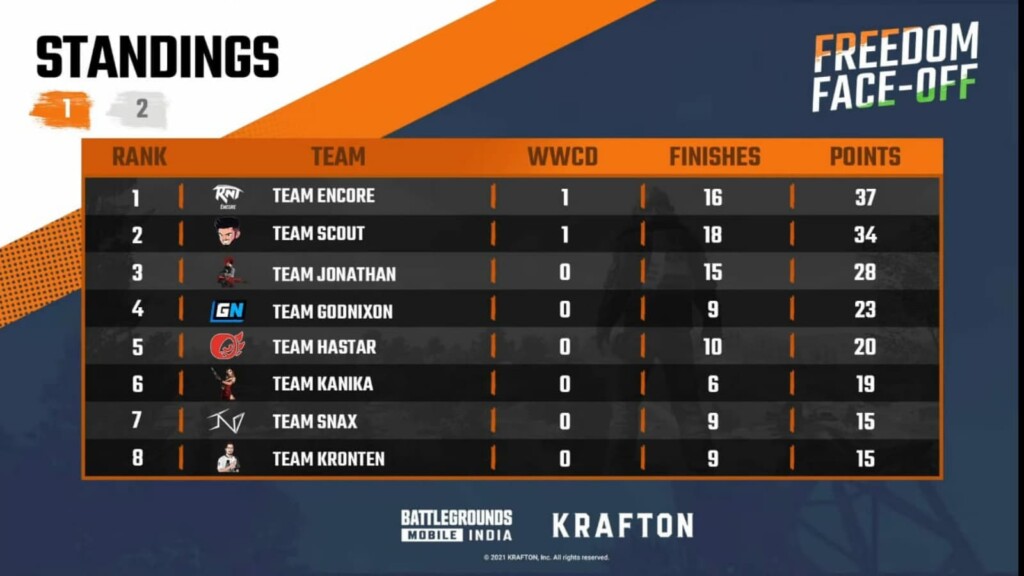 The second match was played in FPP mode. Team Encore turned the tables in the 2nd match as they grabbed 16 finishes with 37 points. Team Sc0ut was left behind with just 4 points short to grab the first place, however, they managed to grab 18 finishes. Team Jonathan was placed at the 3rd position with 15 finishes and 28 points.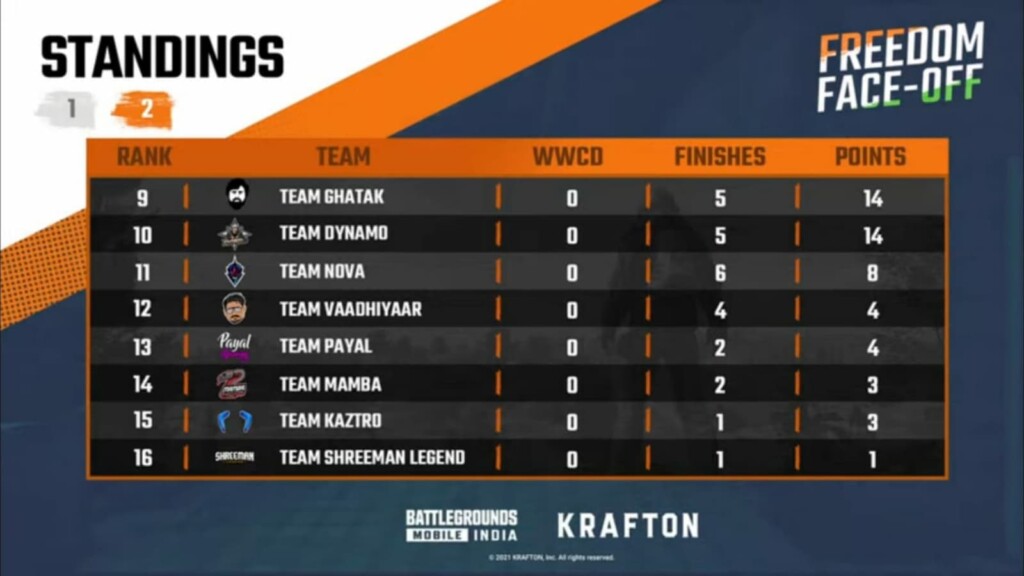 Team Kaztro grabbed one finish and 3 points and were placed at the 15th position while fan favorites Team Payal and Team Dynamo took 2 and 5 finishes respectively. Team Ghatak was able to grab 4 more finishes and finished at the 9th place with 14 points.
Pan & Fist Fight Winners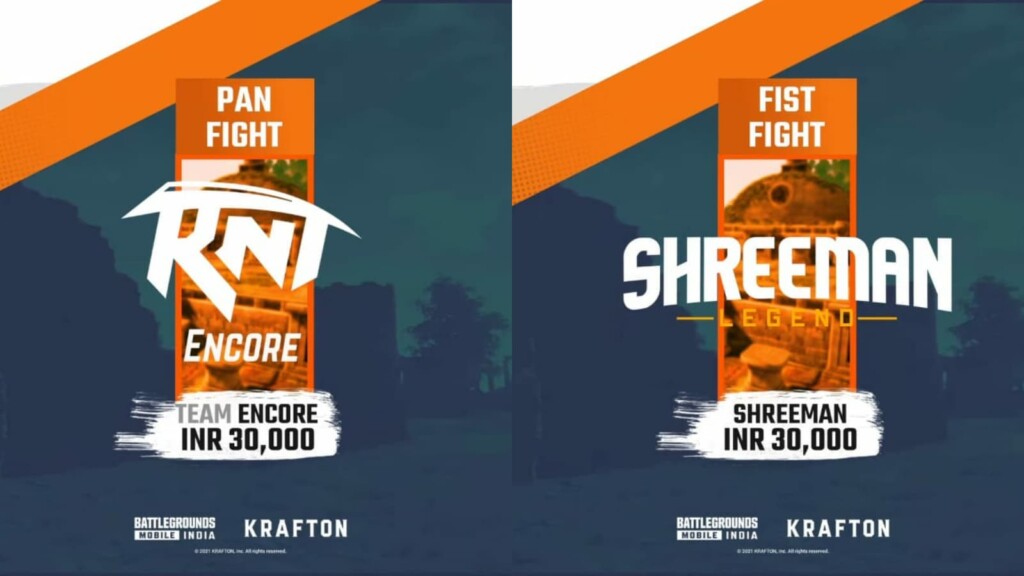 The casters of BGMI Freedom Face-Off revealed that a cash rpize will also be awarded to the Pan Fight & Fist Fight winners. Sc0ut managed to grab 3 finishes in Pan Fight match but Encore who belongs to Team Encore took away the prize. Shreeman of Team Shreeman Legends won the fist fight match at the last playzone.
Prize distribution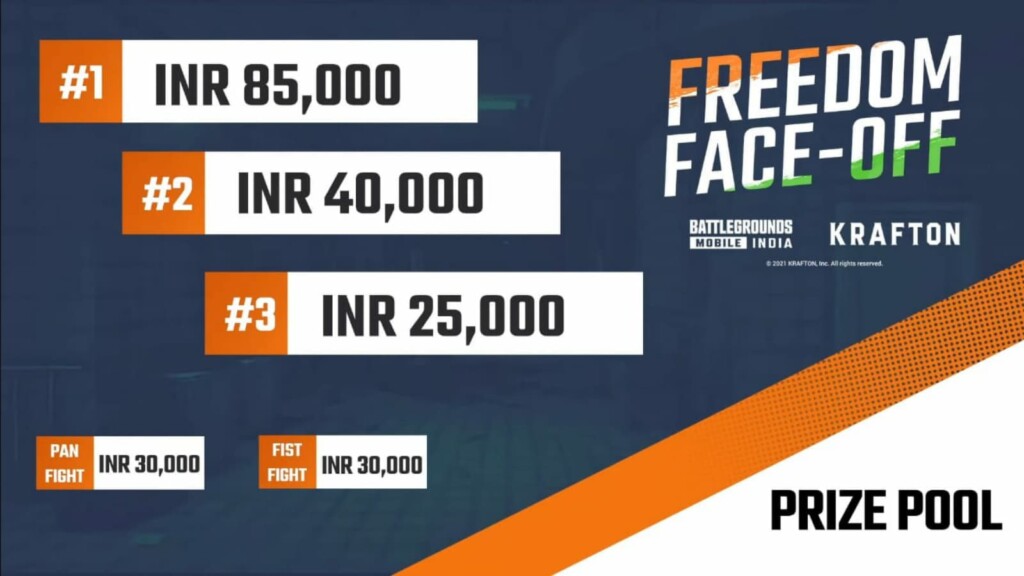 The prize pool of 2,10,000 is distributed among the teams as seen below:
| | | |
| --- | --- | --- |
| Position | Team | INR |
| First | Team Encore | 85,000 |
| Second | Team Sc0ut | 40,000 |
| Third | Team Jonathan | 25,000 |
Pan Fight & Fist fight winners were also awarded-
| | | |
| --- | --- | --- |
| Award | Player | INR |
| Pan Fight Winner | Encore | 30,000 |
| Fist Fight Winner | Shreeman | 30,000 |
The live stream was available in Hindi and was streamed in the official Facebook and youtube channels of BGMI. The live stream was able to gain 500K peak viewers. Krafton had also announced BGMI Independence Day Mahotsav Event where players will be given a time-limited AWM skin.
Also Read: Battlegrounds Mobile India: Top 5 best sniper skins in BGMI