World No.2 Daniil Medvedev showcased his class in the second round at Wimbledon 2021, as he blasted past Spanish wildcard Carlos Alcaraz in straight sets 6-4,6-1,6-2. Medvedev was in control throughout the match and never gave the young Spaniard a chance to settle in the match. With this win, he equals his best performance at Wimbledon, i.e. a third round outing.
Grass isn't Alcaraz's favorite surface and he was making his Wimbledon debut. So needless to say, he looked nervous in the start and Medvedev took full advantage of his situation. The Russian served brilliantly and was hitting winners at will. Alcaraz tried to give him a fight but had no answers to his powerful groundstrokes. Medvedev broke Alcaraz's serve and won the opening set 6-4.
The second and the third set were a cakewalk for the second seed. He seemed to have found his groove and had every shot planned to counter Alcaraz's topspin forehands. He soon took a double break's lead and served out the set 6-1. The Court No.1 crowd tried to get behind Alcaraz but Medvedev proved too strong for him. The Russian again took a double break lead and closed out the set 6-2 with a stunning backhand over the top volley.
'I'm sure sooner or later he's gonna be in the top 10 or maybe even higher': Daniil Medvedev on Carlos Alcaraz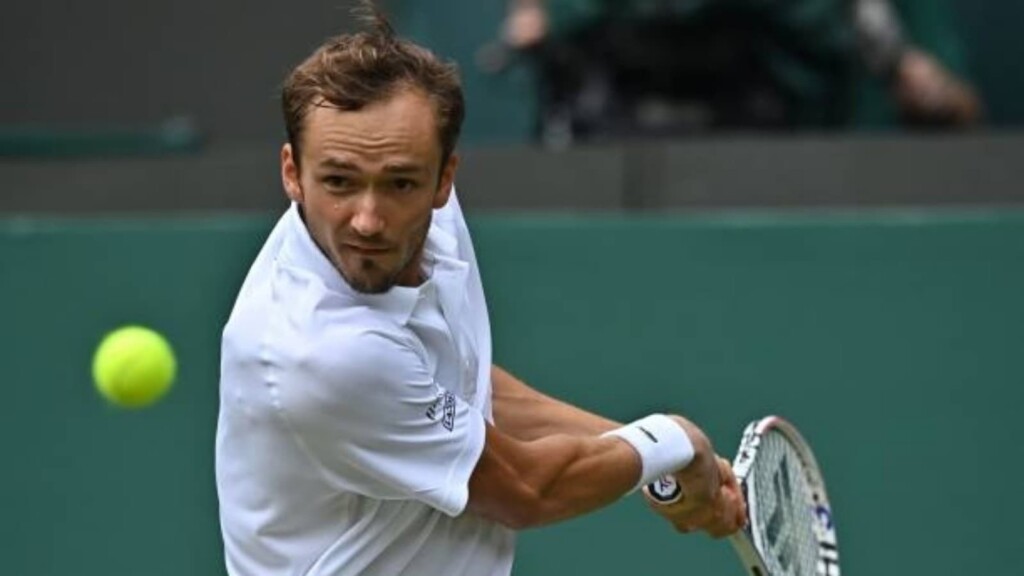 In the on court interview, Medvedev praised Alcaraz and said that he will be in the top 10 of the world very soon.
"The faster you go in a grand slam, the better. Carlos is an amazing player and I was surprised in the first set because grass isn't his best surface but he was giving it all there. Of course second and third set, maybe the gap was too high but I'm sure sooner or later he's gonna be in the top 10 or maybe even higher," he said.
He then spoke about his love for Wimbledon and grass. "I love grass! Talking about again Carlos, what he's doing is pretty special. His first grand slam, had a victory in Australian Open, made third round in Roland Garros. My first four grand slams, I had only one victory, it was here in Wimbledon on the centre court so this is special and Wimbledon is always gonna be special for me."
Medvedev has never gone past the third round at Wimbledon in his previous two attempts. He hopes to break the jinx this time. "In Russia we say third one is the lucky one. Hopefully that will work if not, I know I might be playing Marin[Cilic] which could be a great match up for the third round. Not an easy game but like this and I am gonna have my chances to win the game."
Also read: Wimbledon 2021: Ash Barty storms into the third round with a straight sets win over Anna Blinkova