Iga Swiatek and Hubert Hurkacz were up against each other in an exhibition match that was held to raise money for the children supported by the Academy of the Future. The match was scheduled long back and was held prior to the inaugural WTA-250 Poland Open 2021 to be held in Arka Tennis Club in Gdynia in the coming week.
Along with Iga and Hubert, Marcin Matkowski and Klaudia Jans-Ignacik were also present at the event in what a great celebration of tennis at the Arka Tennis Club. Swiatek took to her Twitter handle to thank the fans who turned up and cheered for both the players as they had a fun match on the Clay court.
"You are awesome. Today's cheering, your energy and the jokes that you threw to us from the stands will stay with me for a long time. Klaudia, Hubert, Marcin — thanks for the match! HubertHurkacz – I didn't expect a single with you, but it was a day full of nice surprises.
"I am glad that we could have a great time on the court, and at the same time help the kids from the Academy of the Future. I look forward to more such events in Poland and more such meetings with fans," wrote Iga in her tweet.
Iga Swiatek and Hubert Hurkacz had good runs at the Wimbledon 2021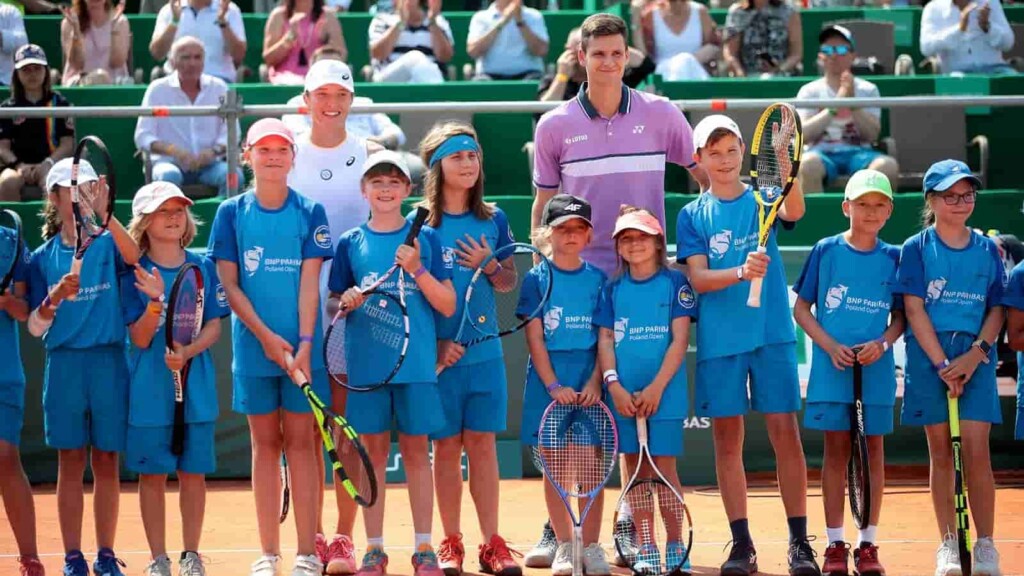 Iga Swiatek who was playing her 2nd Wimbledon had a good run as she made it till the 4th round of the Championships in her very limited experience playing on the Grass surface. She was however a winner at the 2018 Wimbledon Juniors having dropped a set only in her 1st round match.
Hubert had a fantastic fortnight at the Wimbledon 2021. The 24-year old who hadn't gone past the 2nd round in any of the Grand Slam so far, made it till the semi-finals of the Championships this year only to lose to eventual runner-up Matteo Berrettini. His run however saw him reach World No. 11 for the first time in his career.
The highlight of his run however was his meeting with 8-time Wimbledon champion Roger Federer who suffered one of his crushing defeats at the hand of the young Pole who defeated him in straight-sets with the last set being a 6-0 drubbing. It was a great performance by Hubert who fought back well in the 2nd set which he looked certain to lose.
The Championships showed that Polish tennis is in good hands with such exhibition matches in the home crowd, it will surely inspire many young kids to take up the sport.
Also Read: 'Beating Roger Federer at Wimbledon is an experience that is hard to describe': Hubert Hurkacz