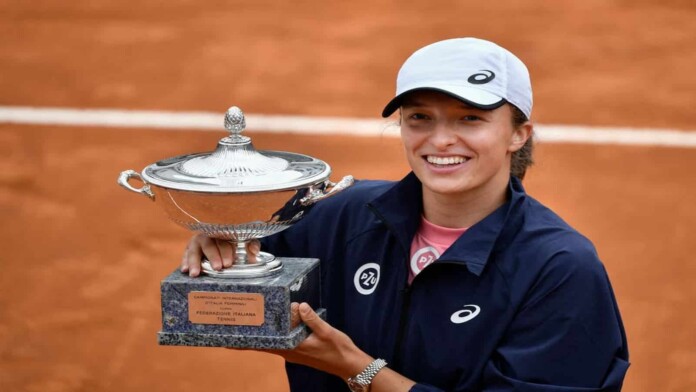 Iga Swiatek recorded the best victory of her career at the Italian Open 2021 finals. The Polish teenager inflicted a double bagel victory over Karolina Pliskova in the finals on Sunday. She became only the fourth teenager to claim a WTA 1000 title. The French Open 2020 champion claimed the second title of the season, and has now broken into the top 10 rankings.
Iga Swiatek was on the front-foot right from the onset, as she dropped just 13 points in the whole match. Against a player of Pliskova's quality, such a dominating victory is truly incredible. Karolina Pliskova was the defending champion and was making her third consecutive appearance in the finals of Rome.
Iga Swiatek reacts after claiming the Italian Open 2021 title
Iga Swiatek was left surprised after claiming a double bagel victory over Karolina Pliskova. The Pole revealed that her initial reaction was a moment of disbelief, after she saw the score-line. "When I was playing I didn't even know what was the score. When my coach told me it was 6-0 6-0, I was like 'Really? Isn't that a mistake?," said Swiatek.
The 19-year old will now aim to defend her title at the French Open 2021, which commences a few weeks from now. Swiatek lifted the title last year, and became the first Polish woman to win a Grandslam. The teenager defeated the American, Sofia Kenin in straight sets in the finals.
For now, Iga Swiatek will get a much-deserved rest before she heads to Paris. The youngster has had a few busy days in Rome, playing three matches in the span of just over 24 hours. However, she showed no signs of exhaustion, as she won all her matches in straight sets. The Polish teenager dropped just one set throughout the tournament, and was unstoppable.
Also Read: Find Out: List of milestones achieved by Iga Swiatek after a comprehensive victory over Karolina Pliskova in the finals of Italian Open 2021