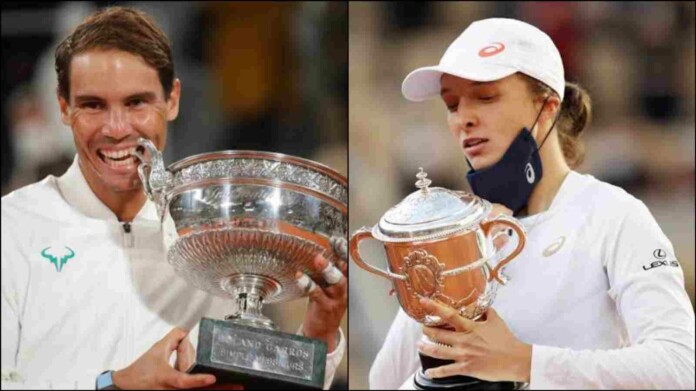 Iga Swiatek, eighth seed at French Open 2021 got off to the best possible start, as she defeated her good friend, Kaja Juvan in straight sets in the first round. The Pole, who turned 20 on Monday, extended her winning streak in Paris to eight matches. Swiatek is the defending champion at the French Open, and hopes to become the first woman after Justine Henin to defend her title in Paris.
Iga Swiatek defeated Kaja Juvan by a score-line of 6-0, 7-5 and stated that it was not easy to play against her good friend. However, she believes that one has to put their emotions on the side while competing.
"It's never easy to play against your best friend," Swiatek told reporters in Paris. I have some experience because I played with Kaja for a few times. I played with my other friends on junior level. You just try to block this friendship for two hours, just focus on the game," she added.
It was really a huge inspiration for me: Iga Swiatek on training alongside Rafael Nadal
Iga Swiatek stated that her game was getting better and better with every passing match. She is confident of putting up a good show in Paris, and commended her team for their incredible support.
"I feel like my game is better and better," said Swiatek. "My coaches were planning everything for me to have the peak of my shape right now. Hopefully it's going to be here. But still even though I have big confidence and I'm feeling really good, we still have to remember that every match has a different story and many things can happen on court," the Pole added.
Iga Swiatek practiced alongside her idol, Rafael Nadal last week, and she revealed that it was truly an unbelievable moment for her. The Pole also stated that she had to think of a few topics to discuss with Rafael Nadal, to avoid awkward silence.
"It was great," Swiatek on her practice session with Nadal. "I had to write some small topics to avoid awkward silence. But Rafa is really, really great," she added.
"Even though I am pretty introverted, it was really fun for me. Obviously I got to feel his forehand, which was great, and his topspin. That was a whole new experience for me. It gave me a lot of positive energy. It was really a huge inspiration for me," she continued.
Also Read: French Open 2021: Iga Swiatek starts her Championship defense in style, defeats Kaja Juvan on her Birthday