Former World No. 1 in both Singles and Doubles, Kim Clijsters, speaking with Kamau Murray in his podcast, opened up about various aspects of her life including her early success and quick rise to the top, her early retirement, her comebacks after a maternity break and a 7-year gap since her first retirement and how she is managing her family being back on the tour at the age of 38.
Kim won her first two Grand Slam titles in Women's Doubles, winning the Channel Slam in 2003 as she won both the 2003 French Open and then the 2003 Wimbledon Championships. She had to wait for 2 more years for her first Grand Slam title in the singles discipline winning the 2005 US Open.
She won the US Open again on two more occasions, winning it first at the 2009 US Open being unranked on the tour and then came back next year to defend her title successfully. She followed it with another Slam victory at the 2011 Australian Open which was her 6th and so far the last Slam title she won in her career.
"I'm from Belgium, I never moved out of Belgium until last year. The Tennis court is of the same size no matter where you play. I enjoyed playing in the heat, I enjoyed playing indoors, it has helped me to adjust to different circumstances," said Kim answering why she chose to stay in Belgium where tennis was not that popular when she began playing.
Kim Clijsters had quit tennis at the age of 23 despite being the World No. 1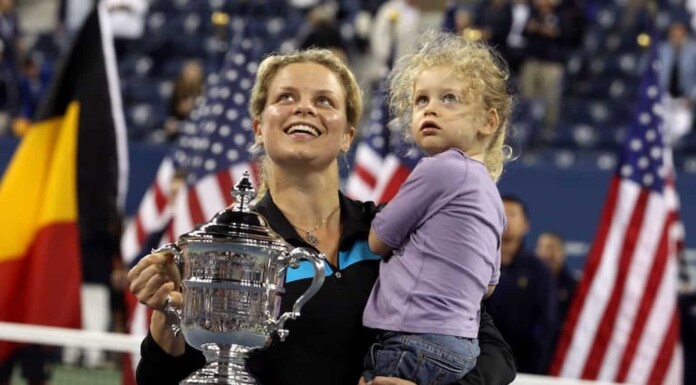 Kim had already shown signs that she will be retiring at the end of the 2007 season after having trouble staying fit for the past 2 seasons. During the 2007 season, she played only 5 tournaments of which the 2007 Australian Open was the only Grand Slam she played in where she made it to the semis. Her title at the 2007 Sydney International was the only title that season before she retired.
"I wasn't happy playing anymore, I wasn't happy travelling. I remember I was in Warsaw and I don't remember who I had beaten in the first round and I was walking off the court and I was not happy. I cried. My dad was there with me and he asked me what is going on and I started talking to him about many things.
"I explained to my dad that I did not enjoy this lifestyle anymore. It became too draining. I also met Bryan, he was home and I wanted to spend a little bit more time at home. That was why I decided to quit so early. I wasn't doing what to me was the most normal thing to do, the most normal thing I knew was to be fully committed to tennis, and I couldn't do it anymore," said Clijsters.
Kim talked at lengths about various things in the hour-long podcast and also explained what driver her back to make a return to tennis after being 7 years out of the game at the age of 36.
Also Read: "I'm still on a high" Emma Raducanu reflects back on her win at the US Open 2021