Novak Djokovic continues dominating the 2021 season as he wins the 3rd and penultimate Grand Slam of the season. The World No. 1 started his season with the 2021 Australian Open, then won the 2021 French Open and makes it 3 out of 3 at the 2021 Wimbledon Championships.
The Serbian great proved his mental strength again as he defeated 25 year-old Italian Matteo Berrettini in 4-sets in what was a nervy final for both the players. Berrettini found himself trailing 2-5 in the first set but staged a great comeback to win it in the tie-breaker. Djokovic however settled his nerves and went on to win the next 3-sets to win the Championships 6-7(7), 6-4, 6-4, 6-3.
In the process of lifting his 6th Wimbledon title, Djokovic reached the 20-Grand Slam mark to tie with Roger Federer and Rafael Nadal on 20 Grand Slams each as the Big-3 have now won 60 combined Grand Slams in the last 72 Grand Slams contested.
Most Grand Slam titles
| | |
| --- | --- |
| Player | Grand Slams |
| Roger Federer | 20 |
| Rafael Nadal | 20 |
| Novak Djokovic | 20 |
| Pete Sampras | 14 |
| Roy Emerson | 12 |
List of feats achieved and interesting stats after Novak Djokovic's victory at the Wimbledon 2021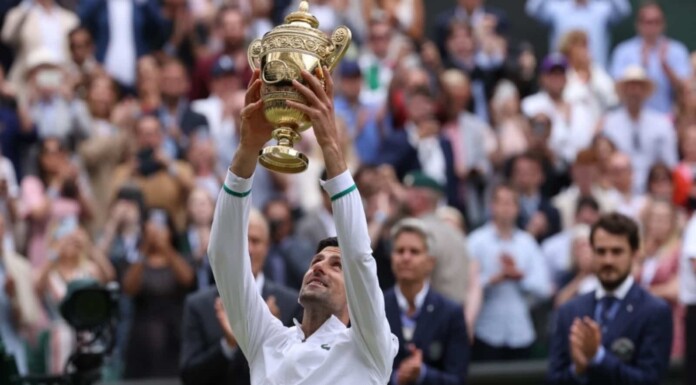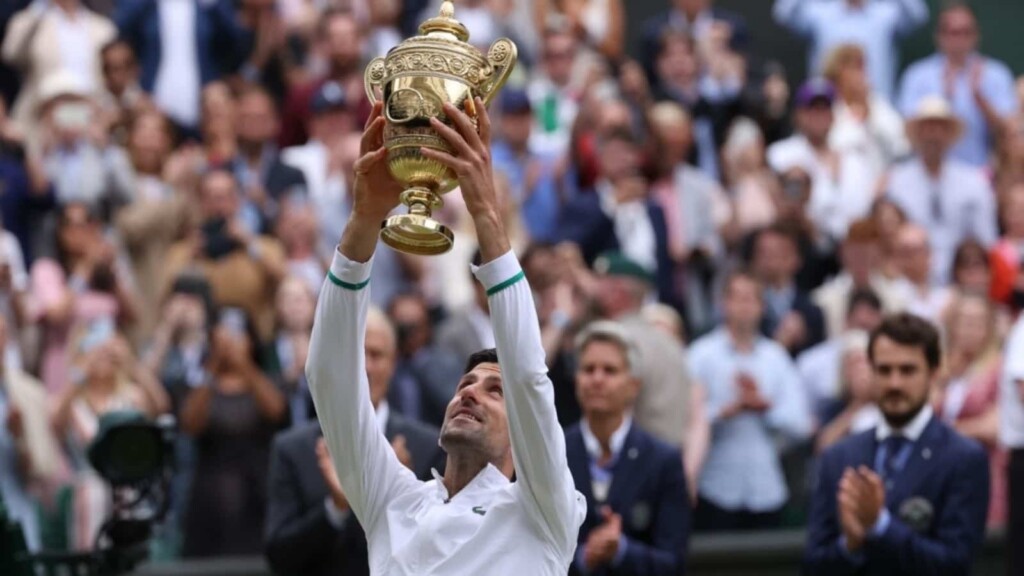 Novak Djokovic becomes the joint-leader in men's tennis with 20 Grand Slams each with Roger Federer and Rafael Nadal
Novak Djokovic is the 1st man to win first 3 Grand Slam tournaments of the season since Rod Laver won in 1969 (5th in history)
Novak Djokovic pips Bjorn Borg to climb to the 3rd place as the man with the most Wimbledon titles behind Petr Sampras (7) and Roger Federer (8)
Novak Djokovic becomes the Open Era leader with 8 Grand Slam titles since turning 30.
The title leaders (30-over): Novak Djokovic – 8, Rafael Nadal – 6, Roger Federer – 4, Rod Laver – 4, Ken Rosewall – 4
Novak Djokovic becomes the 4th player to win a hattrick of Wimbledon titles in Open Era after Bjorn Borg (1976-1980), Pete Sampras (1993-1995 and 1997-2000), Roger Federer (2003-2007), Novak Djokovic (2018, 2019, 2021)
Novak Djokovic becomes the only player with 20 Grand Slams and 2 Career Slams
Also Read: "The GOAT debate for me was over a long time ago" Goran Ivanisevic lands his verdict after Novak Djokovic wins the Wimbledon 2021