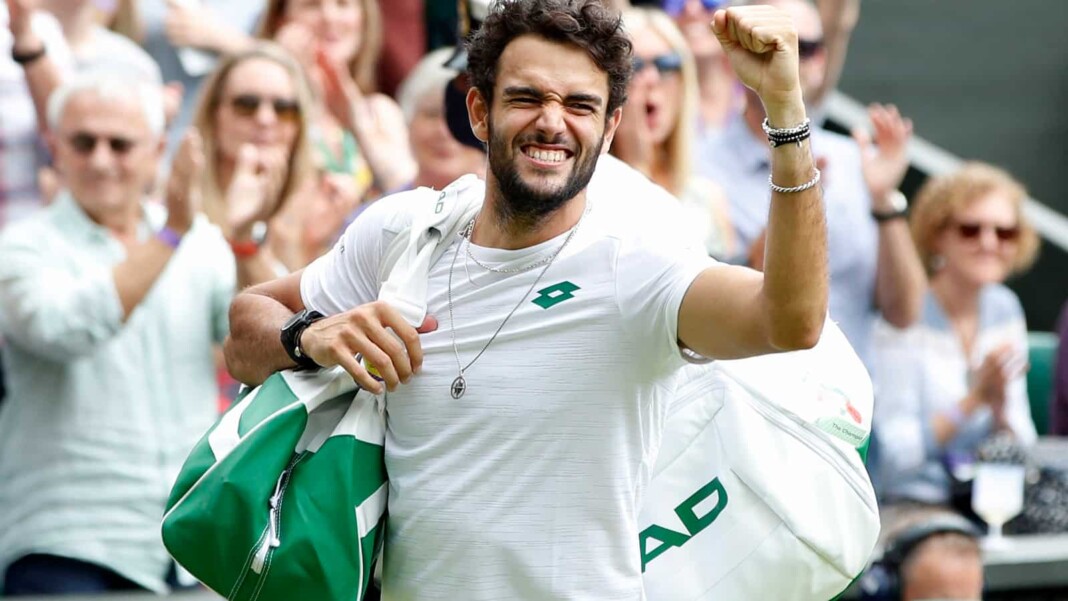 Matteo Berrettini becomes the first Italian since 1976 to reach a Grand Slam final after he defeated Hubert Hurkacz 6-3, 6-0, 6-7(7), 6-4 in 2 hours and 37 minutes to enter the finals of the Wimbledon 2021.
Berrettini registered his 11th win on Grass this season as he continues his dominant run on the surface. This was his third 4-set victory of the tournament after winning his 1st round, quarter-final and semi-final matches in 4-sets and winning the 2nd, 3rd and 4th round matches in straight-sets.
Berrettini talks about his emotions before and after the match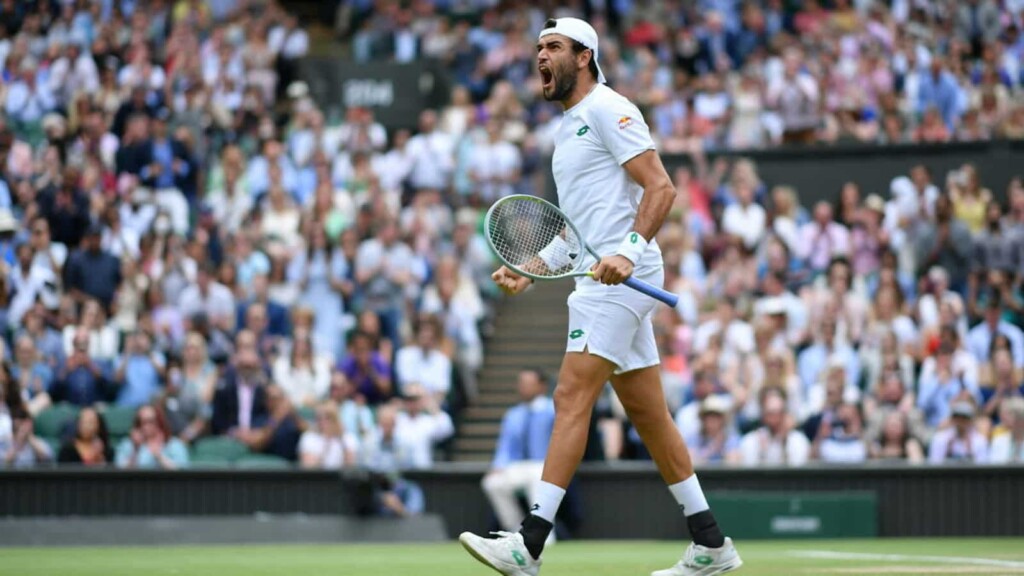 Berrettini had one of his best serving performances today hitting 22 aces while conceding only 5. Hurkacz went on to say that, "Berrettini hit bombs in his service putting pressure on me." Entering into his first Grand Slam final, Matteo talked about his emotions going into the finals.
"I had nerves all over the place but at the same time I think I handled the situation pretty well, when I stepped onto the court, I felt confident, I knew I could win the match and I think I played my best match so far, I'm really happy with my performance.
"Especially after the 3rd set, I felt I could win the match but it didn't happen but I said to myself, you are playing better than him so keep going like this, you are going to win. It feels great, I would have felt great even if I wasn't the first Italian. My first Slam finals, I'm just so happy for everything," said Berrettini about his performance.
Matteo talks about his finals coinciding with the Euros finals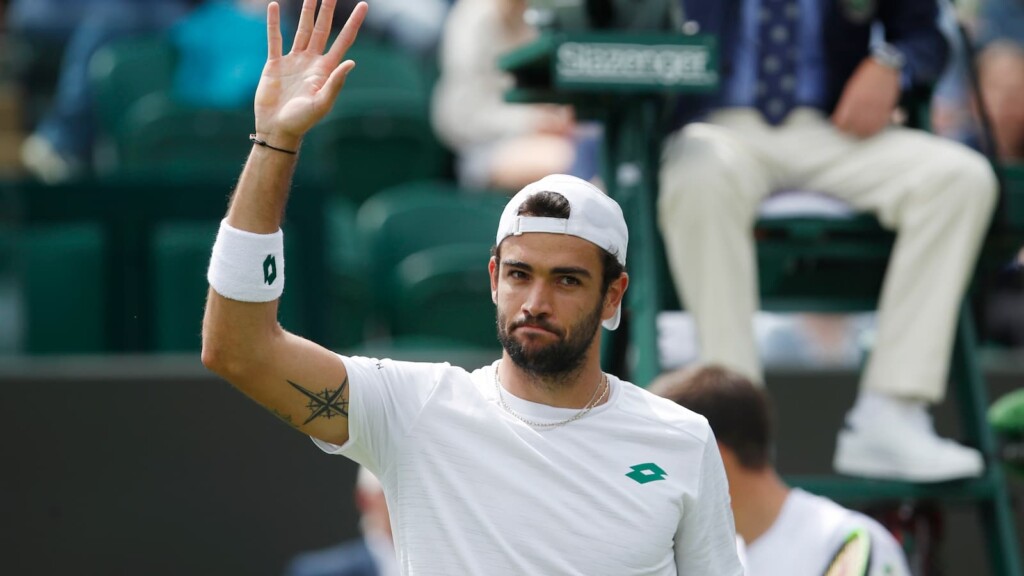 The Sunday of 11th July 2021 will be a busy sports day for the Italians as Matteo Berrettini will be playing in the finals of the Wimbledon and the Italian football team will be playing in the finals of the Euros 2021 against England a few hours later.
"Whoever wins they are going to support me, I hope. It's going to be a great atmosphere my first final at Wimbledon, it's just crazy to think about it and obviously for Italian people, in general, it's gonna be a tough Sunday. But I think we deserve it and it's a great sports day and I am really happy that together with football I think we are the biggest sport in Italy.
"My year started in a good way, with the finals at the ATP Cup and I got injured again and my body was kind of struggling. But I came back stronger and I think I fully deserve to be here and I want to enjoy my first final and whoever is going to win today, I just appreciate it's happening, I am happy. Obviously, the job is not done yet, I wanna get the trophy now that I am here, but it's really an unbelievable feeling," said Matteo.
Matteo Berrettini recalls his beginnings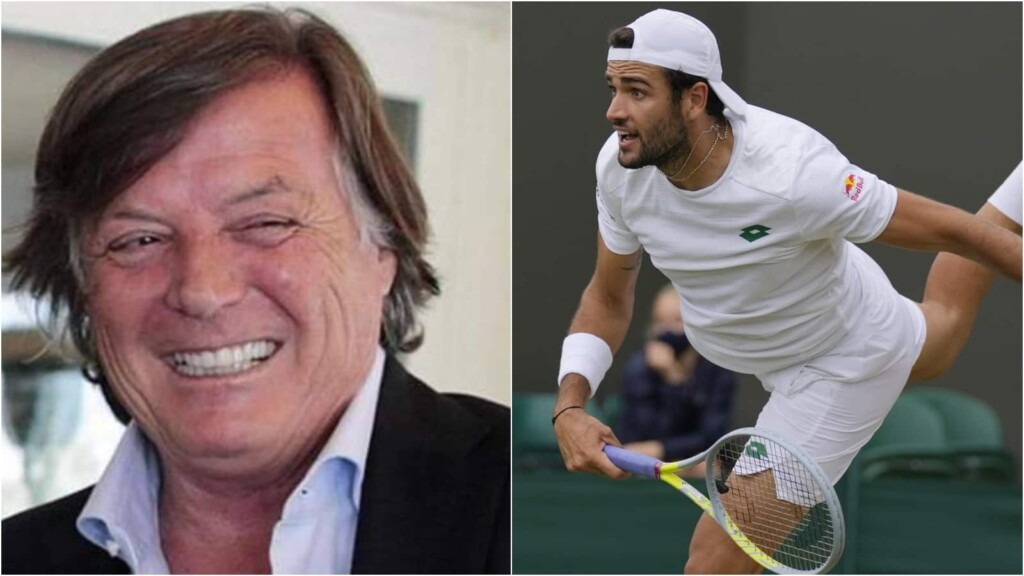 Adriano Pannatta was the last Italian to reach any Grand Slam final when he won the 1976 French Open. Since then, it has been a void for Italy that is now finally being filled by Matteo. Speaking about Adriano who has been Matteo's mentor for a while now, he recalled his beginnings and seeing his family enjoying his success on the Centre Court today.
"Adriano texted me after my match with Felix. We are in contact, he was one of the first big names, for us probably the biggest one that believed in me when I was a kid. He told me. look I think you are going to serve at 220 km/hr, and I looked at him and I was like, I don't know if I trust you but then I saw the history of his results and he was right.
"I am in contact with him all the time and he is a great advisor and he told me so now that you are here go for it and that's what I am trying to do. It means everything to not just my parents, but my brother and my best friends. I started playing tennis with them thanks to them, with my brother. We used to practice together and he is still playing.
"We always were bringing our racquets and we played so many times without the ball just pretending to be playing in our living room in great finals and pretending to be players that are now I am playing against. Unfortunately due to the bubble reasons, I couldn't meet my family but I saw them from far away.
"My brother, I never saw him like that, he couldn't believe it. That's where I come from, that's my family, that's our passion. My grandparents are still playing, that's in our DNA and I am happy that they are here," concluded a rather emotional Matteo as he gets closer to achieving his dreams.
Matteo Berrettini will be up against 5-time Wimbledon Champion Novak Djokovic who will be looking for his 3rd consecutive Wimbledon title as he defeats Denis Shapovalov in straight-sets to register his 5th straight-set victory at the Grand Slam this year.
Also Read: Wimbledon 2021 Final: Novak Djokovic vs Matteo Berrettini Preview, Head to Head and Prediction