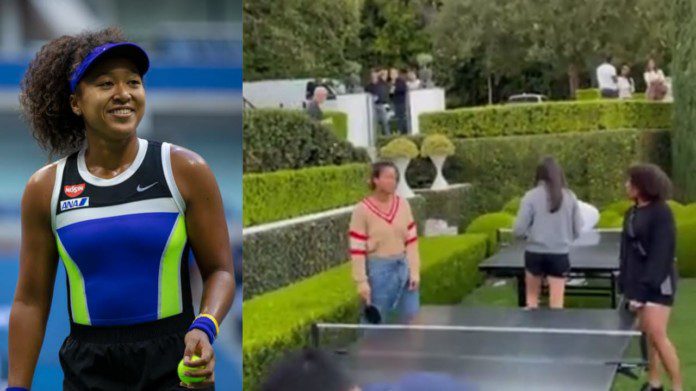 Current World No.13 and former World No.1 Naomi Osaka is the first Asian player to hold the top ranking in singles as well the first player from Japan, man or woman to reach No.1. She is a four-time Grand Slam singles champion and is the defending champion at the upcoming Australian Open.
Her seven titles on the WTA Tour also include two at the Premier Mandatory level cups. She is also the first woman since Serena Williams to win successive Grand Slam titles.
With the new tennis season about to start, the Japanese is gearing up her skills to compete against the tennis stars across the globe by practicing her moves and building her strength and stamina.
Naomi Osaka gives a hand to ping pong!
Taking a break from the rigorous training for the tournaments, Osaka was spotted in a holiday party giving a try to the ping-pong game.
In a recent video posted by podcast host Craig Shapiro on his Twitter handle, the Japanese tennis star can be seen giving a hand to ping-pong.
The video made it quite clear that one of the most promising players of the WTA is never hesitant to try new things. Recently, in the Nike Playlist episode, the Japanese was seen playing basketball. Naomi Osaka clearly has skills for all sports.
She seemed to enjoy herself while giving a try to the game. Tennis players usually have an affection for ping-pong because the two games are alike in some ways. The moves and smashes used in ping-pong include backhand and forehand which is almost the same as tennis.
Other than Naomi, 20 times Grand Slam winner Rafael Nadal was also seen playing the game of ping-pong with former F1 champion, Nico Rosberg.
Also Read – "You can make up to $ 3 million, or end up with less than 50k some months," Daniil Medvedev reveals sheer truths about a player's life