Roger Federer, the former world number one is considered one of the greatest players of all time, and his story from being a ball boy in the Swiss Indoors tournament to becoming one of the legends of the sport is a true example of hard work, grit, and determination. His on-court grace has been admired by all and has been inspirational for millions around the world.
Andre Agassi, the former tennis legend from America and eight-time Grand Slam champion, praised the Swiss maestro and recalled the times when he had got the chance to play against Federer which made him realize the kind of legacy that he will be leaving behind and his exemplary contribution to the sport. He said "The day I played Federer, that was the day I realized I was playing the greatest player of all time,"
Also Read: Roger Federer says nobody plays like him in today's tennis world
Roger Federer and Andre Agassi have played against each other 11 times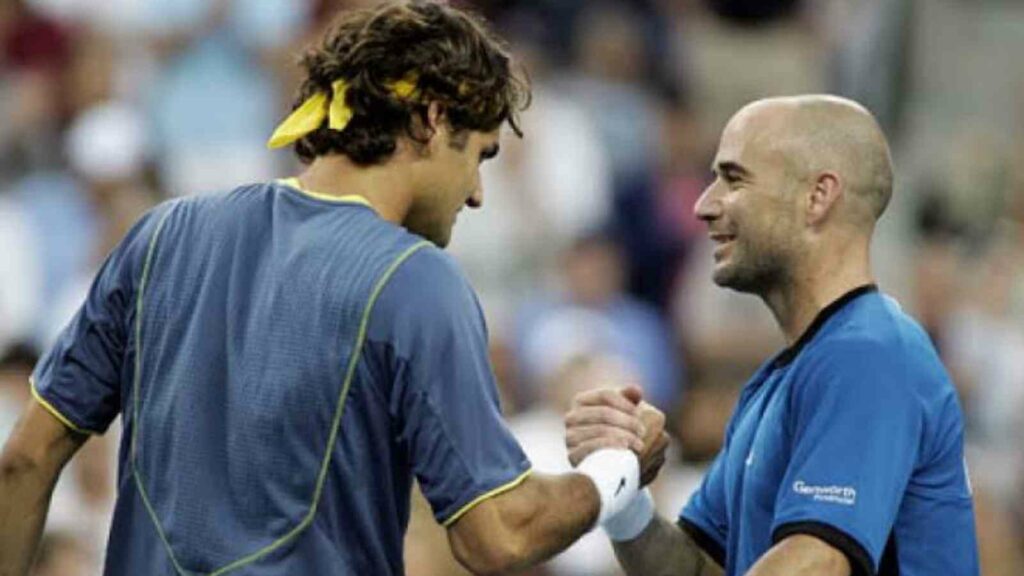 Roger Federer played against the American legend Agassi for the very first time at the Swiss Basel Indoors in the year 1998 where he was beaten by the American legend in straight sets. They next encountered each other at the US Open in 2001 where the Swiss maestro was again beaten by Agassi. They both have played a total of 11 times against each other and Federer has a winning record of 8-3 against Agassi.
The last time, they both played against each other was at the finals of the US Open in 2005, which was the last major final for the former American player where Federer won his sixth Grand Slam singles title defeating Agassi in four sets. Federer had met Agassi four times in 2005 and had managed to defeat the American in all four meetings in the year.
Roger Federer bid adieu to the professional world of tennis after playing at the Laver Cup where he lost his final doubles match alongside Rafael Nadal. He had been missing from action since his quarter-final loss at Wimbledon in 2021 due to his third knee surgery and further recovery that didn't go according to his plan. He was looking for a return to the sport but his body did not permit him a probable comeback and had to finally take the tough call of ending his career of 24 years.
Also Read: "After tennis, I am left with nothing" Juan Martin Del Potro dejected with life post-retirement amid his consistent injuries scare
Also Read: Severin Luthi details on how Roger Federer "always had a chance" to beat both Novak Djokovic and Rafael Nadal