Emilio Benfele Alvarez is a former Spanish tennis player. Although he never won any ATP title, he was much loved for his playing style and his fans still remember him for his impeccable gameplay. He came very close to winning his career's first ATP title when he played the Championship match of the Austrian Open Kitzbühel. He was defeated by Alex Corretja.
In a recent interview with the Spanish news agency Punto de Break, the former Spanish professional gave his unfiltered opinions about the new generation of players that have been making rounds on the internet. He seems to be impressed with World No. 1 Carlos Alcaraz and went on to draw a comparison with World No.1 with the Davis Cup 2022 winner Felix Auger-Aliassime and shared his opinions about him.
"I like Felix Auger-Aliassime, but I don't think he has the spark to want to be number one. That is something that Carlos Alcaraz does have. He has fire inside, like a lion. Aliassime is a dancer, he plays beautifully, very effectively, but he lacks belief," Mr. Alvarez said.
Alvarez even went on to talk about a few more prominent players including the likes of Stefanos Tsitsipas, Denis Shapovalov, Lorenzo Musetti, and many others. Emilio Benfele Alvarez lives in Munich and gives tennis classes to adults. He still loves tennis and lives the sport as he has done throughout his life.
Also Read: Emma Raducanu receives Tim Henman's approval for hiring the former coach of Andy Murray, Alexander Zverev, and Dominic Thiem
Carlos Alcaraz and Felix Auger-Aliassime: Head to Head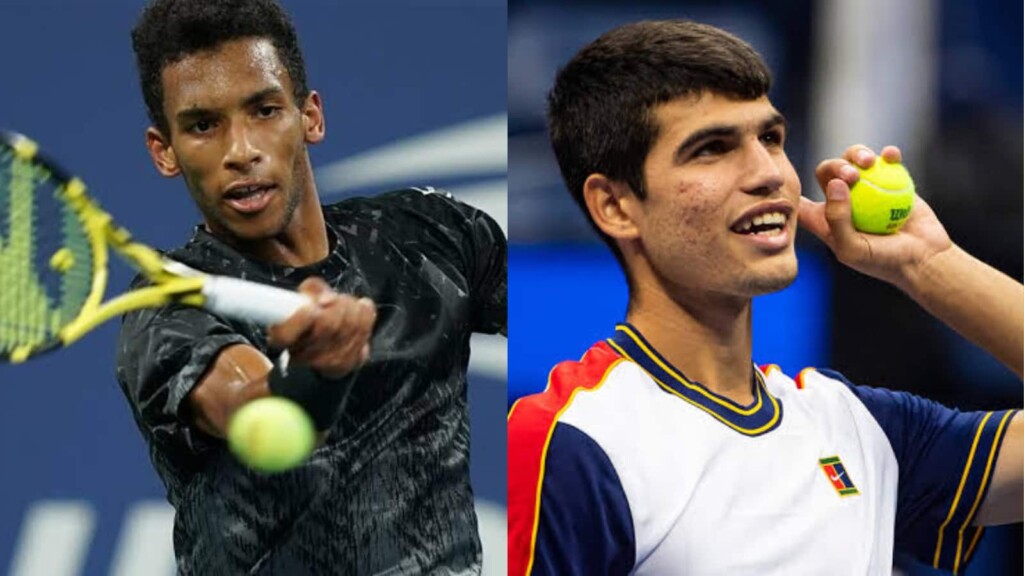 Both Carlos Alcaraz and Felix Auger-Aliassime are two brightest talents on the ATP tour. They are young, dynamic, aggressive, and known for their all-court play. Furthermore, both the players have met each other thrice in the last three two seasons. Felix Auger-Aliassime boasts a 100% winning record against Carlos Alcaraz.
Their first meeting took place during the 2021 US Open. In the Quarter-final round match, Felix Auger-Aliassime defeated Carlos Alcaraz. They also played against each other this year, during the Davis Cup Finals Group Stage and at the Swiss Open at Basel tournament. On both occasions, the Canadian defeated the Spaniard, although, all three victories came on the hard court.
The Spaniard had a successful run this season as he won two ATP 1000 singles titles, a Grand Slam title, and scripted history by becoming the youngest World No.1 in the history of the sport. However, the Canadian won four ATP singles titles and was a part of the winning team of the ATP Cup, Laver Cup, and Davis Cup.
Carlos Alcaraz will start his 2023 season as World No.1 and Felix Auger-Aliassime as World No.6. Both the players will get their chances to prove their mettle once again on the world stage and even to each other.
Also Read: "Hard to say goodbye" Rafael Nadal pays a classy tribute to fans in Mexico upon the conclusion of his exhibition tour along with Casper Ruud
Also Read: "When I come back, I want to come back 100 percent fit again" former World No.1 Angelique Kerber on her potential return to professional tennis